The following is a list of stocks exhibiting unusual volume patterns ahead of their earnings reports on July 28.

Screen:
All companies are set to report earnings results on July 28
All companies have relative volume indicators above 2, which means recent volume has been double the 3-month average

Here is an interactive graph of all the companies in the screen. More detailed analysis follows below.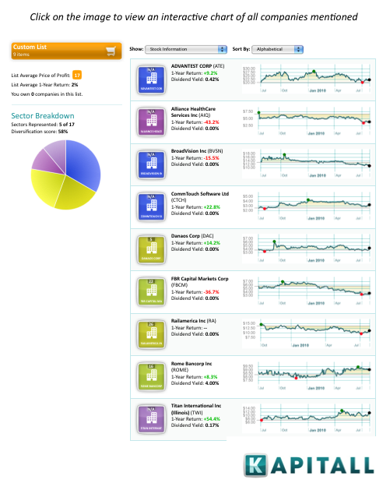 For this discussion, we'll focus on market cap, relative volume, annual performance and institutional trading volumes. The list has been sorted by relative volume.

1. Advantest Corp. (NYSE:ATE): Semiconductor Equipment & Materials Industry. Market cap of $3.92B. Relative volume at 6.39. Institutional investors, who currently own 0.94% of the company's total shares, increased holdings by 26.32% over the last 3 months. The stock has gained 8.82% over the last year.

2. Titan International Inc. (NYSE:TWI): Auto Parts Industry. Market cap of $416.42M. Relative volume at 3.93. Institutional investors, who currently own 95% of the company's total shares, decreased holdings by 1.27% over the last 3 months. The stock has gained 37.14% over the last year.

3. Commtouch Software Ltd. (CTCH): Internet Service Provider. Market cap of $75.47M. Relative volume at 3.18. The stock has gained 21.62% over the last year.

4. Danaos Corporation (NYSE:DAC): Shipping Industry. Market cap of $218.79M. Relative volume at 3.17. Institutional investors, who currently own 2.69% of the company's total shares, decreased holdings by 8.14% over the last 3 months. The stock has gained 7.51% over the last year.

5. RailAmerica, Inc. (NYSE:RA-OLD): Railroads Industry. Market cap of $603.57M. Relative volume at 2.77. Institutional investors, who currently own 90.15% of the company's total shares, increased holdings by 1.6% over the last 3 months.

6. FBR Capital Markets Corporation (FBCM): Asset Management Industry. Market cap of $217.74M. Relative volume at 2.38. Institutional investors, who currently own 82.46% of the company's total shares, decreased holdings by 3.28% over the last 3 months. The stock has lost -38.27% over the last year.

7. BroadVision Inc. (NASDAQ:BVSN): Internet Software Industry. Market cap of $51.49M. Relative volume at 2.19. Institutional investors, who currently own 22.23% of the company's total shares, decreased holdings by 2.72% over the last 3 months. The stock has lost -11.75% over the last year.

8. Alliance Healthcare Services, Inc. (NYSE:AIQ): Medical Laboratories & Research Industry. Market cap of $209.98M. Relative volume at 2.11. Institutional investors, who currently own 88.98% of the company's total shares, decreased holdings by 0.91% over the last 3 months. The stock has lost -40.24% over the last year.

9. Rome Bancorp Inc. (NASDAQ:ROME): Savings & Loans Industry. Market cap of $60.75M. Relative volume at 2.08. Institutional investors, who currently own 20.51% of the company's total shares, decreased holdings by 4.04% over the last 3 months. The stock has gained 12.14% over the last year.

Disclosure: No positions