Residential real estate has been through its ups and downs over the last 3 years. Home builders like Pulte (NYSE:PHM), Toll Brothers (NYSE:TOL) and Lennar (NYSE:LEN) have seen significant declines in their market cap as they aggressively try to sell off built up inventory and stabilize their companies to match the struggling economy. The real estate industry in general has also been hit hard – with inventory at high levels, prices declining due to high foreclosure rates and consumers struggling to make payments due to high unemployment rates. With all of that going on, is there any value left in real estate?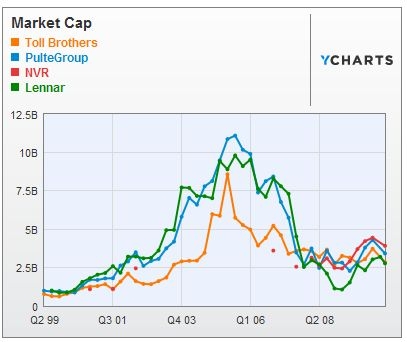 The data in the new construction industry is not very encouraging. After adjusting up their annual estimates in each of March (439K) and April (504K) – due to increasing amounts of contracts signed to take advantage of the tax credit – the Census Bureau adjusted May's annual rate down 37%. This is a huge decline and the lowest since they began keeping the stats in 1963. The new home stats usually are an indication of where existing home sales will go, since they report and adjust their numbers based on contracts – not sales - like NAR does for existing homes.
Monday's release of sales of new single-family houses in June 2010 was at a seasonally adjusted annual rate of 330,000. This is 23.6% above the revised May rate of 267,000, but is 16.7% below the June 2009 estimate of 396,000. While this appears encouraging, June's figures are still the second lowest on record and with other economic indicators, like mortgage applications, still pointing downward, we should view this increase with caution.
The graph below looks at historical estimates by month against actual sales figures. As can be seen, we are in a historically low period of sales of new homes. This doesn't project a very happy picture for new home builders.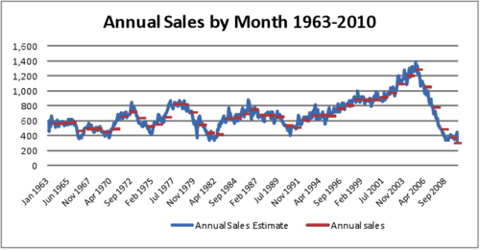 Top-line Growth of New Construction Players
Home builders historically were able to grow revenues at a relatively consistent pace. The chart below shows quarterly revenue for Toll Brothers, Pulte, NVR and Lennar for the last 10 years. As can be seen, the quarterly revenue data is cyclical in nature within the year with revenues slower in the beginning of the year as contracts lack during the winter and build to the end of the year with many contracts signed in the summer/fall and closing in the fourth quarter. Additionally, Pulte and NVR grew at a slower rate than the rest, but other than that nothing stands out about the top line growth of these companies – that is until 2006 of course.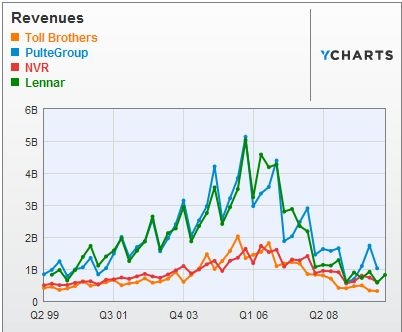 Throughout the credit crisis and the decline in the residential real estate market, all new home builders struggled to post revenue. Selling homes during this time was a tough task indeed, especially as many new home builders had communities that were already in progress once they realized there was going to be no demand to meet that supply. Not surprisingly, when major players all start to compete on price and demand lags, revenue begins to converge under these pressures.
Profitability
The top home builder profits have sunk into the red over the last few years, most starting in the second quarter of 2006 as can be seen in the chart of quarterly profit margin figures.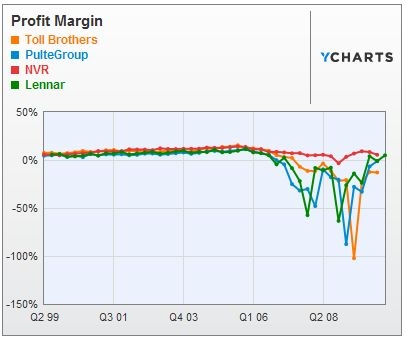 Only NVR has been able to post a quarterly profit since the third quarter of 2007. All have trudged their way back nearly to break even, through aggressive price cuts within their communities, vacating over built projects and pulling back on new land contracts. During this time, the builders all have been piling cash – almost at the same rate – waiting for the right time to start investing in land again for new projects. They are doing this in slightly different ways, with some raising debt and others clearing off previously built inventory while slowing investment in new projects. Keep in mind that new home builders are experts at land investing and this could indicate that they are positioning themselves to take advantage of another down-turn in the market and swap up land at huge discounts.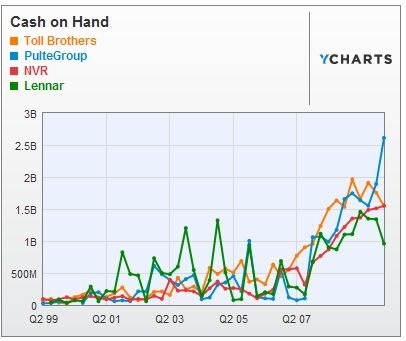 Return on Investment
Throughout history, home builders ROE ranged between 15 – 25% over the period between 2000 through mid 2006, with NVR as the only outlier at around 50% returns.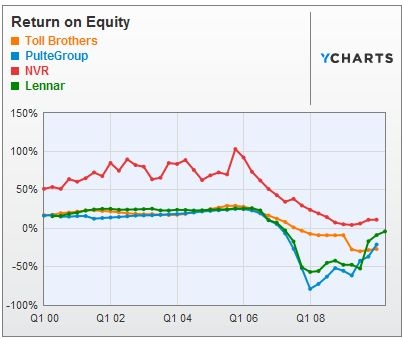 Given the data we have discussed above it doesn't look like that will be the case for the remainder of 2010.
Conclusion
The housing data suggests that the real estate industry may be in for more tough times and a second slow-down could occur, especially in these coming months after the tax credit. While the market may react to the slowing economic data, investors may want to concentrate on which builders are using their built up cash levels to invest into new projects. They too can take advantage of a down market and purchase land for new projects at steep discounts. New home builders are experts at land development and will find deals at a time like this. Look for them to do that, use their cash on hand, build more right sized homes at a lower cost (and better margin) that fit demand and return to back to profitability in 2011.
Disclosure: None.