In today's IPO update we'll check in on the performance of recent IPOs, and take a quick look at new offerings coming soon to an exchange near you.
The chart below shows the returns to date of recently public stocks that we've been following. You will see that there are two returns for each company: The "offering" return gives the stock's return from the offering price to Monday's close. The second return, "1st day open", is the performance as of the stock's opening price on the first day of trading. That's the price an independent investor could theoretically have executed a trade at.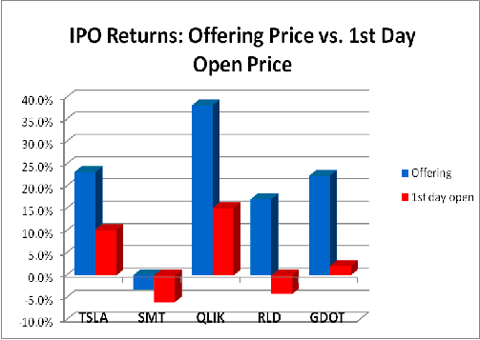 Right off the bat you'll notice these stocks have been performing pretty well - especially for investors who got in on the original offering price. Every return since the original offering price is higher than the return using the open price on its first day of trading.
I'll save the discussion of why this is for the next article - for now suffice it to say the returns are much better. Clearly the difference between a 17 percent return and -4 percent return in RealD (NYSE: RLD) is important, so be sure to read the nest post.
Tesla Motors, Inc. (Nasdaq: TSLA) has shown signs of improvement lately. Recall that this stock quickly shot up over $30 and then dropped sharply to $16 in just a few days. The company is currently trading at $20.95 as of Monday's close, up 23 percent from its original offering price.
It'll be interesting to see how this story in the electric vehicle and battery segment unfolds, especially after shares of lithium-ion battery maker A123 Systems (Nasdaq: AONE) soared 14 percent Monday after Barclays upgraded the stock. The upgrade seemed to have no effect on Tesla as its shares were relatively flat.
After going public at $17 per share, shares of interactive whiteboard maker Smart Technologies Inc (Nasdaq: SMT) have declined to $16.45 a share, as of Monday's close.
SMART Technologies was one of three tech companies that went public over the last few weeks. The other two were Qlik Technologies Inc. (Nasdaq: QLIK) and RealD.

Qlik makes software that allows companies to be more efficient. Earlier I touched on the importance of companies being effective and efficient, especially in a slow-recovering economy. Qlik went public at $10 per share, and its stock has enjoyed a nice move upward, closing Monday at $13.82 a share.
Shares of 3-D supplier RealD have not moved, if you use the opening price on its first day of trading to calculate returns. Its stock was trading at $18.74 as of Monday's close, which is above the offering price of $16 a share.
Green Dot Corp. (NYSE: GDOT) is the IPO we looked at most recently - the company is the leading provider of reloadable prepaid credit cards in the United States.
In last week's article of Small Cap Investor Daily - Pre-Paid Cards Hit the Market, I said investors would probably be attracted to the company's solid financials and strong growth outlook. Analysts expected its shares to hit the market between $32 and $35 a share. Investors were not only satisfied that the offering price of $36 per share beat that expected range, but the company also increased the total number of shares in the offer.
The stock traded at $44.05 per share as of Monday's close, up 22 percent from its initial offering price.
The company had 40 percent revenue growth in its last fiscal year and currently has no long-term debt. Green Dot's low cost infrastructure makes it an attractive company to investors, and to consumers looking for pre-paid cards. Analysts see the company expanding well beyond the 50,000 retail stores its pre-paid cards already sell in. Many of these retail stores include Wal-Mart (NYSE: WMT), the largest retailer in the world.
According to a report from Bloomberg, at the IPO's midpoint price of $33.50 per share and using the company's first-quarter profit over a full year, Green Dot began trading at 27 times earnings. This is a premium to others in the space. Companies such as Visa Inc. (NYSE: V) and Moneygram International, Inc. (NYSE: MGI) are trading at 19 and 13 times their estimated 2010 earnings, respectively.
But Francis Gaskins, president of IPOdesktop.com, says that Green Dot has "...the advantage among equity investors because most of its direct competitors are privately held". This should help the company expand its market share and achieve profitability as it enters the public arena.
However, Green Dot will not stand alone for long as the only publically traded pre-paid card company. Earlier this month, NetSpend Corp. (symbol not determined yet) filed to go public - this will make it the second major seller of prepaid cards to go public this year. Below is a chart that shows the difference between the top two players in the prepaid card industry.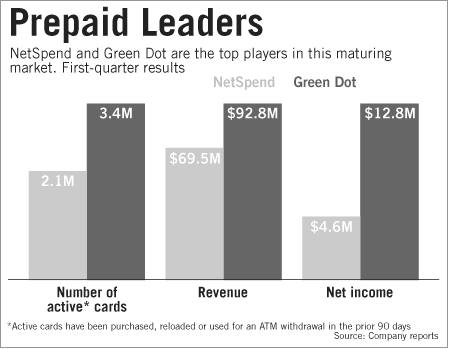 Although these companies are in the same industry and are going public around the same time, a key difference between them is their market share. Green Dot currently has a greater number of active cards -and the company made a significantly greater profit on higher revenue. This company has a higher profit margin of 13.8 percent, as compared to just 6.6 for NetSpend.
But NetSpend plans to use its IPO proceeds differently than Green Dot did. As I mentioned last week, Green Dot did not keep any of the IPO proceeds because private investors were selling shares (the number of shares did not change, they simply changed hands). NetSpend plans to use some of the proceeds to pay for working capital, and to pay off some of its debt.
The fact that Green Dot went public without collecting the proceeds shows that the company is in a strong financial position.
The date for NetSpend's IPO has not been determined yet - I'll let you know as soon as I do. In the meantime, let's keep a close eye on Green Dot's performance.
Other IPOs scheduled to be priced this week include Chesapeake Midstream Partners, which will trade under ticker symbol (NYSE: CHKM) and Envestnet (NYSE: ENV). Chesapeake Midstream Partners focuses on systems that gather natural gas while Envestnet uses technology that allows financial advisors to provide better services to their clients.
Analysts think Molycorp (NYSE: MCP), the only rare earth oxide producer in the Western Hemisphere, will be the biggest IPO of the week, expecting the company to raise $450 million in the offering.
The last two IPOs of the week, SurgiVision (Nasdaq: SRGV) and Trius Therapeutics (TSRX), are much smaller. The companies plan to raise $25 million and $78 million in the offerings, respectively.
Take your pick from these five IPOs scheduled to launch this week - there's quite a variety. I will continue with a weekly IPO update to track the performance of some of the IPOs we've discussed.