NXP Semiconductors (NASDAQ:NXPI) ran into earnings near its 52 week high. It reported a strong quarter, beating on top and bottom lines and closed at $62 the following day. Pursuant to that, it has sold off with the rest of the market; probably implying that expectations are high.
Nevertheless, fundamentals are sound. Growth throughout High Performance Mixed Signal ("HPMS") is poised to continue: more imminent results should be witnessed in the industrial and infrastructure segment, the identification segment is forecast to accelerate through next year and after; and the automotive segment, while currently booming, also has prospects in the distant future (I have gone into detail about this here). Discussion of all these matters is recorded in the Q1 2014 Conference Call Transcript.
The topic that currently has my attention is NXP's buyback program. Management has been emphasizing that the best use of cash available is to take the company's own shares off the market. The corporation has been actively repurchasing, progress is observable, and further capital returns may result in figures consistent with those from past years. The following graphic shows that the measures of stock assuming dilution have trended lower since Q3 2013, with the green lines denoting the figure used for reported EPS: currently 255,167,000 (Source: quarterly earnings press releases, newer information used first).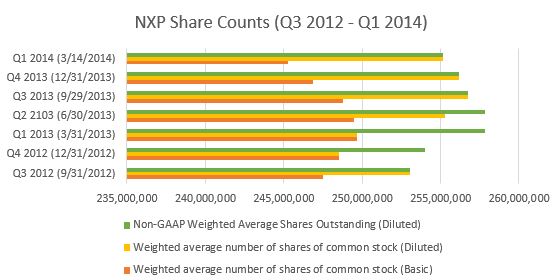 Private equity firms had a 14.8% stake prior to the February 2014 repurchase of five million, or nearly 1.94% of, shares from KKR. Guidance is for 252M average diluted shares in Q2; it would make sense that another arrangement could be in the offing. Quarterly Non-GAAP Net Income of $249 million is nearly sufficient to repurchase another five million, though the average price paid in Q1 is close to $55.18. Further, balance sheet metrics are stronger (Cash and equivalents stands at $720M, up from $595M a year ago; while Total current liabilities is at $1,235M, down from $1,403M in March of 2013).
However, the roughly 12.86% of stock poised to flood the market is not the only reason involving share counts to put a damper on appreciation. Potential dilution is also at play. According to CEO Rick Clemmer:
…a $5 change in share price actually increases or decreases dilution by about 1 million shares.
(Source: Q1 Transcript)
The company is profitable and producing copious amounts of Free Cash Flow ("FCF"). There are several indications that it is to continue. The most palpable effect of using available cash to continue capital returns to investors would probably be obtained through repurchasing directly from the PE firms again, in order to offset the overhang.
The sell-side remains firmly behind the stock. The mean recommendation and target drawn from 19 opinions are currently 1.9 and $66.42 respectively. A table comparing chipmakers with similar operations (all analog companies save BRCM, which is also involved in NFC technology and automotive ethernet) follows.
Chipmaker Forward P/E Ratios and Long Term Growth Forecasts on 4/26/14

NXPI
($58.87)

($62.34)

($41.46)

($46.34)

ONNN

($9.45)

BRCM

($29.76)

($22.30)

Average

P/2014E EPS

13.53x (DEC)

18.23x (OCT)

15.02x (SEPT)

20.15x (DEC)

12.27x (DEC)

12.15x (DEC)

16.27x (DEC)

15.37x

P/2015E EPS

11.86x

16.03x

13.28x

17.75x

10.05x

10.94x

11.8x

13.1x

Five Year Growth Rate

34%

15%

16.87%

10.53%

18.1%

8.6%

15%

16.87%

Source: Thomson Reuters data available at Yahoo! Finance
NXP continues to trade at lower P/E multiples while having a higher long term growth rate than the averages of its peer companies. Actually, its 34% rate, while slightly lower than in the past, is an outlier here and without it the mean would be 14%. Value under the same metrics is also found with ON Semiconductor Corporation.
Specifically, International Strategy & Investment Group ("ISI") likes NXPI equity. It rates shares as a Strong Buy, with an $85 price target based on an Enterprise Value equal to 15x CY15 estimated FCF of $6.29! For those attempting to following NXP at home, ISI has a helpful Guide pertaining to the next quarter: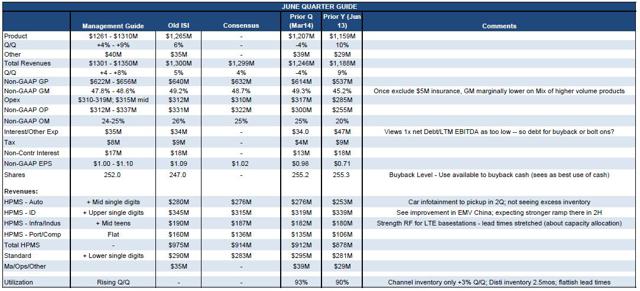 Though only guided to upper single digit quarterly revenue growth, the ID segment gets attention for several reasons. Some of its products are used by mobile wallet customers, probably including mobile phones that run ISIS, which requires an enhanced Subscriber Identity Module ("SIM") card with a secure element, an important NXP product. A similar system is being implemented in France, as major banks there are rolling out mobile payments. Sterne Agee, which now has a price target of $74, based on 14.6x a C2015E EPS, has recently observed that:
Gemalto put out its earnings release last night noting 1) strong growth in multitenant SIM cards (hyperlink added) used in NFC and mobile payments growing rapidly in North America, 2) Accelerating EMV deployment in China (note flat growth here had been a concern prior), and 3) Intensifying U.S customer initiatives towards national rollouts of EMV payment cards "in 2H14"…This is why we think NXPI's Identification segment while guided up strong will continue to accelerate into 2H14.
In the next quarter, the industrial and infrastructure business has been guided to the highest gains in revenues. It can feasibly continue afterward. Other HPMS segments are poised for substantial growth at varying times in the future. The shares of NXPI available should be lower before then, and perhaps some of the overhang will disappear also.
Disclosure: I am long NXPI. I wrote this article myself, and it expresses my own opinions. I am not receiving compensation for it (other than from Seeking Alpha). I have no business relationship with any company whose stock is mentioned in this article.