A sound strategy to diversifying your dividend portfolio is to add best of class companies from a variety of industries. This article will compare stocks within the pharmaceutical industry with a focus on dividend payments and value. The pharmaceutical industry is often viewed as a riskier investment than many common dividend options such as utilities, telecom or energy companies, but these massive companies have huge core businesses that bring in predictable earnings year in and year out. The big biotech names tend to keep a full drug product pipeline and will benefit from an aging population.
| | | | | | |
| --- | --- | --- | --- | --- | --- |
|   | Market Cap | P/E | P/E ('15E) | Dividend Yield | Beta |
| GlaxoSmithKline (NYSE:GSK) | $ 133.6 | 15.7 | 14 | 4.4% | 0.57 |
| Pfizer (NYSE:PFE) | $ 196.2 | 9.6 | 13.4 | 3.4% | 0.64 |
| Bristol-Myers Squibb (NYSE:BMY) | $ 83.3 | 32.8 | 30.2 | 2.9% | 0.34 |
| Eli Lilly (NYSE:LLY) | $ 62.4 | 16.4 | 18.4 | 3.3% | 0.34 |
| Merck (NYSE:MRK) | $ 168.3 | 38.9 | 15.6 | 3.1% | 0.36 |
| AstraZeneca (NYSE:AZN) | $ 86.6 | 42.1 | 16.5 | 4.1% | 0.53 |
| Novartis (NYSE:NVS) | $ 204.9 | 22.8 | 15.3 | 3.2% | 0.57 |
Source: Yahoo Financials & Ycharts (beta)
Beta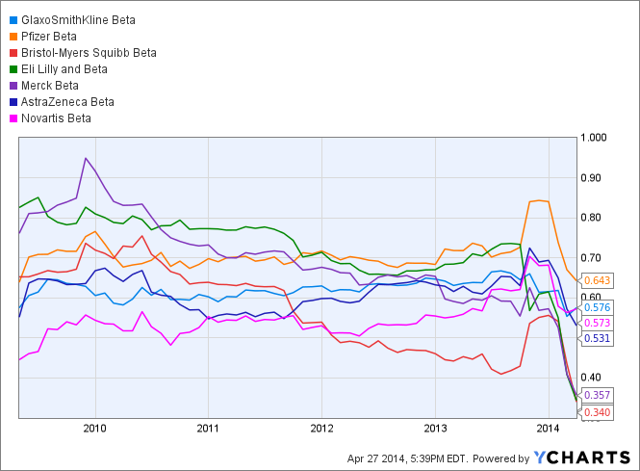 Beta is the measure of volatility (or systematic risk) of a stock in comparison to the market as a whole. A beta of 1 means the stock price will move in line with the market. A beta of less than 1 means the stock is less volatile than the market and a beta above 1 generally means the stock price is more volatile than the market. It's a misconception that pharmaceutical stocks are volatile, when in reality the group has some of the lowest volatility out there. The stocks in this analysis all have betas lower than 1, which is preferable to avoid large fluctuations in price. When looking at the 5 year chart, you can see the downward trend line in beta. As these businesses mature and have predictable income, the resulting outcome is a lower beta.
Dividend
The charts have been broken into 2 separate graphs so it's easier to view the changes in dividend payments over time.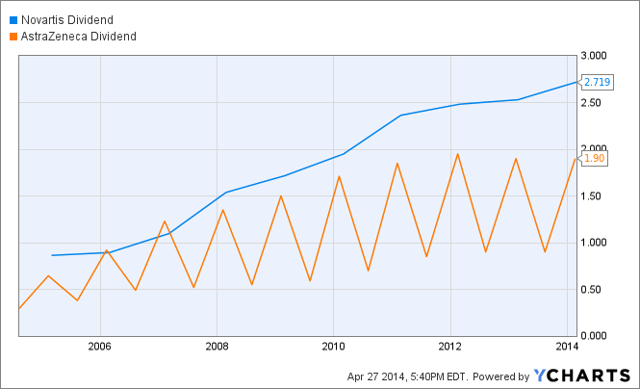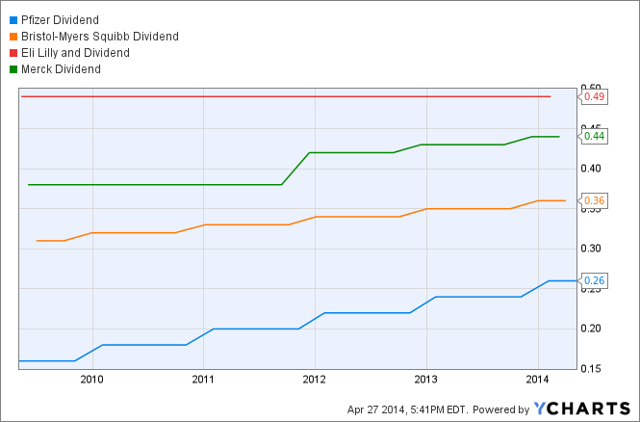 Dividend investors should look for stocks that have a strong track record of maintaining and increasing their dividend on a consistent basis. Pfizer and Bristol Myers-Squib have both increased their quarterly dividend every year for the past 5 years. GlaxoSmithKline, which was removed due to an error foound in the Ycharts data, has maintained or increased its dividend overall since 2001, but has fluctuations due to currency exchange differences. Glaxo dividend data can be found here. While Novartis has increased its dividend for 13 consecutive years, investors must be willing to accept dividends paid only once a year. Likewise, AstraZeneca pays a semi-annual dividend and has increased dividends on an annual basis since 2001. Eli Lilly and Merck are the 2 laggards in this group. Merck went from 2005 to 2010 without increasing dividend payments and Eli Lilly hasn't increased its dividend since 2009.
Dividend Yield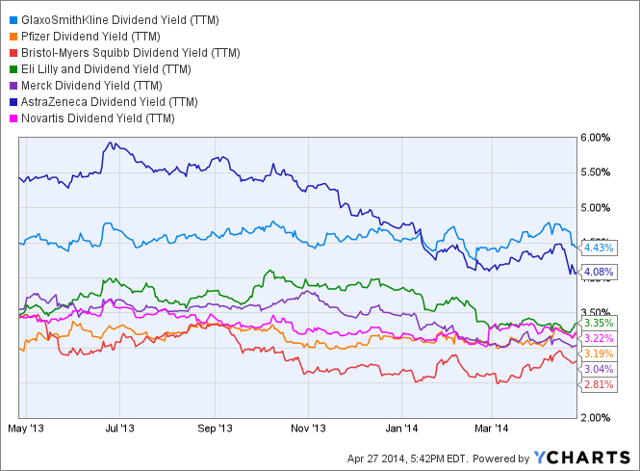 All stocks in this analysis have impressive dividend yields, but GlaxoSmithKline and AstraZeneca have the highest yields at over 4%. While Glaxo has averaged around 4.5%, AstraZeneca has seen its yield drop as the stock has appreciated over the past several months.
Capital Appreciation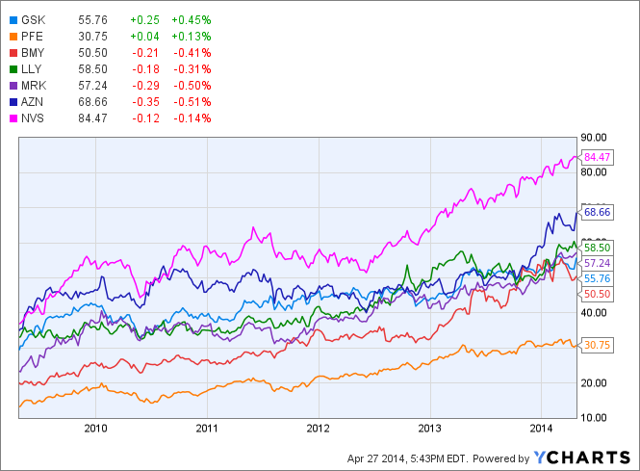 Along with steady dividends that these companies payout, investors can enjoy the steady capital appreciation in pharmaceutical stocks. Looking at the 5 year price chart, you can see all these companies have a slow and steady price appreciation without many wild fluctuations. There really isn't any stock that outperforms the others in terms of growth consistency, but Novartis has seen the most growth over the past 2 years.
Payout Ratio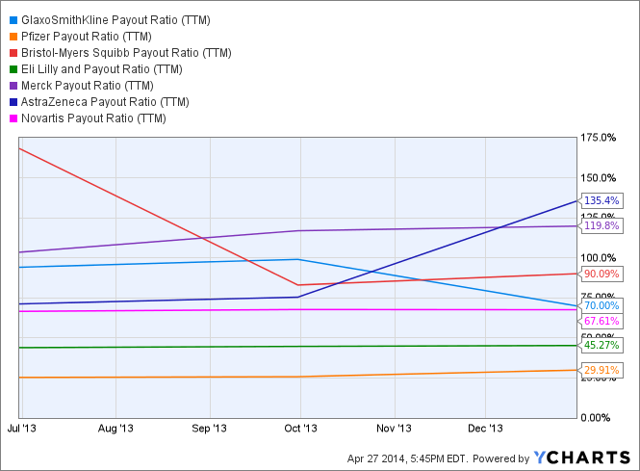 The payout ratio is a measure of what percent of earnings must be used to payout the total dividend to shareholders. Here you can see a big difference among the stocks. AstraZeneca, which has one of the highest dividend yields also, has the highest payout ratio. Historically, AstraZeneca has a low payout ratio, but over the past year it has risen significantly, which is a red flag when analyzing dividend sustainability. Merck and Bristol Myers-Squib have high payout ratios that may be of concern for potential investors as they fluctuate higher than 100%. GlaxoSmithKline has a historical payout ratio that tends to hover close to 100%. Pfizer and Eli Lilly both have historically low payout ratios, which should give confidence to investors they can sustain their current dividend going forward.
Conclusion
Big pharmaceutical stocks aren't generally thought of as potential additions to a dividend portfolio, but they are solid investments with strong track records of dividend payments and price appreciation. Investors can gain exposure to the aging population and the pharmaceutical industry by taking positions in these stocks. All 7 of the stocks in this analysis would make a sound investment to any portfolio, but Novartis, GlaxoSmithKline and Pfizer are my favorite choices. They are 3 of the largest biotech firms in the world with a massive customer base and R&D department. They also have a tremendous track record of sustaining and increasing dividends. Most recently Glaxo, Novartis and Eli Lilly made a massive deal. Novartis agreed to buy Glaxo's cancer drug business for $14.5 billion and sold its vaccine business to Glaxo for $7.1 billion plus royalties. Novartis also agreed to sell its animal drug business to Eli Lilly for $5.4 billion. This deal will allow the three companies involved to concentrate on their core business while divesting from non-core areas. Glaxo has the highest dividend yield and has reshaped its business to increase margins from its deal with Novartis. Novartis has increased its dividend for 13 consecutive years and acquired Glaxo's lucrative cancer business which will give the company strong positions for the treatment of melanoma and breast cancer.
Pfizer may be the safest option with a strong track record of increasing dividends, the lowest P/E and forward P/E in the group and a solid yield of 3.4%.
Disclosure: I have no positions in any stocks mentioned, and no plans to initiate any positions within the next 72 hours. I wrote this article myself, and it expresses my own opinions. I am not receiving compensation for it (other than from Seeking Alpha). I have no business relationship with any company whose stock is mentioned in this article.