Sony Corp. (NYSE:SNE) has established a name in electronics and instruments and designs and manufactures and markets products to both consumer and professional groups. The following discussion encompasses the recent release of sales figures for PlayStation 4 in comparison to its arch competitor the Xbox One followed by the future outlook for the industry and the company.
PS4 VS Xbox One
The PlayStation 4 and Xbox One consoles were both introduced to the market around November 2013. However, the PS4 has outsold the Xbox One nearly every month since, excluding December 2013. Sony's PlayStation console sales have surpassed that of Microsoft's (NASDAQ:MSFT) Xbox One for a third consecutive month. Recently recorded sales figures for the PS4 indicate that Sony has sold more than 7 million units already. The company further mentions that demand for the gaming consoles has led to the difficulty of meeting demand in time. However, Sony's management remains confident that it will fulfill its hardware requirements.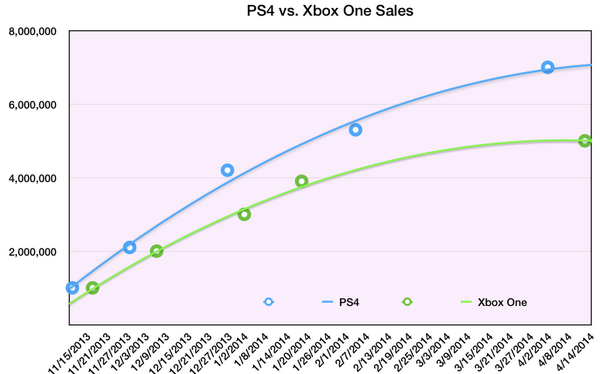 Source: Forbes
Two factors have significantly helped the PS4 outsell the Xbox One:
Microsoft's premium pricing, in which the Xbox One was priced about a hundred dollars more than the PS4.
Sony's widespread distribution compared to Microsoft's distribution of the Xbox One to a limited number of countries. As of now, the gaming consoles are available in 72 countries and regions.
Sony has not yet stopped expanding the distribution radius of its PS4 to more geographical regions. The next-gen gaming consoles have recently been introduced in Japan and this is highly likely to help Sony increase its future revenues.
Industry Outlook
One of Sony's advantages over Xbox has been the widespread distribution of its gaming consoles. However, the same strategy that is expected to propel Sony's sales into the future is also one that raises concerns. It is true that the company enjoys a wider distribution of its gaming consoles across geographical locations but the global gaming industry is undergoing a radical shift. I am not saying that gaming consoles will become a thing of the past any time soon but we cannot ignore the fact that the share of revenues attributable to this segment is rapidly contracting.
Researchers project that although the video game sector is expected to grow extensively this year the growth attributable to gaming consoles will adopt a decelerating trend from here onwards. Where the gaming sector grew 7% YoY in 2013 boxed video game sales dropped 3% YoY. Consumers are rapidly shifting to "free to play" (F2P) games on smartphones and tablets as an alternative to purchasing boxed games. Evidently, smart device gaming is projected to grow at a rate of 35% this year.
It must be highlighted here that although the company has moved into Japan the country's growth in the smartphone and tablet gaming market supersedes the growth in play-at-home video games. Over the past six years the gaming consoles market in Japan has shrank by 40% as of 2013. That is a trend one must keep in mind.
The worldwide video game market is forecasted to reach $111 billion by 2015 wherein mobile games are expected to show the highest growth. Disc based video game sales still account for 41% of total video game revenues. However, their revenue contribution has declined by 27% over the past five years. Where disc-based games lost their market share, mobile and tablet games picked up the pace. However, the loss in market share does not mean that gaming consoles are out of the game. The sales of consoles are still growing although slower than their historical growth rates. From here onward it is more a matter of how companies like Sony strategize their future path for growth.
Future Outlook
Manufacturers and game developers must understand that consumers want interoperability. One game operable on several devices would have a much higher value for gamers compared to a game they would only be able to play on one gaming device. Realizing this specific need, Microsoft's new game Titan Fall would be operable on Xbox One, Xbox 360 and Windows PCs.
Sony has come up with the concept of PlayStation Now which is a new gaming console that would leverage cloud gaming technology enabling gamers to save and resume games across various platforms including gaming consoles, smartphones and televisions. The press release further states,
"In addition to PlayStation platforms, most 2014 U.S. models of Sony's BRAVIA® TV*2 lineup will support PS Now. Eventually the service will expand beyond PlayStation platforms and Sony devices, allowing users to stream PlayStation games on numerous other Internet-connected devices."
Concluding Remarks
Although I have only discussed gaming consoles, the company is researching and coming up with a number of new products to strengthen its top and bottom lines. PlayStation Now is a radical concept that would prove to be a turnaround for the squeezing revenues of the segment. Furthermore, the company enjoys a stable financial position as indicated by its market competitive current ratio and lower than industry average debt to equity ratio. Lastly, Sony's dividend yield is at 1.31 in an industry where 0.56 is the norm. With these facts and figures the company looks like a good candidate for investment.
Disclosure: I have no positions in any stocks mentioned, and no plans to initiate any positions within the next 72 hours. I wrote this article myself, and it expresses my own opinions. I am not receiving compensation for it (other than from Seeking Alpha). I have no business relationship with any company whose stock is mentioned in this article.