In the health care sector, investors have been laser focused on the biotech space. This corner of the market has faced severe pressure over the past few months as concerns over hot momentum stocks have reached a new level.
And yet while many have been focused on biotechnology, we have also seen some weakness in a few names in the medical device space. This is interesting because, by and large, many names in the segment have held up quite well despite the slump that many of their peers in the drug space were seeing.
However, unlike in the drug space, many companies in the medical device segment have been driven by fundamentals lately, instead of just sluggish momentum. This has been particularly the case for Intuitive Surgical (NASDAQ:ISRG) which has been under severe pressure and may have significant trouble in keeping the sales up for its key da Vinci surgical system in the near future.
Recent Earnings & Outlook
This weakness in the da Vinci system sales was made abundantly clear in ISRG's most recent quarterly earnings report. In the release, ISRG put up a huge miss, posting earnings of just $2.67/share compared to estimates of $3.34/share. The firm cited the Affordable Care Act and uncertainty as the reasons for the big miss, and it also said that it may continue to have trouble selling in this environment for the future.
Thanks to this weakness, analysts have been slashing their estimates left and right on the shares of ISRG. Estimates have almost universally moved lower in the past week, including three estimates lower in the past seven days for the current year, and 10 lower for the next year time frame.
The magnitude of these revisions lower has also been intense for pretty much all time periods that we studied. For the current year in particular though, earnings estimates have moved from $16.70/share 90 days ago to just $14.01/share today, while next year figures have slumped by about 14% too.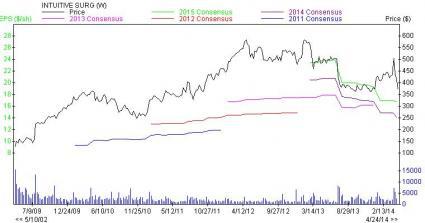 Clearly, analysts are taking Intuitive Surgical's warnings to heart, and given the ever changing requirements and politics of the health care industry, many are betting that ISRG won't be able to turn things around any time soon. Instead, it looks as if ISRG's near term weakness will continue and that the pressure that has been building in this stock will lead to more underperformance.
That is why we have assigned ISRG our lowest ranking with a Zacks Rank #5 (Strong Sell), and are looking for more underperformance from this stock until estimates on the sales of their innovative da Vinci surgical system improve.
Better Picks
For investors seeking better selections in the medical instruments industry, a few such options do exist. Currently, both Delcath Systems (NASDAQ:DCTH) and Globus Medical (NYSE:GMED) have top ranks and may be better picks at this time.
Plus, both of these companies have beaten estimates in the most recent quarter, while they have moved to a top rank within the past week as well. So, now might be the time to let ISRG go and to look to the better positioned DCTH or GMED for now.
Editor's Note: This article covers one or more stocks trading at less than $1 per share and/or with less than a $100 million market cap. Please be aware of the risks associated with these stocks.