Shares of 3D printing R&D company Sigma Labs Inc. (NASDAQ:SGLB) have vastly outperformed well-known 3D printer manufacturers 3D Systems (NYSE:DDD), Stratasys (NASDAQ:SSYS), ExOne (XONE) and voxeljet (NYSE:VJET) over the last 3 months. In fact, shares in Sigma Labs are up approximately 12% for the period, a time when other 3D printing stocks have been hit hard.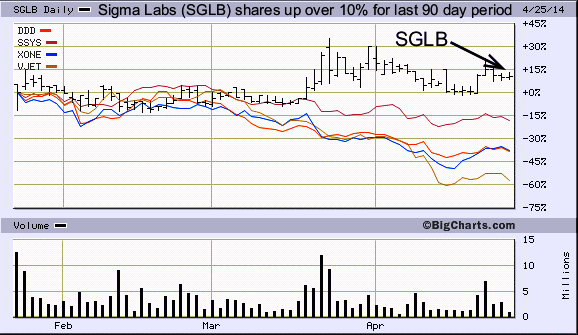 I believe the positive trend for shares in Sigma Labs will intensify over the next 3-6 months for reasons I'll explain in this article.
It's important to note here that there are particular risks associated with most "penny stocks" and because of these risks I find many to be uninvestible. Those risks frequently include lack of meaningful partnerships, lack of a product or service that meets a well-defined industry need, and/or a weak balance sheet with little cash available for successful commercialization of products and services. However, I believe these risk factors have been mitigated in the case of Sigma Labs as I will discuss in this article.
Company Overview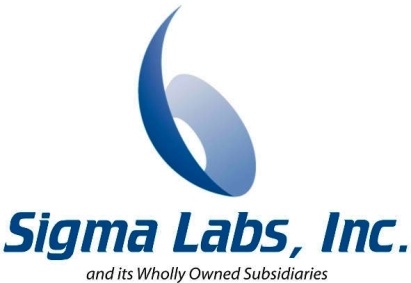 Sigma Labs Inc. was founded in 2010 by high-level scientists from the world-renowned Los Alamos National Lab. The company develops advanced, real-time, non-destructive quality inspection systems for 3D metal printing and other advanced manufacturing technologies. Headquartered in Santa Fe, New Mexico, Sigma Labs is a micro-cap development stage corporation with a market capitalization of $90 million.
Key Product Launch Meets Critical Industry Need
The rapidly-evolving technology utilized in additive manufacturing is now moving the industry toward true manufacturing capabilities in what many are calling "The Next Industrial Revolution."
However, 3D printing of high value, complex metal components used in the aerospace, automotive, medical and defense industries requires real-time process monitoring and assurance that quality parts are being produced. This is an obvious and critical need, and yet the technology has not been available previously.
Last year leading industry expert Terry Wohlers was asked:
"Where are the gaps and areas for growth in the industry to ensure that additive takes off?"
His answer in 2013 was unequivocal:
"Systems need to include real-time process monitoring and control."
Real-time process monitoring and control is now being directly addressed by PrintRite3D, Sigma Labs' patented hardware/software solution that assesses in real-time the quality of a part during 3D printing. PrintRite3D also improves process reliability, process repeatability and eliminates time-consuming post-manufacturing inspections that can save as much as 25% in total production time (see PDF presentation).
This begs the question, how do 3D printing industry research and technology leaders view Sigma Labs' PrintRite3D technology? This is answered by America Makes, the National Additive Manufacturing Innovation Institute. In January, Sigma Labs was chosen by America Makes as part of a team established "for the development of a commercially available, platform-independent Quality Assurance technology for high-volume AM production of aerospace components, which technology is currently lacking within the industry."
The America Makes project will generate up to $750,000 in revenue for Sigma Labs, and CEO of Sigma Labs, Mark Cola, stated in a press release:
"We are quite pleased to have been chosen along with our partners by the premier AM and 3DP association to participate in accelerating commercialization of our quality assurance technology."
Although Sigma Labs is currently a micro-cap company, its patented technology directly addresses a critical need in the 3D printing industry. Moreover, the commercialization of the company's patented technology is apparently being accelerated by the nation's leading collaborative partner for 3D printing technology research and innovation, America Makes.
Initial PrintRite3D Customers Include Honeywell Aerospace and another "Leading International Aerospace Company"
While full-scale commercialization is pending, initial sales of PrintRite3D systems have begun. An early customer is a leading international aerospace company that will likely make multiple purchases. According to CEO Mark Cola:
"This important delivery is the result of our determined commercialization efforts as we transition to production during 2014. We expect additional PrintRite3D business from this customer as well as with a variety of major aerospace companies over the near term."
While the customer in this press release was not named, I suspect these two PrintRite3D systems were delivered to GE Aviation. Greg Morris, GE Aviation's Business Development Leader for Additive Manufacturing, stated in an earlier press release that:

"Today, post-build inspection procedures account for as much as 25 percent of the time required to produce an additively manufactured engine component. By conducting those inspection procedures while the component is being built, GE Aviation and Sigma Labs will expedite production rates for GE's additive manufactured engine components like the LEAP fuel nozzle."
Christine Furstoss, GE's Technical Director for Manufacturing and Materials Technologies, also explains:
"As an industry, we have to find ways to go faster. For all of the time you can save in the design phase, the actual printing or production of parts using additive technologies is still too slow. To help address this challenge we have a joint technology development agreement with Sigma Labs Inc. to develop in-process inspection technologies of additive components with the goal of reducing production time up to 25 percent."
In Q4 of last year Honeywell Aerospace was named as a customer "to include enhancements to further demonstrate the capabilities of Sigma Labs' PrintRite3D technology."
It's rare to discover a true micro-cap company with development partnerships and customers of the size and quality that Sigma Labs is entertaining. When combined with the fact that Sigma Labs is launching a patented solution meeting a critical industry need, I believe the potential for substantial rewards over time far exceeds potential risk in this penny stock.
Materialise NV to Now Accelerate PrintRite3D Commercialization
In a press release last week it was announced that Belgium-based Materialise NV, a global leader in additive manufacturing software and 3D printing services, will be integrating Sigma Labs' PrintRite3D with its software. According to the registration statement for its upcoming IPO, Materialise has over 8,000 3D printing software licenses installed and printed over 500,000 medical devices, prototypes, production parts and consumer products in 2013. Additionally, Materialise has over 100 3D printers installed and operates what the company believes to be "the largest single-site additive manufacturing service center in the world." In short, Materialise is a global leader in 3D printing software and services and the announced integration of PrintRite3D with Materialise's software should lead to rapid and significant revenue generation by Sigma Labs.
CEO Mark Cola on how Materialise will accelerate commercialization of PrintRite3D:
"By integrating our PrintRite3D software technology with Materialise's additive manufacturing software, we believe that we will reach the broader additive manufacturing market sooner and be able to assist a larger number of AM users with achieving their in-process inspection needs more quickly. A software package for additive manufacturing which incorporates our PrintRite3D in-process inspection technology enables users to more quickly achieve rapid qualification with greater process reliability without having to wait until the end of the manufacturing process. This would save users money by eliminating expensive post-process inspection technologies."
Going forward, PrintRite3D will apparently be integrated with Streamics, a key software product of Materialise. Karel Brans, the strategic partnership manager for Materialise, explained:
"Linking the Sigma Labs PrintRite3D product to our software platform enables our mutual users to benefit from this valuable technology from within their trusted Materialise environment. We are pleased to work with Sigma Labs to help bring this quality inspection software technology to market."
As mentioned in the opening of this article, risk factors typically associated with micro-cap stocks often include a lack of meaningful partnerships for commercialization and new sales channels. I believe this significant risk factor is mitigated in the case of Sigma Labs with its announced partnerships and sales to Honeywell Aerospace, GE Aviation and now Materialise.
Moreover, these partnerships are in addition to the team assembled at America Makes "to participate in accelerating commercialization" of Sigma Labs' quality assurance technology.
Strong Balance Sheet with Cash for Commercialization
Another risk often associated with micro-cap stocks is the lack of cash to implement its business plan and launch a key product. Again, this risk appears minimal in the case of Sigma Labs. In the 2013 10-K filing, Sigma Labs' balance sheet shows strong improvement with $1.3 million in current assets and only $141,000 in current liabilities for a current ratio of 9.4. Sigma Labs has no long-term debt.

More significantly, Sigma Labs recently completed a private placement bringing in an additional $3.3 million in cash to the company, further improving the balance sheet and paving the road for full scale commercialization of PrintRite3D. CEO Mark Cola commented that the placement:
"... has now set the stage for Sigma Labs to enter a period of accelerated growth. This funding enables us to add key scientific and engineering personnel, and provides the ability to service our customers on a large scale and execute our overall plans for increased expansion in 2014 and beyond."
Sigma Labs May Also Develop Low-Cost Metals 3D Printer
The pending commercialization of PrintRite3D is not the only forward revenue driver for Sigma Labs. In late December of last year Sigma Labs announced that: "Along with strategic partners, we intend to develop, test and launch a customized, low-cost 3D printing solution for metals like titanium, steel, aluminum and nickel-based alloys." This printer will be based on arc welding technology and require only 3- or 5-axis machining to take the parts to final form.
While this development is a memorandum of understanding yet to be finalized, leading industry publication 3DPrintingIndustry.com wrote that:
"If Sigma Labs can offer the quality control necessary for affordable 3D metal printing, the results of their partnership could lead to a complete transformation of the industry."
It's important to note that the potential launch of this lost-cost metals 3D printer may now be realized sooner than previously anticipated. This is because the Materialise partnership for commercialization of PrintRite3D as well as the January capital raise of $3.3 million were announced more recently, and could free up resources for an accelerated launch.
2014 Likely to Show Marked Revenue Growth
Sigma Labs announced several revenue-generating contracts in Q4 of last year which should be hitting the books in Q1 of this year and beyond.
These Q4 announcements alone total more revenue than Sigma Labs reported for all of 2013. As a result, investors should expect strong revenue growth going forward as full commercialization of PrintRite3D begins. During Q1 of last year Sigma Labs reported $164,000 in revenue. Revenue growth of > 100% for Q1 2014 is well within reason to assume.
Sigma Labs, Inc. Receives Contract From Los Alamos National Laboratory (up to $178,000)
Sigma Labs, Inc. Awarded Contract Extension from Honeywell Aerospace (up to $178,645)
Sigma Labs, Inc. Delivers PrintRite3D® Systems To Leading International Aerospace Company (up to $975,000)
Bouncing Off Key Support Level Others Have Breached
Shares of Sigma Labs have a strong propensity to bounce off their 200-day moving average prior to making a substantive move as the chart below confirms. While it's commonly stated for the purpose of legal protection that "past performance is not indicative of future results," the 200-DMA remains a key technical indicator for traders and investors. That said, Sigma Labs is the only pure play 3D printing stock trading above its 200-DMA, a key support level all others have breached.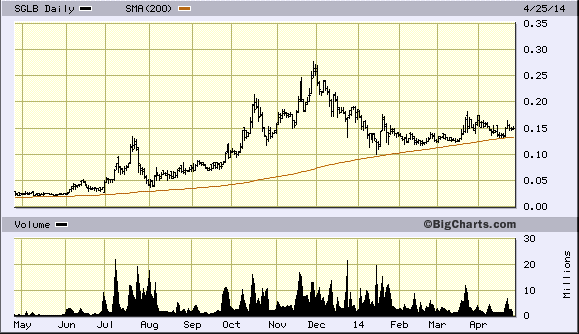 With additional sales of PrintRite3D pending "over the near term" and full-scale commercialization on tap, I believe this key support level may be an excellent point of entry for new investors as well as an opportunity to add to established positions.
Conclusion
Recent trading in 3D printing stocks has made it clear that they will no longer rise on hype and widespread media attention alone. The 3D printing stock winners in 2014 will be those with key product launches that meet an industry need - product launches that lead to substantial and sustained increases in revenue.
With last week's announcement that Materialise will begin integration of Sigma Labs' PrintRite3D with its software, I expect shares of Sigma Labs to continue to outperform. The necessary partnerships and cash position for full-scale commercialization of its technology are now in place. Moreover, its patented technology addresses the acute industry need for non-destructive, real-time process monitoring and control. Investors should expect high demand for Sigma Labs' unique product launch this year, and also may see the launch of its low-cost metals 3D printer happening sooner, rather than later.
Disclosure: I am long SGLB. I wrote this article myself, and it expresses my own opinions. I am not receiving compensation for it. I have no business relationship with any company whose stock is mentioned in this article.
Editor's Note: This article covers one or more stocks trading at less than $1 per share and/or with less than a $100 million market cap. Please be aware of the risks associated with these stocks.