Google (Android OS)
In less than two years, Google's (NASDAQ:GOOG) Android mobile operating system has rocketed from a meager presence on T-Mobile to become the only formidable competitor to Apple's (NASDAQ:AAPL) dominance in the market. Google has been developing the Android mobile operating system at a breakneck pace and waging a full-on advertising assault. It is abundantly clear that Google wants Android to be running on any mobile wireless device not manufactured by Apple. As I mentioned in the beginning of this article, some companies understand the importance of this rapidly growing segment of the market and are throwing considerable weight behind their offerings.

While most companies making mobile operating systems are trying to make money by selling devices, Google is far more concerned with dominating mobile search. Due to the nature of Google's business model, it makes far more sense to develop a compelling mobile operating system and give it away for free, if it helps to drive a significant portion of mobile search queries to Google's search engine. A few months back, Google's VP of Engineering, Vic Gundotra, said that the growth rate for mobile search is fives times higher than that of traditional PC search. With the widespread adoption of mobile wireless devices, it stands to reason that the growth of mobile search will outpace traditional PC search for the foreseeable future.

The outsize growth of mobile search compared to traditional PC search is the reason Google must compete in the mobile operating system market. Success in the mobile operating system market is probably more crucial to Google's future success than any of its competitors. Further, mobile devices provide considerably more information to companies like Google than traditional PC search. Google CEO Eric Schmidt put it best stating, "Why is everyone so interested in mobile? It's a new way of computing... you have a personal supercomputer that knows everything about you." For a company like Google, all of that personal information is key. The more Google knows about its users, the more accurately targeted ads it can deliver and in turn the more profit it can generate.

In addition to providing Google with considerably more information about its users, I think mobile devices offer Google something it has never had access to before…voice. I'm not talking about phone calls, though, I'm talking about the human voice. For years, Google has been taking the world's questions and delivering answers. However, up until recently this has all taken place through Google's website. While this effort is still very much in its infancy, I think it will define Google in the coming decade. Google voice search is available as a free app for most major mobile operating systems. First, for anyone unfamiliar with this app, take a look at the short YouTube video here.

Part of the reason Google is successful in traditional PC search is because they use past search data to refine the accuracy of their search algorithm. Much in the same way, Google will use all of the voice search queries to refine its speech recognition technology. While many will see this as a side project for now, I believe that with Android's success this will grow to be a true competitive edge for Google. People should expect to see voice search becoming an ever-increasing part of the mobile experience. For example, the T-Mobile myTouch 3G line of Android smartphones has just rolled out a "genius button" that allows users to make voice searches with the press of a button. By making voice search accurate, simple, and always present, I believe this could help Google to increase the growth rate of mobile searches even higher.

While Google's voice search is currently available only on smartphones, I think it is inevitable that this technology becomes more embedded in everyday devices. For example, I would not be surprised at all if this technology became embedded in vehicles for hand's free searching while driving. Google is already giving away its Google Maps Navigation software free to Android users. It seems only a matter of time before car manufacturers are installing navigation systems that run the Android mobile operating system. Android is already capable of, and in some cases outperforms, many functions commonly handled by a vehicles navigation system – music playback, GPS location, maps/navigation, live traffic information, local points of interest, etc. Further, since Android is open-source, car manufacturers could manipulate the operating system to suit their exact needs.

Android was designed to be a flexible mobile operating system. Device manufacturers can "skin" the operating system to look and behave differently than the basic version of Android that Google gives away for free. Its flexibility makes it one of the most likely choices for tablet devices. While many tablets are already being built around Android, Google has stated that it will not allow access to the Android Marketplace for non-smartphone devices. I think a tablet version of the Android Marketplace is inevitable, although, Google may be holding back on its release to coincide with a flagship tablet device. There have been rumors in recent months of an Android tablet launching on Verizon, which would seem to make sense given the two companies close relationship. If Google and its partners are able to get tablet devices to market soon, they could enjoy the same success that Android has had recently in the smartphone space.

There are many reasons why Google's Android operating system has been so successful thus far. Google's strong brand and name recognition helped to sway early adopters from competing products. The iPhone's exclusivity deal with AT&T (NYSE:T) left Verizon (NYSE:VZ) desperate for a compelling alternative to promote. Vic Gundotra, mentioned earlier, has been actively courting mobile developers to bolster the platforms software catalog. Finally, Android's open nature and free price tag has encouraged device manufacturers to embrace the platform with open arms. However, there is one flaw that I could see causing issues for the platform further down the line.

Unlike most competing app stores, Google does not review apps listed in the Android Marketplace. Instead, Google relies on a permission-based security model. Essentially, the user must give the app permission to use various aspects of the phone – alter the memory card, access the internet, etc. Some users, though, may not understand what they are giving permission for. The problem arises when an app claims to perform some task and once given permission does something entirely different. A few instances of this problem have arisen already. The most notable of them, a mobile banking app that was actually pfishing for users personal information.

The response in these situations is to flag fraudulent apps, notify users, and remove the app from the Android Marketplace. In one recent incident, Google actually removed two malicious apps from users devices remotely using a "kill switch". While these issues may not be enough to deter individuals from buying an Android device, it does raise concern over a serious issue. If Android devices are vulnerable to such attacks, a large-scale incident could negate much of the progress Android has made over the past couple years. Security concerns could force corporate IT managers to embrace a competing platform or possibly damage Android's brand.

Despite my negativity regarding the security concerns, Google is positioning itself to become one of the largest players in the mobile operating system space. So far Google has done everything right – quickly building out the second largest software library, getting the mobile operating system onto as many devices as possible, and providing one of the best solutions for larger form factor devices. Since the smartphone market is still in its infancy, it is difficult to tell how much Android will help Google's bottom line. Analysts probably correctly view Android as a side project because it does not actually create another revenue stream for Google. However, I think many analysts may not fully appreciate how important mobile search is to Google's long-term strategy, especially Google voice search. Both technologies allow for Google to extend its reach far beyond traditional PC search. While that reach may not be significant to Google's bottom line right now, it will be crucial as mobile wireless devices gain widespread adoption.

Apple (iOS)
When asked how he would fix the company back in 1997, Michael Dell famously said he would shut down Apple and give the money back to its shareholders. Today, Apple's market cap stands at $241 billion, making Apple the second largest company in the United States. Much of Apple's recent success has been fueled by its best-selling product ever, the iPhone. Released back in 2007, the iPhone redefined the smartphone and left competitors scrambling to catch-up. In less than four years, the iPhone has turned into Apple's largest revenue stream. According to Apple's second quarter earnings release, the iPhone now accounts for over 35% of Apple's total revenue.

Frankly, it is difficult to discuss Apple without repeating information that everyone has already heard over and over. I said early on in this article that I would be focusing more on the long-term qualitative stories behind these companies, because they will largely determine their relative success over the coming decade. I believe the true story for most of these companies does not lie in the numbers, but rather in how well positioned they are for the shift currently taking place in the market. However, I feel Apple's story warrants the opposite approach. For such a highly publicized company like Apple, I believe the real story is revealed after digging into the numbers.

I would like to illustrate my point using a simple example. Let's take a look at something like the size of the company. By market cap, Apple is now the second largest company in the United States, only second to ExxonMobil. If one were to look at revenue, though, it would tell a very different story. In 2009, Apple's total revenue was $43 billion, roughly one seventh of ExxonMobil's $311 billion. In fact, according to the Fortune 500 rankings for 2009, Apple is only the 56th largest company in the US. It is my belief that despite public perception, Apple is only beginning to reach its full potential. Even with its amazing run over the past few years, I believe this decade will reveal how astoundingly profitable this company can become. Simply by looking at the company's projected growth rates and market share, it is clear that there is still tremendous upside in this stock. The chart below shows how Apple handily bests its peers both in revenue growth and more importantly earnings growth. Further, I believe the analyst estimates for 2011 follow a consistent pattern of being overly conservative and that the actual growth rates for 2011 will be considerably higher than depicted below.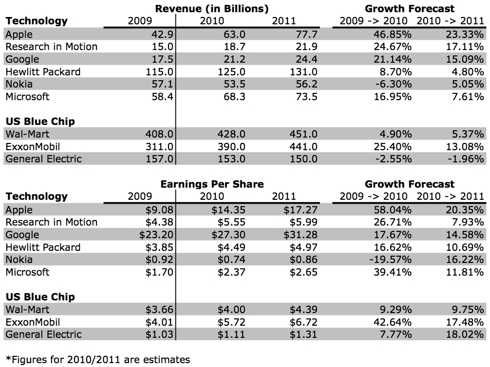 While Apple's massive growth rates are impressive, I think Apple's relatively minimal market share is what will allow this company to become larger and more profitable than most people realize. The pie chart at the beginning of this article showed that Apple's smartphone market share was just 15% in 2009. However, smartphone sales only accounted for 14% of all global mobile phone sales. Essentially, in 2009 Apple's iPhone captured around 2.1% of all worldwide mobile phone sales. That same year, sales of the iPhone accounted for 32.3% of Apple's total revenue. This is what I was referring to when I said the story for Apple is revealed after digging into the numbers. In 2009, Apple generated over $13 billion in revenue from just 2.1% of worldwide mobile phone sales.

You may have noticed in the chart above that earnings growth is actually forecast to outpace revenue growth. This is due, in part, to the iPhone's ever increasing contribution to total revenue. The iPhone is the most profitable device that Apple sells, boasting profit margins of near 60%. As iPhone sales continue to contribute more and more to Apple's total revenue, it drags up Apple's earnings growth and gross margins with it. Not only is the iPhone increasing total revenue but it's also making the company more profitable with each device sold. I think the graph below helps to illustrate this point effectively. It's a bit grainy because it has been passed around on the Internet, but I have tried to clean it up a bit so the lines are easier to see. Essentially, it is comparing how much profit all of Apple's competitors combined (dark blue) make from handset sales versus how much profit Apple (light blue) makes from iPhone sales since its release in 2007.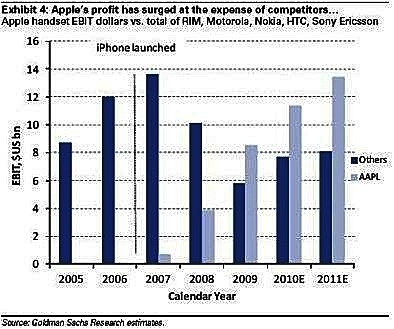 That chart should be enough to make any investor sit up and take notice. In three short years on the market, Apple has generated more profit with 2.1% of worldwide sales, than its competitors combined 97%+ of worldwide sales. However, the overall profitability of the mobile phone market should continue to grow as smartphones make up an increasingly larger percentage of overall mobile phone sales. Because smartphones provide users with far greater utility than traditional feature phones, they are able to command higher prices. This is a trend I would expect to remain in place, at least until smartphones account for the majority of mobile phone sales and begin to reach commodity status.

It seems inevitable that within this decade, smartphones will account for most, if not all, of mobile phone sales. Obviously as smartphone adoption grows, prices will be forced to come down. However, assuming Apple simply maintained its 15% market share, it would imply that Apple could increase shipments roughly 7.5 times. I do not think that will be the case, though. As I stated earlier, there are far too many mobile operating systems for all companies involved to be successful. Apple's iOS is gaining market share faster than any of its competitors, with the exception of Google's Android. Meanwhile, weaker competitors are actually losing market share. I expect that as the smartphone market reaches maturity, Apple's market share will be north of 40%, with Google's Android running on most other devices in the market.

Before moving on to conclusions and investment strategies, I would like to touch on Apple's tablet strategy. Since the iPad's release about 3 months ago, Apple has sold over 3 million units. I believe that much of the iPad's success stems from its extension of Apple's iOS mobile operating system to a larger form factor. By providing users access to the App Store's massive software catalog and maintaining the iPhone's familiar user experience, Apple is poised for tremendous growth as tablet devices continue to gain widespread adoption. Further, providing users with a larger screen enables a wider range of functionality over the iPhone. It is difficult to make sales or growth comparisons for tablet devices because products are just beginning to enter the market. That being said, I believe Apple has positioned itself to leverage its success with the iPhone as tablet devices gain popularity.

Disclosure: Long GOOG, Long AAPL