Google Inc (NASDAQ:GOOG) reported results for the first quarter of 2014 on Wednesday April 16th. Google failed to meet analysts' expectations for its top line as its revenues after traffic acquisition costs stood at $12.2 billion while analysts were expecting $12.3 billion according to Bloomberg. Eventually Google's stock prices plunged in afterhours trading. I am writing this article to analyze Google's latest quarterly performance and determine whether or not this stock is worth investing at this point in time.
Top and Bottom Line
Google's reported revenues for the quarter were $15.42 billion up from $12.95 billion in the same quarter last year securing a 19% increase year over year. When comparing revenues of this quarter to the last quarter a 2% decline is observed.
Segregating the revenues by geography we discover that the US alone is a major revenue contributor for the company despite the fact that its revenue contribution has slightly fallen from 45% to 43% over 12 months. The United Kingdom has maintained its consistent revenue contribution of 10%. However, revenues from the rest of the world have grown to 47% up from 44% last year and 46% last quarter. This means that Google is becoming more dependent on the international market for its revenues.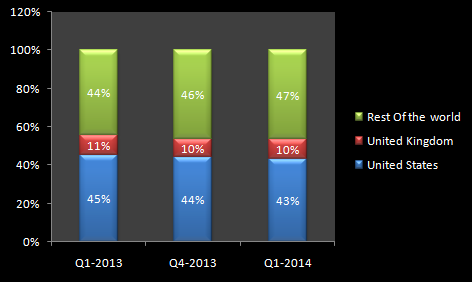 Source: Google Earning Slides
Segregating the revenues by virtue of different sources it is observed that Google is earning the majority revenues, almost 68%, from Google.com. Other sources have started contributing around 10% to the company's top line up from 8% year over year. The contribution from network members stood at 22% down from 25% a year earlier. This makes us believe that Google.com is becoming robust in terms of becoming a revenue generating source for the company while Google's dependence on outside sources has reduced.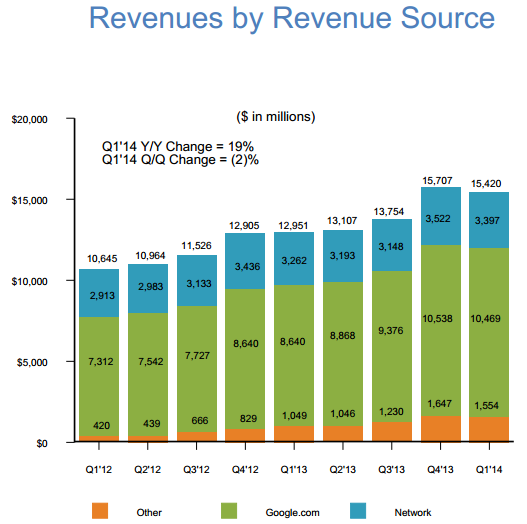 Source: Google Earning Slides
Aggregate paid clicks improved 26% year over year and declined 1% quarter over quarter. However, cost per click remained flat when compared to the previous quarter and decreased 9% compared to the same quarter last year. Another metric to consider is the company's traffic acquisition costs. During the latest quarter Google spent $3.2 billion on acquiring traffic for its websites reflecting a 9% increase from $2.9 billion last year. On the other hand, this also plunged by 2.3% quarter over quarter. A good thing to note is that Google's TAC as a percentage of advertising revenues has been falling over the last three quarters and now stands at 23.3% down from 24.9% a year earlier. If the trend persists it will indicate lowering cost pressures on the company's profitability.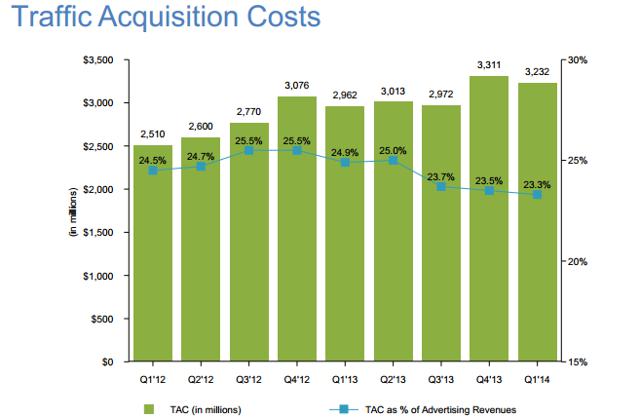 Source: Google Presentation
Google managed to earn a GAAP net income of $3.45 billion in the latest quarter or per share earnings of $5.04. Net income experienced an increase of 3.16% year over year while diluted EPS went up by 1.4% in the same time period.

Data Source: Google Earning Slides
Profit Margins
The following graph illustrates the revenue and earnings of Google in the last 5 quarters and also depicts the net profit margin earned by the company over the same time period. The company's net margins have fallen 2% year over year, down from 24% to 22%, and gained 2% quarter over quarter. The coming quarters will provide a true picture of the company's profit margin trends and determine whether or not it increases or plunges from its current levels.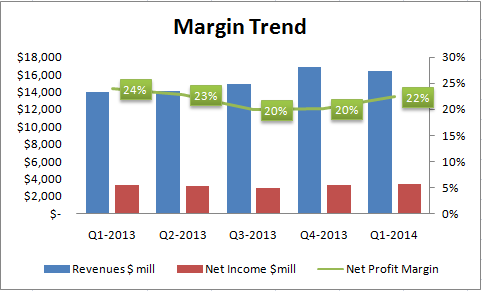 Source: Bloomberg
The company's operating margin is also on the decline as depicted in the graph below. The margin has fallen 2% year over year and 1% quarter over quarter. This is because Google's operating expenses are rising. Operating expenses incurred in the latest quarter were $5.34 billion equivalent to 35% of revenues up from $4.07 billion or 31% of revenues in the same quarter a year earlier.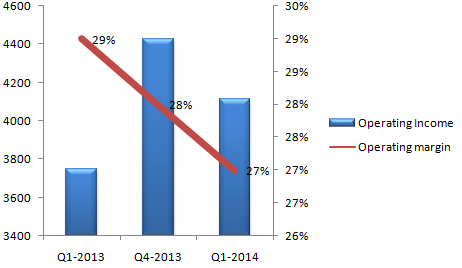 Source: Google Press Release
Capital Expenditure
Google has increased its spending enormously to expand its services and eventually costs are outweighing total sales. Research and development expenses in the latest quarter were $2.1 billion or 14% of revenues up from 12% a year earlier. Free cash flows generated by the company in the latest quarter demonstrated a decline of 16% year over year and 31% quarter over quarter.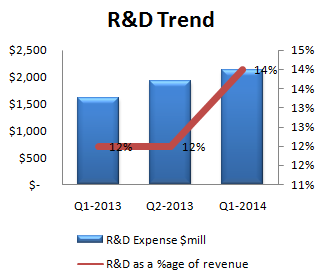 Source: Google Earning slides
In the coming years Google will continually spend money on a variety of innovative programs including Google Glass, its driverless cars, Google Fiber high speed internet, and now high flying solar-powered drones that will connect the developing world to the global broadband network. Since Google spends so much of its money on innovation it's important to focus on the company's top line.
The Road Ahead
Google is heading in the right direction and it will take some time before its strategic investments will start paying off. First of all like other technology giants, Google is also striving to capitalize on the increase in mobile and smart phone usage as a means for revenue generation. But the problem is that customers are not willing to pay that much per ad as they were paying for desktops and laptops. However, Google seems optimistic regarding mobile advertisements as a revenue stream and it expects that soon the wireless gadgets will have more pricing power than traditional desktop spots. Here, I agree with what Google is up to because mobile interfaces provide users with everything on the go which is a necessity in this fast-paced world. That's why advertising customers will have to admit that mobile and other wireless gadgets prove to be better at promoting their products and services. However the small screens of mobile devices will continue restricting the number of ads that can be displayed at a time. But mobile devices can track the location and contextual details of individuals using them and therefore can serve as a platform for better and more focused advertising campaigns. A frictionless payment system is required so that consumers can respond to advertisements by making purchases and paying for them directly via mobile devices. Moreover merchants need to develop their mobile websites so that they are able to sell directly on mobile interfaces. However these two issues are not going to be resolved any time soon but through these the existing disparity between desktop and mobile ad prices can be avoided.
Moreover, utilizing the platform of YouTube Google aims to bolster its advertising revenues. Google's chief business officer, Nikesh Arora, claimed to guarantee an audience to its advertising customers under a new program. Customers will be provided access to some premium content available on the site, and this a strategy that was also recently considered by Yahoo Inc (YHOO) in its latest quarter earnings release.
Apart from this Google is divesting its investments that didn't prove worthwhile just like it sold its Motorola smart phone unit to Lenovo Group Ltd. The deal is priced at $2.91 billion for Motorola's assets apart from its patents that were collectively bought by Google at a price of $12 billion in 2012. The details of the deal were already discussed in my previous article. Motorola contributed a loss of $198 million on a discontinued basis for this quarter. This divestment will free Google to focus on its profitable business segments.
Google has acquired drone maker Titan Aerospace that was previously on Facebook's potential acquisition list. Google acquired Titan Aerospace primarily to provide internet access to those areas that have limited access and secondly this acquisition will also help Google to access satellite images for Google Earth and Google Maps. This is not where the company's acquisitions end. Google is licensing hotel booking software from Room 77 Inc. This acquisition will help Google to deal with travelers looking to book hotels quickly which is considered the most lucrative part of online travel booking. Hence it is valid to claim that Google is not being complacent but is looking to acquire potential growth areas besides their core businesses
Concluding Remarks
Google is facing some cost pressures on its profitability but the spending on research and development is critical for the company to remain innovative and stay ahead of its competitive rivals in the industry. For technology companies, innovation is the passport to their continued success. Therefore Google's stock appears to be an attractive investment and I give it a buy rating.
Disclosure: I have no positions in any stocks mentioned, and no plans to initiate any positions within the next 72 hours.
Business relationship disclosure: The article has been written by a Gemstone Equity Research research analyst. Gemstone Equity Research is not receiving compensation for it (other than from Seeking Alpha). Gemstone Equity Research has no business relationship with any company whose stock is mentioned in this article.