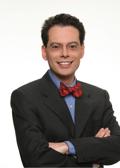 Adolfo Laurenti is chief international economist at Chicago financial services firm Mesirow Financial.
Harlan Levy: Given the volatility in the stock market so far this year, is a 10 to 20 percent correction about to hit us?
Adolfo Laurenti.: There was a stronger market last year, so a correction is always possible, but I think we have much stronger economic fundamentals and a better economic projection for the rest of the year. So I think the stock market has the potential to improve without facing a 10 to 20 percent correction.
Q: The escalating Ukraine standoff with Russia has caused stocks to tumble a bit. What's your take on it?
A: I think the market at this point has discounted some tensions in the area, but with no further military escalation the sentiment in the market is that we'll continue to see Russia and Ukraine escalate and then deescalate tensions.
If we see no serious confrontation between Russia and the West beyond what we have already seen I would call it a benign outcome. I don't think it would be very damaging for Europe or the U.S., but it will be painful in Ukraine. However, there will be international aid to absorb the shock in Ukraine. It will be very painful in Russia, because they will take the brunt of international sanctions, and there will be growing distrust in the country. We saw a downgrade in the Russian debt last week by one of the rating agencies, so I don't think the Ukraine crisis will be kind to Russia.
Q: What's the bond market doing, and what are the implications for the U.S. economy and stocks?
A: Bond markets are caught between a rock and a hard place. On the one side, we believe the Federal Reserve will continue to keep interest rates low in order to generate momentum for the economy, and we do not anticipate a rate hike until the end of 2015. On the other hand, we see economic growth accelerate in the second half of this year, which will result in downward pressures on bond markets. A stronger economy will eventually bring higher rates. Bond bulls may continue to have an upper-hand for the immediate future, but their days are numbered.
Q: We had existing and new home sales data last week. What do those results tell you about the housing market this year?
A: It's not as strong as we would like to see it. There's a lot of repair and improvement taking place, but the fundamentals are not quite there yet.
We have buyers who tend to be cash buyers, typically at the very high end, and then we have investors very active in the market. But we have not seen many first-time home buyers, and we have not seen many of the normal buyers usually in the market.
Also, we have a labor market that's not normalized yet and stagnant wages and salaries. Until we get the labor market right and we see employment coming back further and improvement in wages and salaries the housing market will continue to be tentative, and any gains will not be broad-based.
Q: How might that affect the U.S. economy's recovery?
A: For a stronger recovery, with growth over 3 percent, we need to see improvements in the housing market. We don't think we can move to a higher growth rate until the housing market returns to normal.
But we are optimistic that that may be the case later this year and in 2015. We do see improvement in the labor market, which will add some confidence to the housing market.
Q.: What do the initial unemployment claims data tell you about labor?
A: We track initial claims very closely as a good indicator of job creation. We think that the numbers for April will be good. On Friday we expect a report that over 200,000 jobs were created in April, and there's a good chance it may be quite a bit larger than that. I would not be surprised to see 240,000 or 250,000 jobs created in April.
And we think it will keep going like that. We are going to continue to see growth in professional services. We also expect a pickup in manufacturing and retail and probably some gains in construction as well.
Q: The first-quarter GDP growth comes out this week. What do you expect?
A: We have already discounted a disappointing GDP reading for the first quarter. Several factors will contribute to a meager result, probably just short of 1 percent growth annualized: The harsh winter weather will have dampened housing and construction activity, and to some extent consumption; investment continued to lag and defied expectations of a turnaround; and an adjustment in stockpiles will also lean against the chance of more robust growth.
But all this will be temporary: we already see signs of re-acceleration in the second quarter, thanks to improving consumption, business spending, construction activity; the drag from the accumulation of inventories will abate, and the trade balance will tilt to more favorable terms. The growth rate for the year will likely be 2.5 percent, but at the cost of committing a sin of optimism, we believe that growth above 3 percent for the rest of the year is achievable, and we hope that the second half of 2014 will finally mark the much-awaited turning point for this recovery thus far so disappointing.
Q: So, obviously, you don't believe the U.S. economy is heading toward another recession.
A: It's gaining strength. I think the probability of a recession over the next 18 months is fairly low. The economy is gaining steam.
Q: What are the economy's strong sectors?
A: The one that is going to make a difference in 2014 is probably manufacturing, especially in capital goods. We see investment picking up. We think that consumer durables will continue to do well. I think exports will also come back with improving conditions in Europe, and we do see signs of improvement in Europe.
Also the energy sector will continue to boom. Then we have government, especially at the state and local levels, which will probably get out of the austerity of the past few years. Net-net, we see potential across the board for the economy with consumers, investment, exports, and government.
Q: Is China's economy heading for a hard landing or a soft landing, and what are the likely effects on the global economy and the U.S economies?
A: I do see it more of a soft landing rather than a hard landing. The probability of a hard landing has clearly increased over the past year, and the path of the current leadership on the economy is not clear. It's not clear how China will re-balance the very large imbalances they have.
Uncertainty is up in China, but this will not be a major challenge for the U.S. The U.S. has a very large domestic economy, and the nation can absorb the risk of a China slowdown.
That is not the case in Europe. Europe has more at stake if something goes wrong in China, because they rely more on exports to China than the U.S.
Disclosure: I have no positions in any stocks mentioned, and no plans to initiate any positions within the next 72 hours. I wrote this article myself, and it expresses my own opinions. I am not receiving compensation for it (other than from Seeking Alpha). I have no business relationship with any company whose stock is mentioned in this article.