By Chris McKhann
ArcelorMittal's (NYSE:MT) stock has fallen after this morning's earnings report, and options are positioning for the possibility of further declines.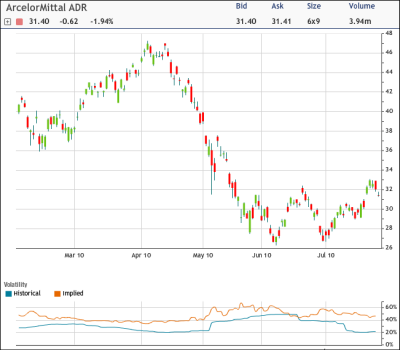 Shares of MT, one of the largest steelmakers in the world, sit at $31.40 as the stock has fallen by nearly 2 percent today. The shares are still above where they were a week ago as they bounced off support at $26.50. MT was above $47 in mid-April before rapidly dropping $20.
The January 26 puts are attracting the most attention, leading today's volume with more than twice the total daily average. Our systems show 10,000 of those puts have changed hands, with one block of 8,250 bought for $2. Even as the stock is near its lows, both the implied and historical volatility are at their lowest levels in more than two months.
For these puts to be profitable at expiration (though it is unlikely that they will be held until then because of time decay), MT will have to be back to prices last seen in April 2009.

Disclosure: No positions