After a gaining almost 400% over a period of 18 months between July of 2012 and January of 2014, Barrett Business Services (NASDAQ:BBSI) stock has been in a free-fall, losing almost 50% of its value since peaking at over $100 earlier this year.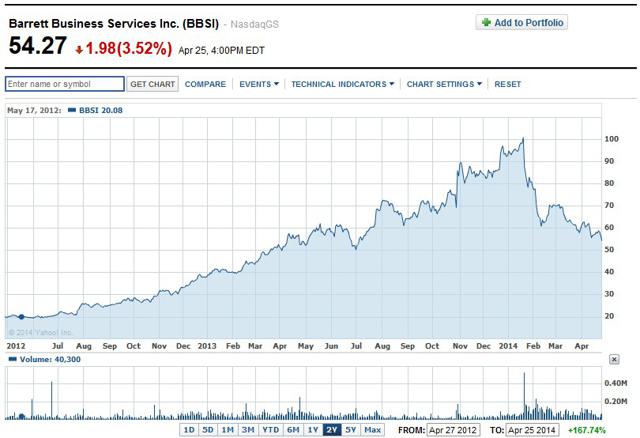 However, there is very little change in the fundamental business which would justify those wild swings in the stock price.
Barrett is a Human Resources Services company. Its two lines of business include Professional Employer Services, which accounts for about 70% of its revenue, and Staffing, which accounts for the remainder. Professional Employer Services involves an arrangement with the client, under which Barrett becomes a co-employer and takes responsibility for payroll, payroll taxes and workers' compensation. This type of arrangement is becoming increasingly popular as small businesses seek to unload the onerous burden of payroll administration.
Taking advantage of the continuing trend towards outsourcing of payroll services, Barrett has grown consistently over the past four years, with annual revenue increasing at a compound growth rate of just under 24% since 2009.

In 2009, the company posted a small loss, but since 2009, the earnings have increased consistently, as per the table below (figures are in $,000s):

The small drop in net income in 2012 versus 2011 was the result of a difference in income taxes.
In 2012, the company repurchased 2.5 million shares from the estate of the former CEO. With this purchase and the ongoing share repurchase program, the number of outstanding shares has been steadily declining, and now stands at just over 7 million, which gives the company a market cap. of $403 million at today's share price.
Dividends have been increasing steadily each year, and now stand at 57 cents per share. As of the end of 2013, the company had cash and marketable securities of more than $119 million, and long-term debt of only $5 million.
The stock is not closely followed - only two analysts follow the stock, and neither has made any upgrades or downgrades since 2009. The average of the two analysts' earnings estimate for 2014 is $3.26 per share, which would be an increase of 29% over 2013.
Barrett's forward Price/Earnings ratio compares favorably with that of its peers in the employment services industry.
| | | |
| --- | --- | --- |
| | BBSI | Industry |
| Forward P/E | 17.25 | 21.95 |
| PEG Ratio (avg. for comparison categories) | 0.69 | 2.52 |
Future growth:
In the final quarter of 2014, Barrett added 156 new clients and lost 30 clients, for a net addition of 120 clients, bring the total number of companies who use Barrett's services to about 3,200, an annual growth rate of about 12% in the client base. The company targets small and medium-sized businesses with 20 to 500 employees. There are over 500,000 such companies in the USA, so there is plenty of space for additional market penetration. In its prime markets on the west coast, Barrett works with 2,800 businesses, about 2% of the total market.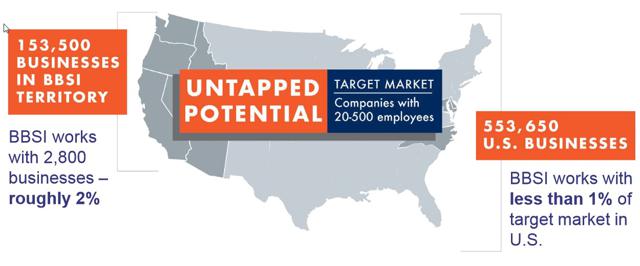 Growth from the addition of new clients will be supplemented by revenue growth from existing clients as those clients expand and hire more staff. Revenue and earnings growth is expected to continue at a rate above 20% for 2014 and beyond.
Risks:
Barrett has been operating a self-insurance program for workers

'

compensation. A provision is made in the company accounts for liabilities associated with this insurance. However, starting in 2015, Barrett will have to purchase insurance to comply with new laws in California, where most of

its

business is done. This is expected to add about 0.25% to the cost of the workers

'

compensation program, some of which may not be recoverable.
Margins in the business are quite low. After-tax profit margin is only about 4%, so any increase in costs could have a significant impact on the bottom line.
Barrett competes on the staffing side of the business with companies such as Kelly Services (NASDAQ:KELYA) and ManpowerGroup Inc. (NYSE:MAN). Competitors in payroll services include Automatic Data Processing Inc. (NASDAQ:ADP) and Paychex Inc. (NASDAQ:PAYX). All of these competitors are larger than Barrett, and have significantly greater resources.
The laws around employment are complex, and vary from state to state. Changes to the law could impact the business negatively.
Earnings report this week:
Barrett's first quarter earnings report will be published this week. Consensus is for a loss of 49 cents (the company provided guidance indicating a loss of 45 cents). Don't panic - Barrett always loses money in the first quarter because of the way in which payroll taxes are collected. A higher loss for 2014 versus 2013 (2013 first-quarter loss was 36 cents) is more likely to be an indication of a higher level of business, rather than a downturn in annual earnings.
Conclusion:
Barrett was overvalued in January, when its shares traded at more than $100 and its P/E ratio had soared above 40.
However, the recent sell-off in Barrett shares has been overdone, and the shares are now undervalued relative to peer companies. Any downside risk is already reflected in the share price. An upside of up to 30% is possible this year, if the forecast growth rates are achieved and the share price returns to more normal levels in line with peer companies.
Disclosure: I have no positions in any stocks mentioned, but may initiate a long position in BBSI over the next 72 hours. I wrote this article myself, and it expresses my own opinions. I am not receiving compensation for it (other than from Seeking Alpha). I have no business relationship with any company whose stock is mentioned in this article.