Starbucks (NASDAQ:SBUX) has been at the forefront when it comes to coffee related beverages. In recent times, the company has expanded its gaze to include tea and soda beverages as well.
Over the years Starbucks has demonstrated an uncanny ability to come up with innovative solutions, solutions which are not usually associated with restaurant operators in general.
The company is looking at many avenues of growth, some of which include:
The Boulange Bakery: Starbucks has initiated the process of introducing sweets from the San Francisco-based La Boulange brand. The longtime San Francisco favorite is known to offer edgy "sweet and savory" items. Starbucks has also introduced on a wider scale the practice of heating up all pastries before being served to customers. The combination of different menu and service delivery methods are showing good results especially along the coasts.
Drive-thru: Starbucks is aggressively adding drive-thrus across America. In fact, two-thirds of new Starbucks stores being built are drive-thrus. According to analysts, these outlets should help the chain generate better sales in the near future.
Lunch: Starbucks is testing menus which could be served during lunch hours time frame not typically associated with Starbucks. The menus under consideration include among other options barbecue pulled pork sandwiches, chicken noodle soup, along with grilled chicken chipotle panini. This new experiment could be an incremental game changer but has high risks too.
Soda and tea: Starbucks is expanding its gaze toward carbonated beverages and its Teavana teas. These beverages are expected to be available across all locations by the close of 2014. There are also plans to add approximately 1,000 Teavana cafes in the coming years.
The Company has been extraordinarily successful in leveraging its multiple distribution channels. These days Starbucks brands are available across the globe. The company has also in recent times introduced more distribution channels including Seattle's Best Coffee, Starbucks VIA and Verismo.
These and other avenues of growth like expansion into emerging markets including India and China are making the analyst community look for higher profit, as high as 56 cents a share, a 17% year-on-year uptick against 48 cents. For the full fiscal year, the projected earnings per share are close to $2.66 which is again a 17% upside over the previous year.
Concerns:
Coffee prices are continuing to increase and dairy prices have gone up around 30% year over year. While it was mentioned before that Starbucks did purchase massive inventory in advance to hedge against this, it is unclear how long they will be able to ride out the spiking commodity costs. Coffee futures have risen close to 80% over the past couple of months and sugar prices have increased around 13%. The high costs of production for Starbucks may force the company to rely on its new ventures unless it wants to dramatically increase prices in the near future.
Investors Takeaway
The confidence in the analyst community stems from the fact that the company has shown signs that it would be demonstrating viable growth in the years to come, or to use a coffee analogy the company would be brewing some very good latte for some time to come. Very few companies have given better bang for the buck as Starbucks. The company has rewarded its investors with 450% gains over the past five years. In the last five years, the company has gained a greater market share of the total coffee-drinking population, staving off challenges from McDonald's Corporation (NYSE:MCD), Dunkin Brands Group Inc. (NASDAQ:DNKN), Subway and the increasingly popular Keurig Green Mountain Inc. (NASDAQ:GMCR). Given America's love affair with coffee still remaining strong and the company managing to introduce interest in tea and other beverages, the company seems to be a good bet for investors in the long run.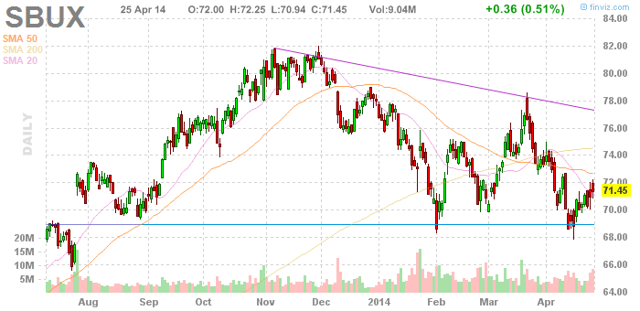 Disclosure: I have no positions in any stocks mentioned, and no plans to initiate any positions within the next 72 hours. I wrote this article myself, and it expresses my own opinions. I am not receiving compensation for it (other than from Seeking Alpha). I have no business relationship with any company whose stock is mentioned in this article.