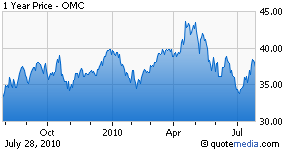 Following the second quarter results on July 20, the analysts have been optimistic on Omnicom Group Inc. (NYSE:OMC) based on the gradual recovery in macroeconomic conditions. However, management did not issue any guidance.
Earnings Review
Omnicom announced encouraging results for the second quarter of fiscal 2010. During the quarter, net income grew 4.2% year over year to $243.3 million from $233.4 million in the second quarter of fiscal 2009. Earnings per share (EPS) also stretched by 4 cents from 75 cents in the year-ago quarter to 79 cents in the reported quarter. Reported EPS beat the Zacks Consensus Estimate of 77 cents.
Total revenue was $3,041.2 million, an increase of 5.9% year over year from $2,870.7 million in the second quarter of the previous year. The company recorded a 6% organic growth. Domestic and International revenues rose 7.4% and 4.3% to reach $1,636.9 million and $1,404.3 million, respectively. The increase was attributable to the general business environment, which continues to stabilize and improve.
Agreement of Analysts
The second-quarter results and the recovery in the general market conditions inspired analysts to increase their EPS estimates. For the immediate quarter, out of 12 analysts covering the stock 7 analysts moved their estimates in the upward direction while only three lowered it in the last 7 days. For fiscal 2010 and 2011, out of 15 analysts, 11 and 10 analysts, respectively, increased their estimates while none moved in the opposite direction. Thus, the overall trend was positive.
Magnitude of Estimate Revisions
For the third quarter of fiscal 2010, estimates moved by a penny to 59 cents from 58 cents. For fiscal 2010, it went up by 4 cents to $2.74 per share, while for fiscal 2011 EPS grew by 5 cents to $3.12.
With respect to earnings surprises, Omnicom had a positive track record in the preceding four quarters. The operator produced an average positive earnings surprise of 3.30% over the last four quarters, meaning that Omnicom has beaten the Zacks Consensus Estimate by that measure.
Our Recommendation
Omnicom has improved coordination between the diverse advertising and marketing strategies for its global customers, which should augment cross-selling opportunities across its businesses.
Despite the challenging economic environment in fiscal 2009, Omnicom continued generating new business wins and has acquired complementary companies to expand its client base, around which the business evolves. Improving economic conditions should benefit the company as they help increase clients' spending.
However, an intensely competitive advertising environment and pricing pressures continue to negatively impact the operating margins. Thus, our long-term recommendation for the stock remains Neutral in line with the Zacks #3 Rank, which implies a short-term recommendation of Hold.