Apple Inc. (NASDAQ:AAPL) has announced two financial developments that appear to have excited new institutional investment interest.
When a stock in its doldrums trading $6 billion a day jumps to a $14 billion pace in less than a week, the buyers are not likely to be those out of work, too early to retire, involuntary retirees. More likely, they're the sellers.
That sudden kind of volume can't help but draw in the aid of the big-block market-making [MM] community. Their shorts in AAPL needed to augment the supply required to fill multi-million-dollar block buy orders puts mondo MM firm capital at risk. Here's what their hedging to cover those exposures and what is being paid to protect against further AAPL price rises means in terms of likely possible future market moves: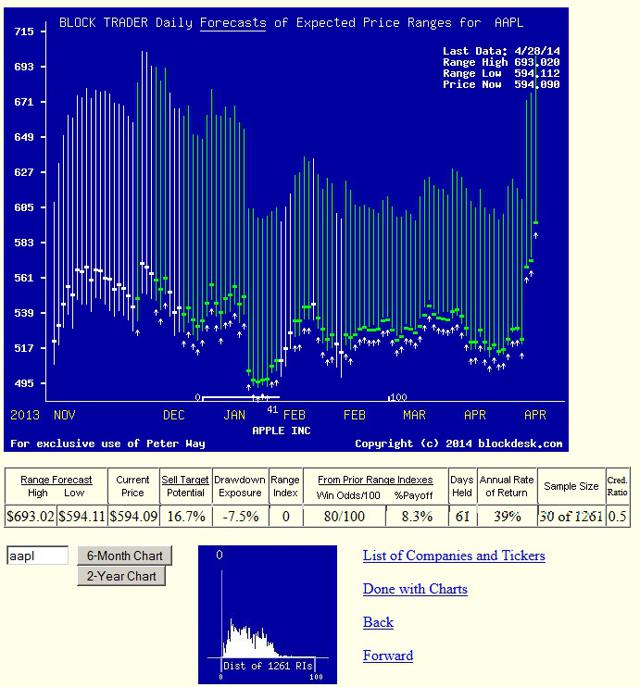 Today's action of announcing another $17 billion loan to provide "tax management" facilities (my terminology, not Apple's) was frosting on the cake of a 7 for 1 stock split. Sellers of stock price protection apparently had no trouble in imagining a quick rise on the new stock to the $100 level, nor were they gentle about negotiating its presence into the cost of protection for the short block desks.
In turn, the block desks apparently found little resistance to that protection cost by the insistent stock buying organizations who had it woven into their stock acquisition costs - "quick before it rises more!"
The implication currently is that another +$100 from $594.09 to $693.02 is in the offing. With a +16.7% upside prospect, the all-too-real memories of -7.5% price drawdowns in the months following at least 30 prior daily forecasts in the past like those of today, that better than 2 to 1 seems like a good gamble. And that Range Index number of zero means that there is no downside being seen in today's forecast.
Yep, there it is, a forecast low of $594.11 with an end-of-day quote of $594.09. And the after-hours quote is up above either of those.
A look at the little blue thumbnail of where today's Range Index of zero is in contrast to the 1261 other market days of the past 5 years shows how rare is this occasion.
But a further examination of how AAPL stock prices have behaved after various forecast Range Index levels is instructive: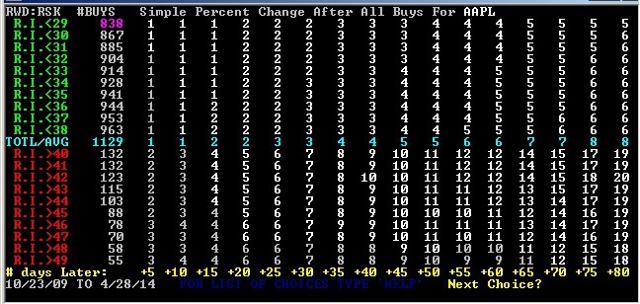 The average AAPL gain (the middle blue row) in 3 months (13 weeks or 65 trade days) during the past 5 years has been only +6%, and in 4 months (80 days) only +8%. But see how the forecast Range Indexes make a difference.
Where MM forecast RIs were below 40 (40% of the forecast range below the current market price), the average gains were uniformly below average. But as RIs increased, the price gains improved markedly. That's the characteristic of a momentum stock.
As momentum stocks catch fire and their prices start attracting a following, the MMs forecasts take on more caution, putting more of the price range below the current quote. But that typically is not enough to dissuade the public, even though the smarter institutions start to phase out, knowing what is likely to ultimately happen. (Like this one did before at $700+).
So if you want a surer ride from lower costs and are willing to take a trifling return of under 20% on your cost, maybe you get on now. But if you're after thrills, in the hope of avoiding the spills, better to wait to see if the rest of the public crowd clamors to get aboard, pushing the Range Index up above 40.
Then the rates of gain have lived in the +65% to +75% annual territory. Maybe it will happen again. Just watch out for those later steps, maybe more than 4 months from when you're first on board. They may not ring a bell.
Conclusion:
It looks like AAPL may be on its way up again, spurred by eager early institutional action.
But will the individual investing public remember the $700 of 2012? Even if it's called only $100 in 2014?
Ya pays yer money and ya takes yer chances. Entertainment is where ya finds it. Do ya love being in a crowd?
Disclosure: I have no positions in any stocks mentioned, and no plans to initiate any positions within the next 72 hours. I wrote this article myself, and it expresses my own opinions. I am not receiving compensation for it (other than from Seeking Alpha). I have no business relationship with any company whose stock is mentioned in this article.