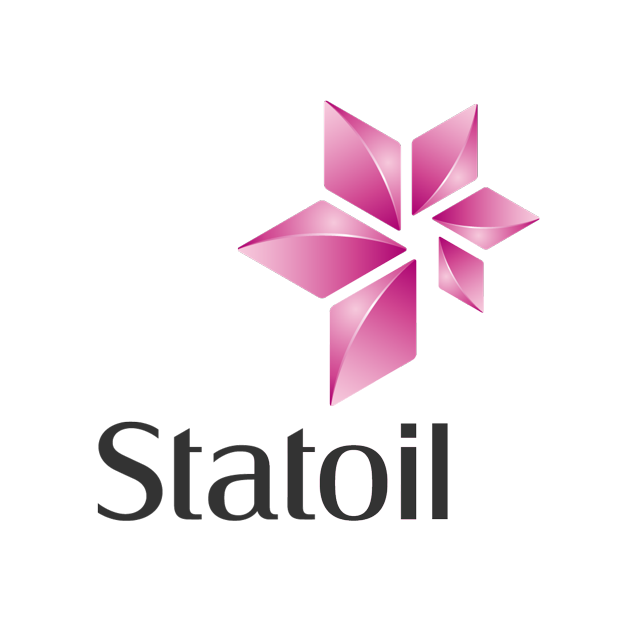 Statoil (NYSE:STO) released Q1 results that significantly exceeded expectations. The earnings beat was, in part, due to realized North American gas prices, which doubled to $1.49 NOK per cubic meter as compared to $0.77 NOK a year earlier. Statoil delivers natural gas to key markets in Manhattan and Toronto from its prolific Marcellus wells. Statoil also announced a dividend payment of $1.8 NOK/share for the first three months of 2014 as the company transitions to quarterly dividend payments. Statoil plans to keep the dividend at that level for the next two quarters. The forward-looking yield is 5.8%. As a result of the bullish Q1 and 5.8% forward dividend yield, I am raising my 12-month price target by $2 to $33.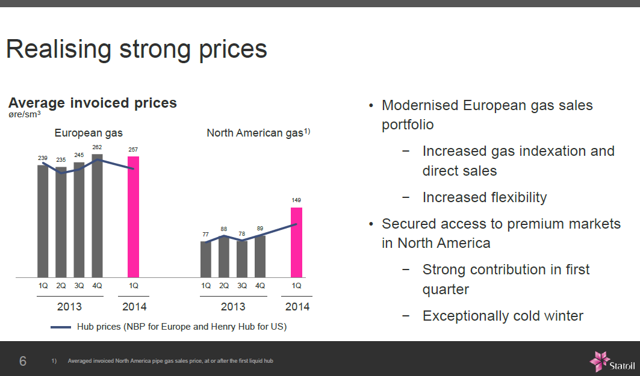 According to Yahoo finance, the average analysts' Q1 earnings estimate was $0.64. Earnings per share came in at $7.43 NOK. One Norwegian kroner is currently equivalent to $0.17 USD. As a result, Q1 EPS of $7.43 NOK equates to $1.26 USD - more than double the analysts' estimates.
Here Come The Dividends
In my previous Seeking Alpha article on STO, Statoil: Raising 12-month Price Target to $31; Stock Could Double in 4-5 Years, I wrote:
...the company will introduce quarterly dividend payouts in 2014, which will result in two quarterly payments during 2014 in addition to the annual 2013 payout ($1.27). Based on the 2013 annual dividend, I estimate the two quarterly payments will be $0.30/share for a total 2014 dividend of $1.87/share. That equates to a forward pre-tax yield of 7% based on Friday's $26.12 closing share price.
It turns out my quarterly dividend estimate was too low. Statoil's board is recommending a $1.8 NOK/share payout for the two quarterly payments. The currency translation as of this morning equates to $0.306 USD/share. Adding the two quarterly dividend payments to STO's estimated $1.27 annual payment for 2013, I get a total 2014 dividend distribution of $1.88 USD per ADR. After the 15% foreign tax ($0.28), that works out to $1.60 USD. At yesterday's closing price of $28.81, that's a 5.6% forward yield for US investors holding the ADRs.
As a result of the better than expected earnings, and the higher than expected 2014 dividend payment, I am boosting my 12-month target for STO another $2 to $33/share. Technically, the stock chart appears very healthy. Statoil is a STRONG BUY.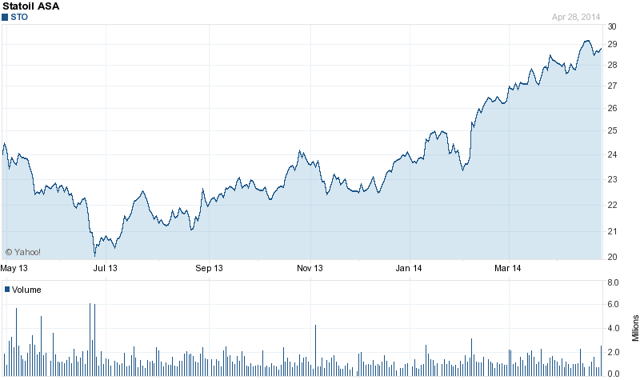 Disclosure: I am long STO. I wrote this article myself, and it expresses my own opinions. I am not receiving compensation for it (other than from Seeking Alpha). I have no business relationship with any company whose stock is mentioned in this article.
Additional disclosure: I am an engineer, not a CFA. The information and data presented in this article was obtained from company documents and/or sources believed to be reliable, but has not been independently verified. Therefore, the author cannot guarantee its accuracy. Please do your own research and contact a qualified investment advisor. I am not responsible for investment decisions you make. Thanks for reading and good luck!