VMware, Inc. (NYSE:VMW), the leading provider of server virtualization solutions, reported solid first quarter earnings. The headline numbers were a bit disappointing, but upon further review, the initial disappointment was overturned. Management is continuing to reinvest in the business more heavily than I would like.
But that reinvestment is leading to product innovations within the app, desktop, networking, and storage spaces. Also, the company is growing internationally. Those factors could drive growth through the back half of this decade. But we are a long way away from there and competition, particularly from Microsoft, is intensifying.
With all of that stated, I view VMware as slightly undervalued with an intrinsic value estimate of $93.10 per share.
Recent Developments
Microsoft Enterprise Mobility Suite, which competes with VMW, is due May 1.
VMware Horizon 6 integrates the management of virtualized apps and desktops.
VMware vCloud Hybrid Service - Disaster Recovery is available.
VMware's first software-defined storage product, VMware Virtual SAN, is available.
Analyst's Note
VMware, Inc., is a provider of virtual infrastructure software solutions from desktop to the data center. It works with more than 1,300 technology partners, including server, microprocessor, storage, networking, and software vendors.
VMware is expanding and enhancing its product offerings through a combination of building in-house and acquisition. This combination and increasing geographic scope should drive revenue growth for the foreseeable future. Bundling additional IT solutions with its server virtualization solution provides the company with increased pricing power and increases customer retention.
As VMware attempts to gain traction in the VDI space, it is critical to analyze the differences between the Citrix XenDesktop platform and the VMware Horizon View platform. There are three key areas that differentiate the VDI solutions: Mobile, security, and graphics. XenDesktop beats out Horizon because of those three features. Two of them, HDX Mobile technologies, and 3D graphics, are IP related. Application security is an area that VMware will likely improve on in the near future. Additionally, the acquisition of AirWatch may improve VMware's mobile technology offering.
First quarter's revenue growth came in slightly below the pace that I forecasted, 17%, for the full year. But excluding Pivotal and divestitures, revenues growth was above my forecast. Also, management maintained their full-year forecast. The increase in sales, marketing and general and administrative expenses as a percentage of revenues contributed to operating income that came in below my forecast for the year. Also, the tax expenses during the first quarter weighed on net income. Overall, it was a decent quarter.
There wasn't much of a change to working capital assets during the first quarter except for a $400M reduction in accounts receivable. The unearned revenue balances were roughly flat relative to the fourth quarter, which is notable. Additionally, there was a $900M increase in goodwill, which to the best of my knowledge is attributable to the AirWatch acquisition. The solvency remained solid, and liquidity remained ample.
The cash flows are tracking inline with my forecasts for the full year. In other words, I continue to expect about $3B in cash from operating activities with $2.66B of free cash flow to equity. Of that $2.66B, $500M is expected to be used to repurchase shares.
Overall, VMW is taking steps in the right direction. Adding to this interpretation is the 2.9% return on equity during the first quarter. We'll have to see how well the company does in storage, networking, app, and desktop.
General Risks
The share price is likely to remain volatile and investors could lose a portion or all of their investment.
Investors should judge the suitability of an investment in VMware in light of their own unique circumstances.
A decline in the global economic growth rate and/or a decline in the pace of economic growth in the United States could adversely impact the results of operations and the share price.
Cyclicality in IT expenditure may affect the performance.
The technology industry is characterized by rapid technological change, which could materially adversely impact the results of operations.
Competition in product development and pricing could adversely impact performance.
Incorrect forecasts of customer demand could adversely impact the results of operations.
Higher interest rates may reduce demand for VMware's offerings and negatively impact the results of operations and the share price.
This section does not contain all risks related to an investment in VMware.
Technicals & Valuation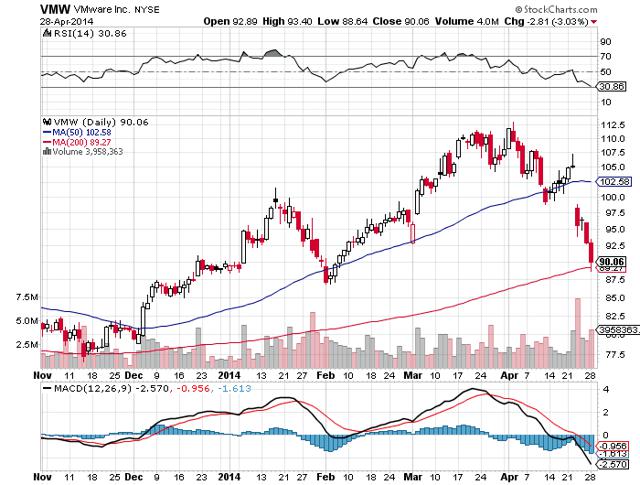 VMware is in an intermediate-term bear market as part of a primary degree bull market. I would look for support to come in here and for a bounce back to at least the $100 per share level. Say, the $105-110 area as a topping zone for the bounce.
With $2.66 of EPS expected for this year and a justified P/E of 35, the intrinsic value estimate is $93.10 per share. For 2015, the EPS estimate is $3.62, which leads to an intrinsic value estimate of $126.70.
Disclosure: I have no positions in any stocks mentioned, and no plans to initiate any positions within the next 72 hours. I wrote this article myself, and it expresses my own opinions. I am not receiving compensation for it (other than from Seeking Alpha). I have no business relationship with any company whose stock is mentioned in this article.