The Deal Essentials
On April 28, Energy Transfer Partners (NYSE:ETP) and Susser Holdings Corporation (NYSE:SUSS) announced a definitive agreement whereas Energy Transfer Partners will acquire 100% of Susser Holdings outstanding common stock for total consideration of approximately $1.8 billion.
The transaction will be funded with ETP common units (50%) and cash (50%). On this 50/50 basis, consideration per share for Susser shareholders consists of $40.125 cash and 0.7253x ETP common units. Energy Transfer Equity (NYSE:ETE) agrees to provide Energy Transfer Partners a GP subsidy of $35 million per annum for 10 years subject to early termination in the event the Susser Petroleum Partners (SUSP) GP/IDRs held by ETP are exchanged for ETP common units held by ETE.
SUSP will remain a separate, publicly-traded MLP. The transaction is expected to close in 3Q 2014.
As part of a 3-step process, Energy Transfer Partners plans to purchase Susser Holdings. Next, Energy Transfer will drop down all retail marketing assets (Sunoco, MACS, and Susser) into the existing Susser Petroleum Partners MLP. Finally, the SUSP General Partner interests will be transferred from Energy Transfer Partners to Energy Transfer Equity via a swap arrangement. This will be enacted by ETE exchanging some of its ETP common units for the GP interest.
Got that?
Here's a slide from the ETP transaction announcement presentation materials that outlines the aforementioned path forward. I've highlighted in yellow a few noteworthy items.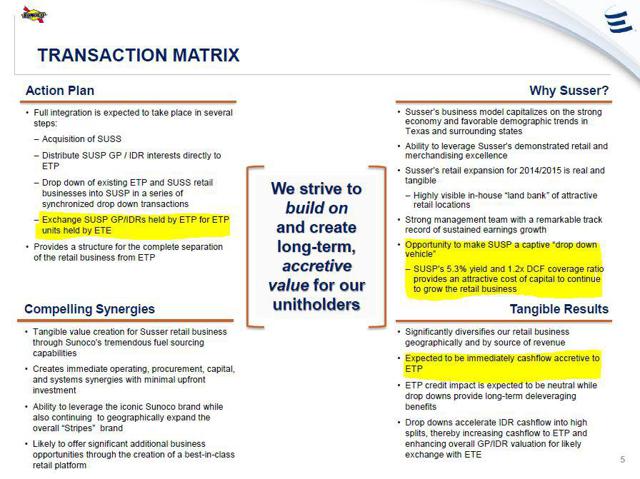 ETP and Susser Retail Marketing Backdrops
Energy Transfer / Sunoco
In October 2012, Energy Transfer entered the Retail Marketing business as part of the $5.3 billion acquisition of Sunoco, Inc. In October 2013, Sunoco increased its retail exposure via the MACS (Mid-Atlantic Convenience Stores) acquisition. Terms of that deal were not disclosed.
The Energy Transfer/Sunoco network now consists of ~5100 retail facilities, including the 300 MACS outlets added recently. Sun markets up and down the eastern seaboard, and throughout much of the mid-west and southeastern U.S.
Susser / Stripes
Susser Holdings and Susser Petroleum market convenience store products and distribute fuels to about 1200 facilities. Susser Holdings primarily manages C-store and restaurant operations. Susser Petroleum Partners distributes oil products to Stripes® stores, independently operated consignment locations, convenience stores and retail fuel outlets operated by independent operators and other commercial customers in Texas, New Mexico, Oklahoma and Louisiana.
The pro forma entity will be a formidable organization, sporting interests in 6300 facilities; notably, the Susser operations have been expanding rapidly.
Following is another slide from the analyst presentation that illustrates the size and scope of the combined pro forma entity.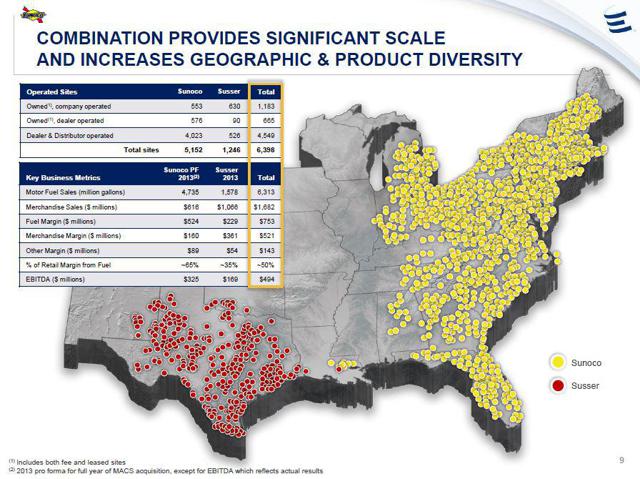 Differing Marketing Approaches
Sunoco has an extensive network of dealer and jobber facilities. Less than 10% of the total retail sites are company-operated. Effectively, Sunoco distributes gasoline to a franchise dealers and independent operators under the Sun flag. Network growth has been limited; most of it coming via acquisition.
On the other hand, Susser Holdings operations emphasize a retail C-store enterprise business model whereas the company manages over 600 stores, many of which include full restaurant services. Separately, the Susser Petroleum MLP arm distributes wholesale motor fuels to independent dealers and customers.
The differing business approaches create the potential to complement each other.
Historical Financial Performance
I rustled up some numbers on Sunoco and Susser to get some perspective on the scale and margins of their respective enterprises. The following table highlights this work:

source: ETP and SUSS 2013 10-K filings and associated calculations
The retail marketing business is notoriously low-margin. Nonetheless, we see the different business models provide somewhat different financial profiles. Energy Transfer appears to have purchased an operation with considerably better gross and EBITDA margins. Susser also spends a lot more capital as a function of span.
Using 2013 results on the prospective $1.8 billion purchase price, ETP looks to have bargained for a 9.4% EBITDA return. It should be re-emphasized that Susser is growing, and $70 million post-acquisition synergies have been identified. In 2013, Susser provided investors with a 12.2% return-on-invested-capital.
On balance, not bad.
What's There to Like
Captive "Drop Down Vehicle"
For a variety of good reasons, Energy Transfer management has sought a way to isolate the retail marketing business. Now they have a way to do it: Susser Petroleum Partners is the desired MLP vehicle, already all cooked up. To boot, ETP has engineered the prize with a stable of additional retail facilities located right in their own Texas back yard.
Immediately Cash Flow Accretive
The pro forma EBITDA and associated returns look acceptable. Energy Transfer has promised an additional $70 million annual run-rate of synergies. These come in the form of expense efficiencies, procurement span, and logistics optimization. Indeed, the new organization certainly has enough heft to throw its weight around.
During the acquisition presentation and conference call, Sunoco senior management set expectations that the company will be "disappointed" if the combined organization doesn't "significantly exceed" anticipated cost synergies.
Susser Holdings Growth Profile
Susser Holdings has a solid growth track record going into the deal.
To illustrate this, 2 F.A.S.T. Graphs follow: the first highlighting SUSS operating cash flows going back 5 years. The second shows the consensus forecast going forward 7 years. The black line indicates price. The pink line is a 10x Price/Cash Flow overlay.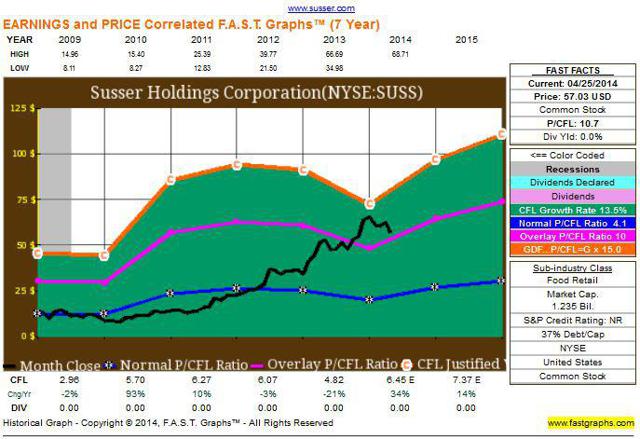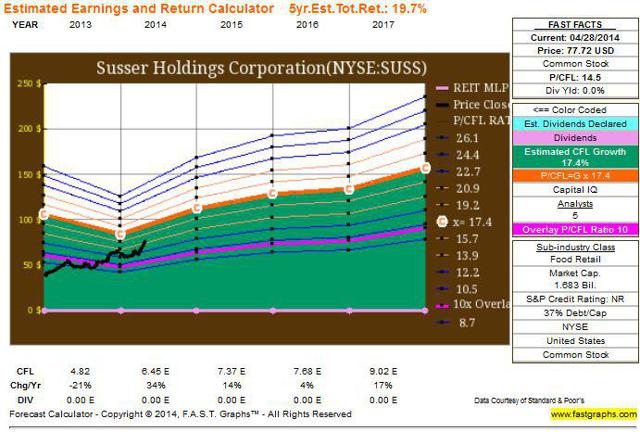 courtesy of fastgraphs.com
Note the 13.5% Operating Cash Flow growth rate over the past 5 years. Then notice the forward OCF growth rate is even better. Energy Transfer is buying a business with some juice in the tank. The stores are located in and around Texas, a hot spot for growth and prosperity. Susser has a "land bank" of some 50 prime properties ripe for retail expansion, too. Management had robust growth on the drawing board well in advance of this deal.
Energy Transfer Equity: More IDRs
Tucked neatly and quietly into the transaction are the Susser Petroleum Partner GP/IDRs. IDRs (Incentive Distribution Rights) are awarded to a General Partner so as to participate in the growth of the underlying business. These give a limited partnership's GP an increasing share in the incremental distributable cash flow the partnership generates. This occurs alongside of per-unit distribution increases to the limited partners.
Currently, SUSP sports a 1.2x DCF (Distributable Cash Flow) coverage rate; so there's room for distribution growth.
Initially, the IDRs will belong to Energy Transfer Partners. However, the stated intent is to move these IDRs from ETP to sister company Energy Transfer Equity via an equity transfer. This will have the effect of reducing ETP's cash distribution (as the transferred units will be retired), while boosting ETE's distributable cash flow.
Energy Transfer Equity has been accumulating IDRs; and as outlined in my previous S.A. article about ETE, the table is set for the business to create long-term unitholder value, and boost its own cash distributions.
What's Not to Like
Price Paid for Susser Holdings Shares
I contend Energy Transfer "paid up" for Susser. ETP offered a 40% premium to the pre-announcement Susser Holdings share price. Given the OCF growth rates noted earlier, I offer a 10x P/CF valuation multiple is reasonable: that's the purple overlay line on the F.A.S.T. graphs. If so, the ~$80 buyout price tag means the shares would not reach fair value until sometime in 2016.
To bridge the gap, ETP management must successfully execute the growth strategies and ensure the stated synergies materialize to justify the premium. It's possible, maybe even probable; but Energy Transfer isn't stealing the Susser Holdings shares.
Associated Unitholder Dilution
For MLP unitholders, dilution is never good. ETP will issue about 16 million new units to complete the transaction, thereby diluting current units by 4.6%. The proposed diluted issuance unit price is $55.32. On the announcement, Energy Transfer Partners units dipped 1.2%, closing at $55.23 on high volume. Typically, this kind of event triggers near-term unit volatility. However, barring a general market swoon, I suspect the units will stabilize north of $55.
Over the past few years, Energy Transfer management has pulled off some pretty slick acquisition integration work. Nonetheless, past performance is no guarantee of future results. Retail marketing is a tough, low-margin business. Corporate culture clash is always a potential problem in a deal like this. ETP is taking over a bunch of facilities in a new geography. Unlike the current business model, these stores generate most of their sales via C-store items and food sales. There's little room for error if the transaction is to become immediately accretive to cash flow and capture the stated synergies.
Bottom Line
As with any major acquisition, there's risk. However, my first reaction to the Energy Transfer / Susser deal is cautiously optimistic. The transaction appears reasonable to both parties, stated synergies are plausible, Energy Transfer management has demonstrated a good acquisition integration track record, and the new retail organization will have significant economies of scale.
While ETP is the headline acquisition party, when the dust settles I suggest ETE units may be the better investment. Follow those IDRs, my friend.
Please do you own careful due diligence before making an investment. This article is not a recommendation to buy or sell any securities. Good luck with all your 2014 investments.
Disclosure: I am long ETP, ETE. I wrote this article myself, and it expresses my own opinions. I am not receiving compensation for it (other than from Seeking Alpha). I have no business relationship with any company whose stock is mentioned in this article.