The FTSE All-Share index could be riding for quite a fall. That, at least, is the message coming from the current valuation of London-listed Investment Trusts. Currently, the UK Investment Trust sector as measured by Thomson Reuters Datastream is trading at a slight premium to book value of 1.01 times. That's almost 2 standard deviations above the average since 1980 of 0.83. If history is any guide, this is bad news for the outlook for the FTSE All-Share index.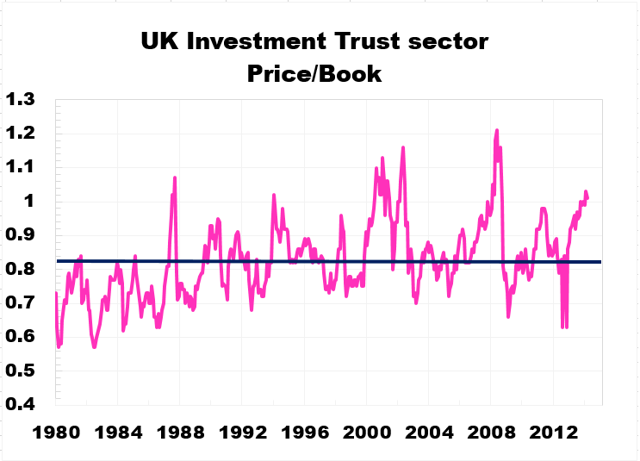 Source: Datastream
The price/book ratio in the case of Investment Trusts - or closed-ended investment funds as they are known in the US - compares the company's stock market price with the net asset value of the shares they hold. Collectively, UK Investment Trusts have tended to trade at a discount to their net assets, on a price/book ratio of less than 1. Since January 1980, they have done so for more than 90% of time. Only a handful of occasions has the ratio gone much above 1 - and almost all of them ended badly.
| | |
| --- | --- |
| Average | 0.83 |
| Median | 0.82 |
| Standard deviation | 0.11 |
| Highest | 1.21 |
| Lowest | 0.57 |
Source: Datastream
In September 1987, UK investment trusts' price/book ratio hit 1.07, just a few weeks before the legendary October meltdown. Even higher ratios around the time of the millennium were followed by the savage losses of 2002-03. Most recently, the peak valuations of early 2008 came ahead of the worst of the credit-crunch bear market. Only in early 1994 was a stretched price/book ratio in this segment of the market not followed by disaster.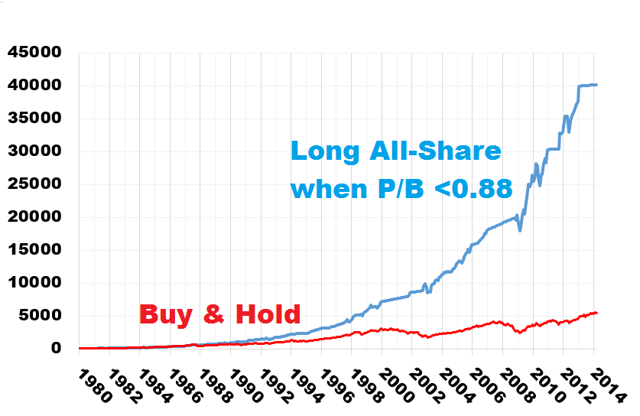 Source: Datastream
Over the past 35 years, this single metric has been a much better predictor of returns over a one-year horizon than any valuation indicator. A strategy of buying the market every time the ratio was below 0.88 and switching into interest-bearing cash above this level would have produced a compound annualised return of 19% after reinvested dividends but before trading costs. By comparison, merely buying and holding the market would have made a mere 12.3%. What's more, such a strategy would have run far less risk, incurring 12.2% annualised volatility versus 16.6% for buy-and-hold.
Is the FTSE All-Share doomed to suffer losses over the next twelve months, based on Investment Trusts' current overall valuation? Although the odds favor poor returns, there are other possibilities. One of them is that Investment Trusts get even dearer as the market pushes higher. But this would surely raise the risk of even more painful losses down the road. Another is that the relationship may break down. However, there's no compelling reason I can think of why it should do so.
What is especially interesting here is that the short-term outlook implied by the Investment Trust premium is at odds with the medium- to long-term outlook that I highlighted in this recent report. Based on a series of valuation measures, the UK stock market is likely to deliver modest positive total returns after inflation over the next 5 years or so.
Of course, there is nothing to say that the FTSE All-Share won't suffer a poor twelve months from around now and then enjoy a good next four years. Weakness on Wall Street - brought about by the end of Quantitative Easing - provides an obvious trigger for poor near-term returns in the UK.
Should the FTSE 100 index - which makes up more than four-fifths of the All-Share index - suffer a close beneath its 10-month moving average, which it is not far from doing, it could be a good time to sell or at least lighten up on holdings of iShares MSCI United Kingdom ETF (NYSE: EWU).
Disclosure: I have no positions in any stocks mentioned, and no plans to initiate any positions within the next 72 hours. I wrote this article myself, and it expresses my own opinions. I am not receiving compensation for it. I have no business relationship with any company whose stock is mentioned in this article.