Geospace Technologies (NASDAQ:GEOS) is an oil services company that produces, amongst other things, seismic data acquisition systems and other equipment used for oil E&P and maintenance of oil and gas reservoirs. Recently, the stock has been under tremendous pressure, as revenues from a large Statoil contract come offline and with a delay in a $30 million order from SGS. (Illuminati Investments has a solid write-up of the company here.) The company's earnings calls make reference to the lumpiness of their revenue stream, which has a lot to do with Geospace's customer base being small, frequently cash-strapped, and subject to the whims of the broader oil market.
I've been debating whether or not to start a position in GEOS, but have been waiting for a decent entry point. After all, the fundamentals of the company look attractive: a PEG of 0.29, forward PE < 10, and a current ratio of 5.3. The chart, though, is a bit frightening: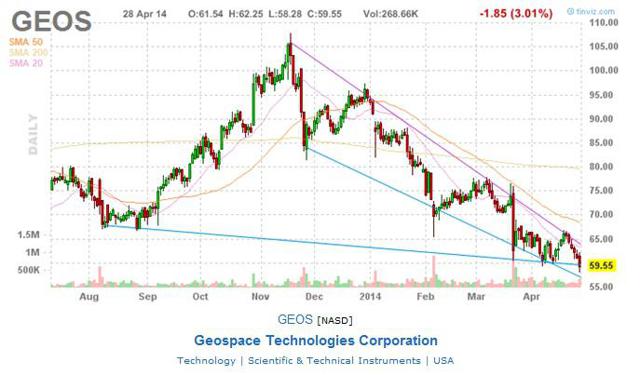 Source: finviz
Despite the lumpiness of their revenue stream, earnings look to have been fairly reliable over the past several years. A back-of-the-envelope reverse DCF suggests that the market thinks that earnings growth will likely be negative moving forward. The stock currently trades for about 4x NCAV, so still not a net-net. I'm a bit troubled by the negative FCF in 2013, which is the lowest on a per-share basis over the past decade. Still, even excluding the Statoil revenues, revenue growth still has remained pretty solid over the past 10 years, growing about at an 8.3% CAGR; net margin has also grown at a solid 8.5% CAGR and currently is averaging about 15%.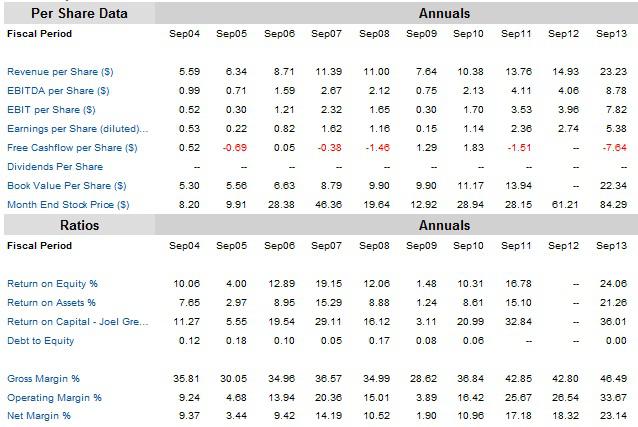 Source: Gurufocus
I can see downside to $35-40 with permanent impact on margins to 11%, revenue growth of 4%, and resulting EPS growth of 3.7%. This assumption would be based upon a continued failure to generate large orders on the scale of Statoil for the next 10 years. That would obviously be a catastrophic downside, though it may overstate the challenges the company faces. On the other hand, if margins are restored to historical norms (15% net margin with 8% growth, topping out at 18%, 8% revenue growth, 7.5% EPS growth), a bull case FV comes out to $85. Given this, shares currently trade in the mid-point of that range. The steadiness of the company's revenues are largely due to its reliance upon a percentage-of-completed accounting methodology, which helps to smooth highly erratic quarter-to-quarter (and even year-to-year) revenue growth. My discounted cash flow model yields $75 as a fair value estimate, implying a 2014 forward PE of 13.9, though with an extremely high degree of uncertainty. I assume a WACC of 14%.
Looking at a technical basis, the stock is trading in a strong downward channel without any visible support. The 14-day RSI implies a moderate oversold status but the MACD is stuck in negative territory and experienced a bearish crossover.
In summary, GEOS appears to now be moderately undervalued, though given the very high degree of uncertainty attached to its revenue stream, in addition to macroeconomic factors (commodities pricing, geopolitical conditions), I would seek a larger margin of safety before initiating a position, with an entry point in the $45-50 range.
Disclosure: I have no positions in any stocks mentioned, and no plans to initiate any positions within the next 72 hours. I wrote this article myself, and it expresses my own opinions. I am not receiving compensation for it. I have no business relationship with any company whose stock is mentioned in this article.