Volatility is a good thing for opportunistic investors. Falling share prices are mostly seen as a sign that a business faces serious problems or that a company disappointed on the earnings front. Warren Buffett, however, sees things a little different: He advises investors -- and this is the quote I read and hear the most -- to be "greedy when others are fearful and fearful when others are greedy." Naturally, considering the investing success and sound investing principles of the most successful investor in the world, I like to apply Warren Buffett's investment advice rather than listen to the activity-inducing 'stock tips' from CNBC or any other financial media outlet that appeals to the mainstream investor.
Over the years, I have gravitated to a value investing/special situation philosophy which, at least for me, produced the best investment results: Buy low and sell High, keep your portfolio turnover low (heavy trading leads to empty pockets), buy a stock when others hate it, sell a stock when others love it. It is also an investing philosophy that requires investors to display emotional strength, to buy when many people will scream at you and, likely, ridicule you.
Unfortunately, many investors lack the ability to look optimistically into the future and to be a visionary. When a company goes through changes and experiences operational/financial setbacks, too often financial commentators and analysts will descend on the company and rip it apart. And it is too easy to do so: If everybody bashes a company, why not join in and reduce reputational risk by aligning with the consensus opinion (also called the regret aversion bias)? However, kicking somebody that is already lying on the ground is not an accomplishment.
J.C. Penney (NYSE:JCP) is such a company. Many of J.C. Penney's problems have been much publicized with regard to eroding sales and negative comparable store sales growth rates. Last quarter, J.C. Penney has presented encouraging sales figures and caused some serious cognitive dissonance for exactly the investor crowd described above: Impatient, short-term oriented traders with nothing more on their mind than the next quarterly earnings. I don't believe businesses should or can be run with such a short-term mindset and I think many investors set themselves up to fail with that attitude.
J.C. Penney still has a long way to go, no doubt about it, but it increasingly looks like that the embattled retail company is pulling its cart out of the ditch. Yesterday, J.C. Penney shares soared once again after positive news came out of the retail sector which suggest that J.C. Penney has a good shot at sustaining sales momentum in the coming quarters and present solid results to a mostly negative investor community (Source: theflyonthewall.com):
Shares of retailer J.C. Penney are rising after apparel maker PVH Corporation (NYSE:PVH) stated at a conference that it feels its business at J.C. Penney is strong and running "ahead of time." PVH's portfolio of brands includes Calvin Klein, Tommy Hilfiger, Van Heusen, and Izod. WHAT'S NEW: During its presentation at a retail conference hosted by Nomura earlier today, PVH's Chairman and CEO Manny Chirico said that the company's business is "pretty strong" right now at J.C. Penney and is "running ahead of plan." He said that in the dress furnishings inventory, the retailer has inventory levels back to where they "should have been." Chirico also said the company's Van Heusen and Izod sportswear business are "very strong" at J.C. Penney and they have also been running ahead of plan there. He said that based on the trends that PVH saw on the Men's side of the business, those brands seem to be performing at a much higher level. While Chirico said he can't make a broad statement, he believes the company's business is comping positively. The CEO added that he expects more positive results from its brands at J.C. Penney and the company is encouraged by everything it has seen over the last 4 to 5 months at the retailer.
Retailers will bounce back
Ultimately, retailers are cyclical companies -- they tend to do better when the economy is doing well and confidence in the economic future and consumer spending is high. The U.S. is still in the recovery process and probably years away from normalized unemployment and interest rate levels. I think there is a good chance that retail companies will be favored investments among investors who pursue sector rotation strategies a couple of quarters down the road. Once investors love retail stocks again, which I am sure will happen if history repeats itself (which it will), current J.C. Penney shareholders should think about selling their stocks, but probably not now. Even if 8-9% day gains are appealing and tempt investors to trade, I think the majority of capital gains will accrue slowly over a period of one to three years.
Technical picture
J.C. Penney surged more than 9% in yesterday's trading session under heavy volume and closed at $8.70. The Relative Strength Index is quickly approaching overbought territory with a value of 58.77. Investors should expect a setback to the $8.20-8.40 region during the remainder of this week and I wouldn't be surprised if J.C. Penney tested the $6.00 level in order to close its yawning February gap (see below):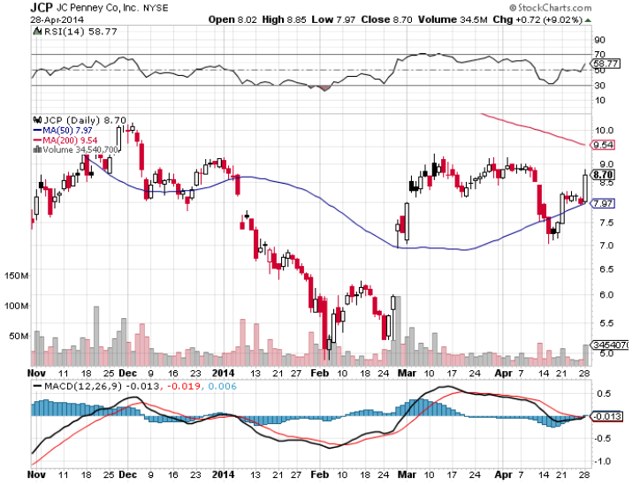 (Source: StockCharts.com)
Conclusion
J.C. Penney is a turnaround investment with substantial upside potential if the company can sustain its sales momentum and surprise investors. In the process, J.C. Penney will likely redefine investor perceptions, which should lead to earnings estimate upward revisions in the near term. With increasingly upbeat news out of the retail sector and improvements in consumer spending, J.C. Penney actually faces a set of powerful catalysts that could drive its share price much higher than the $8-9 we see now. I expect J.C. Penney to be very volatile in the short term, especially around earnings and comp release dates, but think J.C. Penney is only in the first inning of a comprehensive turnaround. Strong, long-term BUY, especially on pullbacks.
Disclosure: I am long JCP. I wrote this article myself, and it expresses my own opinions. I am not receiving compensation for it (other than from Seeking Alpha). I have no business relationship with any company whose stock is mentioned in this article.