In preparation for my upcoming World Cup trip, I figured it an appropriate time to evaluate the Brazilian economy. As the old Portuguese proverb says, "A mal desesperado, remédio heróico..."
The Basics
Brazil experienced rapid growth in the 20th century that fueled the production of gold, sugar, and coffee. Fast forward 100 years, and 200 million inhabitants currently populate Brazilian cities, heavily concentrated on the Atlantic Coast. Of that number, 100 million are active participants in the labor force contributing to the seventh largest economy by nominal GDP ($2.5 trillion) and the largest of all the Latin American countries.
Brazil's Macroeconomic Indicators
| | | | |
| --- | --- | --- | --- |
| | 2012 | 2013 | 2014 |
| Real GDP Growth | .9 | 2.5 | 2.2 |
| Inflation (CPI) | 5.4 | 5.9 | 5.0 |
| Fiscal Balance (per cent of GDP) | -2.5 | -2.6 | -2.7 |
| Primary Balance (per cent of GDP) | 2.4 | 1.8 | 1.5 |
| Current Account Balance (per cent of GDP) | -2.4 | 3.6 | 3.3 |
Brazil's service sector represents two-thirds of the GDP, while the agro and industrial sectors represent the remainder of the pie. The industrial sector accounts for 60% of LatAm economies industrial production and is dominated by automobile and steel industries. The BM&F Bovespa (Bolsa de Valores, Mercadoria & Futuros de Sao Paulo) merger in 2008 created one of the largest exchanges in the world. Some of the largest companies trading on the exchange today include Petrobas (NYSE:PBR), Vale (NYSE:VALE), and Banco do Brasil (OTCPK:BDORY). One of the former mega companies, (OTCPK:OGXPY) filed for bankruptcy last October due to Erike Batistas hollow promises.
In the agriculture sector some 50 million tonnes of soybeans are produced each year and the 200 million cattle heads make it the largest heard in the world. Brazil, being the largest producer in the world, has been the major reason for a 94% rise in coffee prices since the beginning of the year.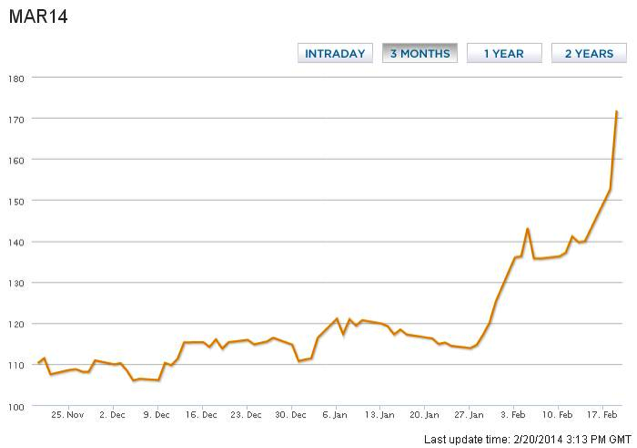 Source: Washington Post.
Declines in the harvest are largely attributable to unfavorable weather conditions. In recent years, the agronegocio coupled with the mining sector have created surpluses leading to an uncontrollable rise in the Brazilian real. Unemployment has been brought down to 5.5% in the last decade while inflation, currently at a volatile 6%-plus, is higher than the comfortable 4.5% target rate. In 2013 it paid more to be a police chief than an accountant, attorney or dentist.
Politics
President Dilma Rousseff has seen better days. A $0.05 increase in bus fares may have been the straw that broke the camel's back, but countless protests and violence throughout Brazilian neighborhoods persist, now covering diverse issues from healthcare to education.
Brazilian citizens' chief complaint: How can you afford to build soccer stadiums but not provide us the bare necessities to live? Corruption and impunity have never been more transparent, and violence continues to worsen as government unsuccessfully attempts to silence the "peaceful" protesters. With elections set for October, the next five months are pivotal for continued progress and reform if she intends to be re-elected. After Carnival last month, the Brazilian government deployed an X- factor: "The Ninja Squad." This special unit of approximately 100 "Ninjas" is comprised of top military officers who use martial arts to immobilize demonstrators.
Economic Freedom
Brazil recently slipped 14 spots in the Heritage annual index of economic freedom. This was due to major declines in labor, monetary, fiscal, and trade freedom. With worsening social conditions, corruption continues to prevail. Over the 20-year life of the index, Brazil has only improved by 5.5 points. Brazil made progress moving into the "moderately free" territory until 2007 but has since taken a turn for the worst, moving back into the "mostly unfree" classification. This lack of progress has discouraged private sector growth. President Dilma was hand picked by "Lula" to become Brazil's first female president who enjoyed high popularity for her first two years in office. The riots in 2013, which led to militants vandalizing property and blocking roads, flushed out the corrupt activities of parliament.
In 2012, Mensalao case members of Brazilian congress were found guilty of participating in pay-for-vote scheme. Contracts are considered secure, but judiciary is subject to political influence. Public debt is running up 70% of GDP and overall tax revenue is 34.8% of GDP. Regulations remain inconsistent and nontransparent. It takes roughly 500 days to incorporate a company and obtain necessary permits. The government limits foreign investment in many sectors of the economy.
The Good
Some major steps have been taken in the past decade to liberalize the country: The Law of Fiscal Responsibility was enacted to control expenditures by governments at the federal, state, and municipal levels. Exports consist primarily (84%) of manufactured and semi-manufactured products and have grown by an average of 20% year over year, while domestic debt has been halved. The entrepreneurship community is growing with roughly 27 million adults starting or owning a business (one in four Brazilians).
Removing the revenue earmarking together with the expenditure ceiling will help foster sustainability of government and social security accounts. On the social progress forefront we have also seen some major strides -- President Dilma has followed "Lula's" footsteps to ensure that the fight against poverty is at the head of the economic agenda. (Co-contributor Otaviano Canuto wrote a thought-provoking piece on gender inequality and the steady decline over the last decade.)
The Bad
The recent focus on Brazil's economy has been extremely short sighted -- no one is looking beyond 2014. What will happen after the world cup and elections in October? Whoever finds themselves in the Iron Throne will be faced with serious make-or-break decisions. It's difficult facing reality after being crowned one of the most promising emerging economies to now dealing with disappointing growth for a fourth year in a row. The problem is that cuts won't start now, as they should, because they'd hurt Rousseff's chance at re-election -- something she won't risk.
The real has appreciated since 2003 and has had a hard time finding a ceiling.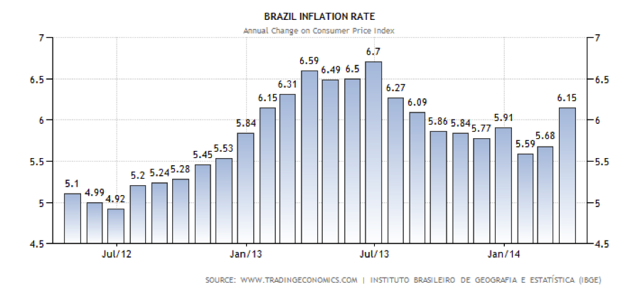 Inflationary issues were temporarily remediated through interest rate increases, taxes on short-term capital inflows, and reserve requirements with foreign exchange intervention. There was a shift towards easier monetary policy and fiscal consolidation but both proved unsuccessful. Guido Mantega, Brazil's Finance Minister attributed the recent acceleration in inflation to the seasonal impact of droughts on the food supply.
Moving forward, the country has laid out plans for spending cuts, public debt reduction, and setting primary surplus targets. From an investment standpoint we continue to see a major shortage of public and household savings. Oil prices have also been held artificially low through state run Petrobas -- this cannot be maintained and will eventually take more money from consumer's pockets once gasoline prices are raised.
Infrastructure is the foundation for a stronger and more stabilized economy. Unfortunately we haven't seen much progress on this end. At the end of 2013, Goldman came out with a report titled: "Emerging Markets: As The Tide Goes Out" in which they highlighted their particularly pessimistic views on Brazil. From reliance on commodities to unfavorable demographic trends, many of their claims have been coming to fruition. GS believes that going forward "the government's large economic role" will be the most important reason for underperformance. The Olympics and the World Cup are simply white elephants but will not contribute to long-term sustainable growth.
It is my view that the foundations for long-term economic development remain fragile and unless drastic measures are taken, immediately, investors should remain cautious with portfolio allocations to Brazilian equities (NYSEARCA:EWZ).
Disclosure: I have no positions in any stocks mentioned, and no plans to initiate any positions within the next 72 hours. I wrote this article myself, and it expresses my own opinions. I am not receiving compensation for it. I have no business relationship with any company whose stock is mentioned in this article.
Editor's Note: This article covers one or more stocks trading at less than $1 per share and/or with less than a $100 million market cap. Please be aware of the risks associated with these stocks.