This four-part series offers readers a short take on four "All-American" stocks. Investors subscribing to the view that a U.S. economic recovery is underway may agree the shares are worth more thorough evaluation.
For purpose of this series, let's define "All-American" to mean companies that are not just based in the States but generate the vast majority of their revenue and net income here.
I've selected stocks that while mainstream large-caps are generally not as "popular" as some peers. This is intentional: to provide my readers with good American companies just outside many of the otherwise most prominent mainstream tickers.
Part 1 of the series covered U.S. Bancorp (USB).
Up today is steelmaker Nucor Corporation (NYSE:NUE).
What They Do and How They Do It
Nucor Corporation and its affiliates manufacture and distribute steel and steel products. The Company also produces direct reduced iron (DRI) for use in the Company's steel mills. Nucor pioneered the "mini-mill" business model, meaning that it produces steel primarily through the re-use of scrap metal via electric arc furnaces. In 2013, the Company recycled approximately 19 million tons of scrap steel.
Nucor facilities are contrasted by traditional, integrated steel manufacturers that utilize energy-intensive blast furnaces. U.S. Steel (NYSE:X) is such an example.
Gauging Success
Evaluating "smokestack" stocks can be tricky. Nucor's business is cyclical, low-margin and requires relatively high capex. Analysis requires reviewing revenue, cash flow and margins along with certain operational metrics. For steelmakers, ASP (average selling price) and mill volumes are helpful.
Revenues
After a quick rebound out of the Great Recession, Nucor revenues stagnated in 2012 and 2013. However, 2014 1Q sales increased 12% year-over-year, a good sign. Notably, severe winter weather hampered the business, bolstering the case for a more significant 2014 upturn.
Earnings and Cash Flow
Nucor last saw an earnings and cash flow cyclical peak between 2006 and 2008. Since that time, a weak economic recovery has blunted a subsequent crest. Offering promise, year-over-year 2014 1Q operating cash flow per share was up 15%, perhaps a green shoot for longer-term growth.
The following chart illustrates NUE operating earnings and operating cash flow over the past 15 years. Please notice cash flow has run consistently above EPS. This trend has continued into 2014. First quarter CCR (cash conversion rate) was 115%, meaning that every $1 operating EPS was converted into $1.15 CF/share.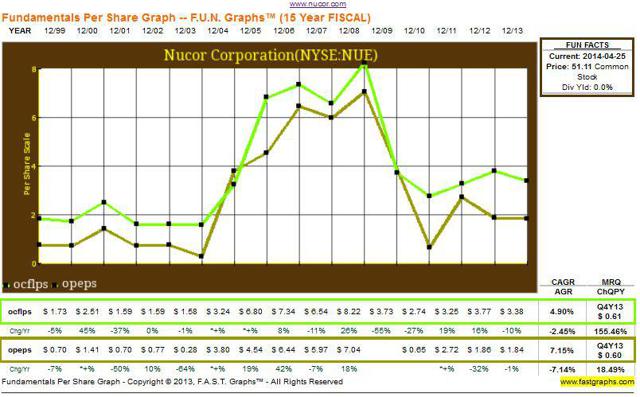 courtesy of fastgraphs.com
Margins
Historically, steelmaking is a low-margin business. However, Nucor has shown solid YoY improvement in both gross and net margins. Versus most peers, Nucor runs a lower gross margin, but a better net. I've selected U.S. Steel, A.K. Steel (NYSE:AKS) and Steel Dynamics (NASDAQ:STLD) as peer proxies for Nucor. Please see the summary table below.

source: google.com/finance
Recently, NUE completed construction and start-up of the world's largest DRI (direct reduced iron) facility. In the near term, the activity has trimmed margins a bit. As the Louisiana-based plant sustains operations and capacity, margins should widen.
ASP and Volumes
ASP (average selling price) and steel mill production volumes are good markers to help track business trajectory. Both have been in the doldrums of late. In 2014 1Q, Nucor reported improvement in these metrics. ASP per ton rose 3% year-over-year and 1% linked quarter. Concurrently, steel mill volumes garnered YoY and LQ bumps of 8% and 3%, respectively. Continued upward trends in these measures are bullish for the company.
Balance Sheet Strength
Nucor has the best balance sheet in the steel industry. Senior management points out (on nearly every earnings conference call) that Nucor is the only major steel company with an investment-grade credit rating: S&P 500 offers an "A" rating. CEO James Frias summarized the Company's overall financial position on last week's 1Q earnings conference call. An excerpt is found below:
At the end of the first quarter, Nucor's financial position remains strong. Our total debt-to-capital ratio was 36%. Cash and short-term investments totaled $1.3 billion. Further to Nucor's strong liquidity, our $1.5 billion unsecured, revolving credit facility is undrawn, and it does not mature until August 2018. We have no commercial paper outstanding.

Our next significant debt maturity is not until 2017. Nucor is the only steel producer in North America to enjoy the extremely important competitive advantage of an investment-grade credit rating.

Our financial strength is a significant competitive advantage. It allows us to invest aggressively during downturns to grow our long-term earnings power, which is a strategic initiative of Nucor.
Dividend Aristocrat
Out of a universe of 5,000 stocks, about 100 receive the Dividend Aristocrat designation. This means that the company has increased dividends for at least 25 consecutive years. For a cyclical company like Nucor, this is remarkable, a tribute to the business, its management, and commitment to shareholders.
Nucor Corporation has declared higher annual regular dividends for 40 straight years. During boom times, the Company has augmented the payout with "special" dividends.
The current yield is almost 3%.
General Story Line
Nucor's forward strategy is straight-forward. The Company runs flexible, low-cost mini-mill operations utilizing electric arc technology. Scrap steel is the primary feedstock. However, NUE also produces DRI to supplement scrap metal. DRI net costs are usually considerably lower than scrap prices. Furthermore, the business can mix/blend scrap and DRI seamlessly. Nucor management will not provide underlying DRI economics as they do not want competitors to know cost or advantage. Nucor just recently opened the world's largest DRI facility, constructed in Louisiana.
Nucor management expects the facility to be profitable in the second half of 2014.
The American Economy
NUE is a U.S.-centric story and its corporate fortunes are tied to an American economic renaissance. Steel is a basic material: industrial production, civil projects, commercial construction, machinery and durable goods all rely on it.
CEO Frias commented upon what Nucor management sees as a gradual turn in the business:
For the second quarter of 2014, Nucor's earnings are expected to show some improvement over the first quarter, excluding the unusual charges. We expect increased profits at both our steel mills and our fabricated construction product businesses.
Interestingly, some Wall Street analysts were disappointed with Mr. Frias' remark, parsing the wording, "...some improvement...," looking for more optimism. A few panned the stock despite CEO John Ferriola adding a little more color to the remarks during the Q&A session (bold italics are mine for emphasis):
So yes, we see some pickup. We think the second quarter will be somewhat better than the first. We tend to be a little conservative, okay? Because we don't know what's going to - how things are going to play out. Right now, our backlogs are good across all of our product lines, our steel lines and our downstream businesses.

So we feel pretty good about the second quarter.
The stock has fallen a few points since the earnings call. Longer-term investors may see an opportunity on reconciling the numbers, management commentary and Wall Street's "interpretation" of these data points.
Those looking for macro clues may wish to watch non-residential construction trends. More than half of Nucor's business is tied to non-res. Mr. Frias hinted some cautious optimism for this segment during the earnings call:
We also remain cautiously optimistic about the outlook for nonresidential construction activity in 2014. This outlook is tempered by excess global steel capacity and the ongoing threat of steel illegally dumped into the United States.
Valuation
Remember I said that valuing cyclical stocks can be tricky?
When evaluating such stocks, it's usually important to follow the industry along with the stock. Some metrics can be a head-fake.
Simply focusing upon current valuation, Nucor's stock appears at or even above fair value. The problem comes when one realizes that cyclicals find turnaround situations very quickly. If an investor waits for the "all clear" signal, it's far too late.
Please find below a table of valuation measures for Nucor and select peers:

source: SEC filings
Nucor is high versus peers on Price/Sales, but well within its long-term average of 0.80. All the steel companies are high on Price/Cash Flow, but this will turn around quickly if the economy ramps up. I view NUE's higher P/CF multiple as a positive, not a negative. Investors are bidding up NUE shares for a reason: the belief that the economy will improve, coupled with the fact that Nucor is efficient and flexible. The Company has used the down cycle to invest in the future. Management stated that capital expenditures will decline this year, not increase. Senior leadership "seeded" the business and now are waiting for it to rain.
On the other hand, U.S. Steel is a traditional steelmaker. A combo of higher general expenses, higher maintenance capital requirements and a far less flexible workforce will become a drag on its performance even when the economy cooperates.
Smaller rivals A.K Steel and Steel Dynamics are more nimble like Nucor, but generally lack the cash generation pull-through, superior debt structure and dividend consistency of Nucor.
Nonetheless, it would be fair to point out that Steel Dynamics is a sound operator and likely a reasonable industry stock pick.
Summary and Conclusion
Nucor Corporation is a great American company. Management is straight-shooting, shareholder-friendly and tough. If the U.S. economy is on the verge of a construction and capital breakout, NUE shares should enjoy a strong uplift.
Nucor management has used the last few years to position the business for just such a cyclical upturn. Modest acquisition activity, construction of a world-class DRI facility and strong energy management initiatives place the Company to capitalize upon improvement in the North American economic climate.
Shares appear priced at fair value today, but cyclicals like NUE often "pop" ahead of the underlying macro business events.
Please do you own careful due diligence before making any investment. This article is not a recommendation to buy or sell and securities. Good luck with all your 2014 investments.
Disclosure: I am long NUE. I wrote this article myself, and it expresses my own opinions. I am not receiving compensation for it (other than from Seeking Alpha). I have no business relationship with any company whose stock is mentioned in this article.