B
y

Tony D'Altorio
The euro is up but Wall Street remains almost universally bearish on anything European. Of course, one person's junk is another one's treasure. There are still significant opportunities to be had out there.
For instance, Germany, the world's second largest exporter, has actually come out on top. The Euro's fall has made its industrial goods even more competitive.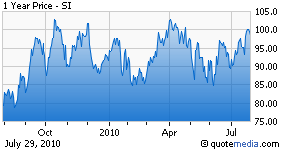 Just take Siemens AG ADR (NYSE: SI).
It has increased its bottom line by 50% from last year's levels. And it raised its 2010 guidance by 20% to $9.7 billion. Impressed yet? Keep reading.
Siemens is an industrial conglomerate involved in a number of sectors. That includes: information and communications, automation and control, power, transportation, medical and lighting.
The company is a leader in green efforts such as new smart grid technologies and energy-efficient, high-speed trains. It also leads in offshore wind generation and comes second in the onshore variety in the U.S.
In addition, it recently developed the world's most efficient gas generation turbine. That wide range of businesses helps to shield it from the economic downturn.
Siemens in Emerging Markets
Along with its product diversification, Siemens has a firm grasp on emerging markets. And it announced plans not too long ago to expand its grasp over the next three years. It will invest about €3 billion into Brazil, Russia, India and China through 2013. That will drive technology production especially made for a quick rollout in such areas.
Currently, Siemens' Indian subsidiary, Siemens Limited, is working on 42 different products for its market, including traffic management technology, solar-powered X-ray machines, wind power generators and a smart Camera. Average cost: €20 million.
Meanwhile, in China, the company has 13 engineering research projects. And it expects to launch up to 50 more projects in the next three years. It believes that different design strengths across those countries will combine to create a new generation of lower-cost technology.
After all, despite fast growth in places like China, they still rely on largely cheaper goods. So if Siemens wants to really capture emerging markets, it has to price accordingly.
Siemens' Emerging Markets Strategy
Siemens executives estimate that a market like India is 70% "base level."
The company recognizes that the high-end, expensive technology it sells elsewhere won't do very well in the developing world. So it plans to meet them right where they are. Its bold strategy will no doubt have its critics, especially on Wall Street. But those fat cats should open their eyes, because Siemens' business plan makes sense.
In countries like India, engineering skills can cost a tenth of what they do in Germany. And that kind of difference is a sure way to reduce the costs of the actual products. By developing locally, it also avoids heavy duties and shipping fees. Still, Siemens argues that cost cutting isn't its main focus; growth is.
It believes it has a small window to act before domestic companies begin taking over. Sunil Mathur, chief financial officer of Siemens Limited, agrees: "There are a lot of Indian companies competing with us in [their] home market. If we don't get to these markets, other companies will."
And it sees similar competition in the Middle East and Africa.
Siemens hopes that eventually, China and India will evolve into export bases. It can then use them to supply countries with similar stories, including Indonesia, Vietnam and Egypt. With goals like these, don't be surprised when this company goes far.
Disclosure: None.
Disclaimer: The Oxford Club LLC/Investment U and Stansberry & Associates Investment Research are separate companies, and entirely distinct. Their only common thread is a shared parent company, Agora Inc. Agora Inc. was named in the suit by the SEC and was exonerated by the court, and thus dropped from the case. Stansberry & Associates was found civilly liable for a matter that dealt with one writer's report on a company. The action was not a criminal matter.