Why is no one talking about the WisdomTree Middle East Dividend Fund (NASDAQ:GULF)? I thought we were all starved for yield and desperate for good growth at a fair price?
This was the last Focus article. It was published almost a year ago. I disagree with some of the conclusions in that piece, but that's easy and unfair, since I have the benefit of hindsight. I like the analysis and the deeper look at the individual holdings. In short, the "quality" of companies in this index fund (and the Middle East in general) is a little lower than you'd find elsewhere. That still may be the case today, but let's not forget that this is a frontier market. It hasn't even graduated to "emerging" yet!
This is perhaps the most important point to consider, as it frames the rest of our analysis.
And there isn't much analysis or commentary on this either, even outside of Seeking Alpha. So let's take a look.
Wow, Performance!
This is why I'm a little surprised that no one is talking about GULF or the Middle East.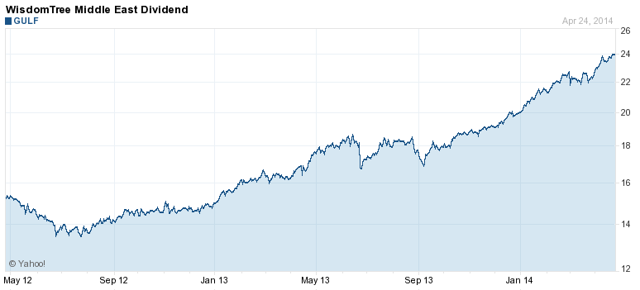 (source: Yahoo)
It's not every day you see a chart like that.
GULF is technically a "dividend" focused fund, and with a 3.2% yield, I suppose that classification fits.
The Market Vectors Gulf States Index ETF (NYSEARCA:MES) has a roughly half the yield and a chart that looks just as sexy.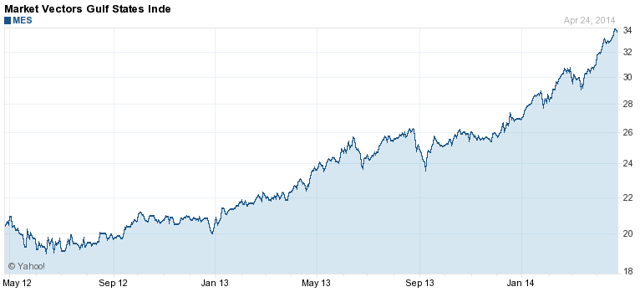 (source: Yahoo)
The Middle East has been white hot, folks. Were you aware of that? I know that everything went up in 2013, but what's most impressive is seeing this kind of move with such little volatility.
Nor did these funds blink when the market corrected in January. They were off to the races again in March, while the market chopped around.
It's momentum, sure. But this region has exhibited a lack of correlation here in 2014, hearkening back to the old days where international stocks really were a place investors could seek diversification. These days, pretty much all equities correlate, so I wouldn't necessarily expect this region to hang in there if the domestic market fell apart. Anything's possible, though. And the Middle East may have a better chance than most to preserve value if the S&P corrected.
This what the 5-year rolling correlation for GULF looks like with the S&P: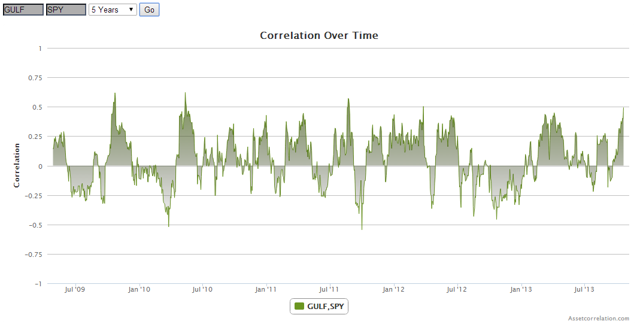 That's better than a lot of what you'll find in the international space. As a portfolio manager, investments that don't correlate are like catnip.
You can also see that the Middle East has started to break from other emerging markets as well.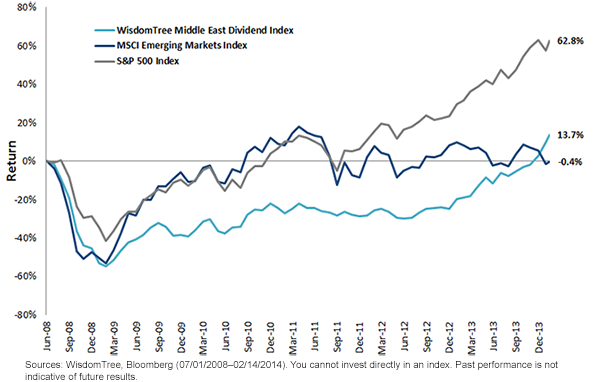 It's worth highlighting for a moment just how amazing the S&P has been since the 2009 lows. It's been one of the most remarkable investments in history, fitting, since early 2009 was a time when the entire planet thought stocks were the worst possible investment proposition.
Emerging markets paced the domestic recovery for a while, but the last few years have been a slog. The Middle East has changed that trajectory in a way that other EMs haven't. I understand that some investors may be wary about stepping into a market that has rallied so dramatically over the last year, but I don't believe the momentum-based hesitance is warranted.
Just because a stock (or a country) has gone way up doesn't mean it can't keep going up. Investors -- value investors in particular -- make this mistake all the time.
The Value
I have a proprietary metric that ranks these ETFs in terms of risk-adjusted performance. The Middle East is at the top, exactly what you'd expect after looking at the above charts.
Here's how they score over the last three years: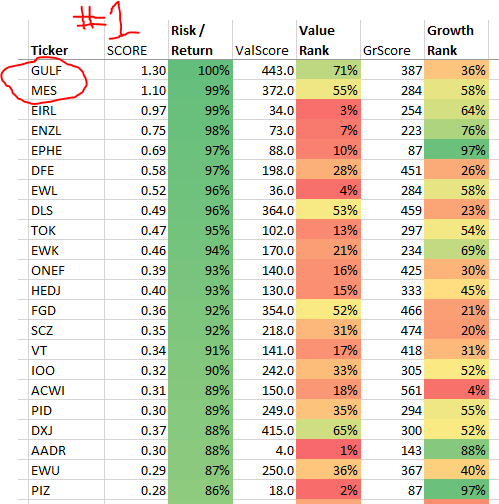 (source: Alpine Advisor)
But unlike a lot of the other countries that have demonstrated such impressive trailing performance, the Middle East is still somewhat attractively priced. GULF trades with a 12x forward PE, while MES trades at 14x. There could be another 25-30% appreciation ahead on valuation-based reasons alone. That's assuming the world decides to hand this region a multiple similar to other non-toxic reasonable-growth countries like Israel, New Zealand, Australia, Ireland, etc., or even the U.S.
We'll get to the specific growth forecast in a minute, but in general, I'd rather pay a great price for good growth than pay through the nose for Indonesia-style growth.
The Risks
It's worth asking how this region got so cheap in the first place. And the answer is simple.
First, these markets got obliterated in 2008-2009, just like every other emerging market around the world. Emerging markets were the place to be in the pre-crash days, carrying exactly the price multiples that one would suspect given the rate of growth that were expected at that time.
Second, the trajectory of the Middle East tracks what happened with crude oil a little more closely than the rest of the world's equity markets. The Middle East cratered, but it didn't rally back the way that other emerging markets like the BRICs did. Instead, like Crude Oil, it bounced a little bit and then traded in a range for a long time. Only in the last 6-12 months have the equity markets here started to rally meaningfully. Over 2013 and 2014, the correlation of these funds with Crude Oil has broken down.
Given the importance of oil exporting in many of these economies, it's possible that any kind of oil-related headwinds could be troublesome for the region. But these economies have performed well with crude in its current range, and unless oil prices collapse again, it's unlikely that these trends represent a serious threat.
Plus, there's the general stigma of the Middle East as a region of war and geopolitical risk. There's certainly plenty of evidence to justify that preconception, but it's important not to look at the region through a filter of homogeneity. After all, we didn't run screaming from Brazil during the EM boom, even though Venezuela, Argentina, and other South American economies had a long history of scorching investors.
When we drill down a little deeper, the specific exposure suggests that these risks might be worth taking.
What's In It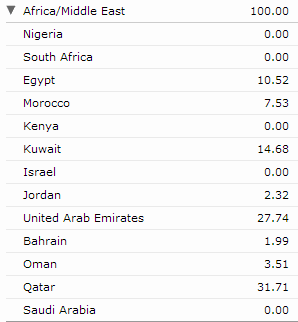 (source: Morningstar)
The GULF ETF consists of mostly UAE and Qatar. MES has a similar weight, but none of the peripheral stuff like Egypt, Jordan, or Morocco. That's fine. As the Middle East goes, these two countries are bastions of stability.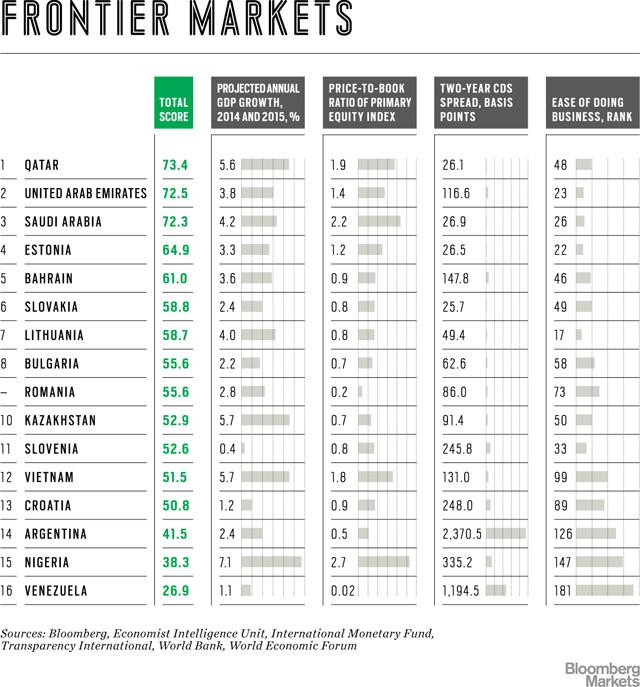 In the frontier space, these two countries score very highly in ease of doing business. Spreads are also low, signifying confidence that there won't be an economic implosion or sovereign credit panic. We're long past the real estate bubble-fueled Dubai freakout in the early post-crisis years. Today's Middle East is very different.
There may be zero sign of credit instability, but that's a risk to file away and remember for later. Because these things are mostly banks: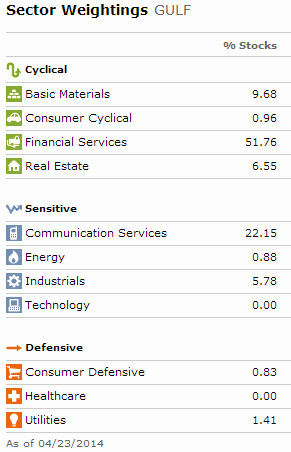 (source: Morningstar)
MES has a similar sector weighting. With less of an emphasis on dividends, it contains less telecom and more industrials & real estate.
Now that we know where we've come from and where we are at present, let's take a look at where we're going.
The Growth Outlook
These economies have grown rather impressively over the last few years: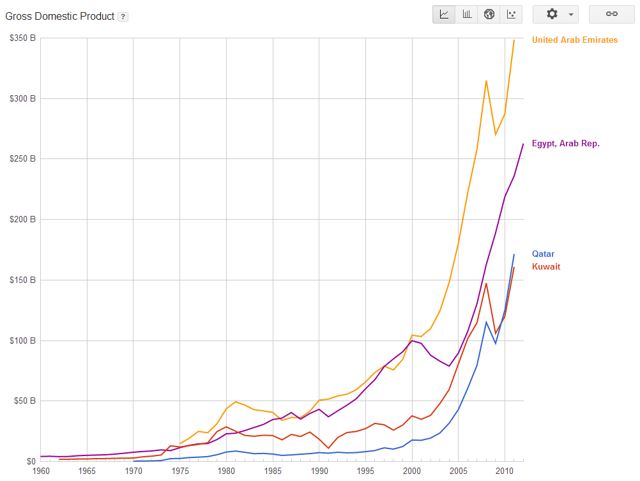 It's certainly not without volatility, though. The growth trajectory is good, but it's also lumpy: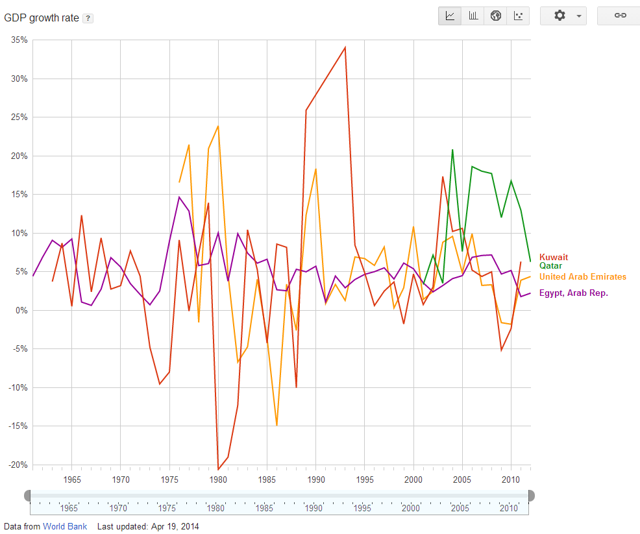 Some economic volatility will probably continue to remain the case. This isn't like the developed world, where economies grow at a stable, predictable rate.
Even though these Middle Eastern economies are small, in terms of per-capita GDP, these countries rank extremely well relative to the rest of the world: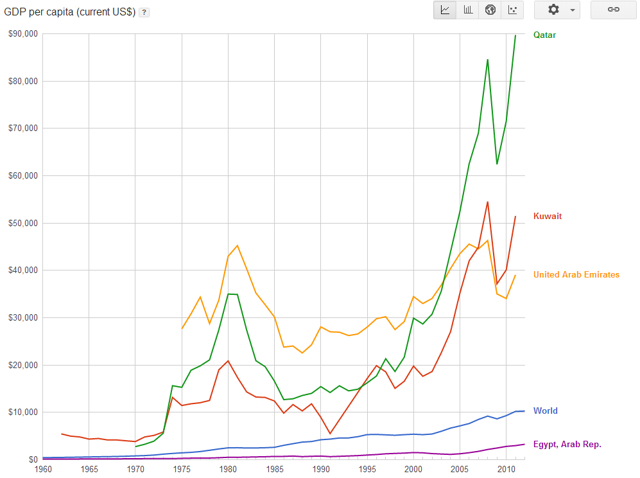 These are modern, sophisticated economies. Kuwait and Qatar are still largely dependent on petroleum-based products. But the UAE has diversified almost completely away from an oil-based economy. Egypt's economy is very diverse too, though they're still figuring out a clear path for the future.
The IMF is projecting Qatar and the UAE to grow in the 4-7% range for this year and next. That's more or less in line with the growth they've averaged recently, though sharply lower than the insane 15-20% rate Qatar was growing at back before the "peak oil" frenzy.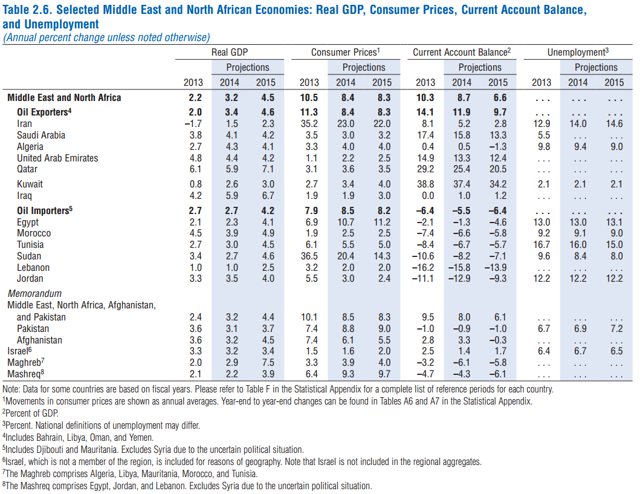 (source: (IMF))
It's true, oil exporting matters a great deal for the Middle East economy. For the ones still relying on oil exports, the worst is probably behind them. Oil prices collapsed, and these economies didn't. The odds of a similar collapse in oil prices is very low. And that will matter less and less as these nations slowly move towards a more diverse economy.
You can see that even the oil importers are still all projected to grow at a 4.2% rate, which is significantly greater than the developed world.
With funds like GULF and MES, you're acquiring better growth than the major developed markets and paying a fraction of the price. There's also more stability here -- both economic and political -- than you'd think. We, in the Western World, often make the mistake of thinking that all of these countries resemble Saudi Arabia or Iran. We need to leave or economic and political prejudices at the door.
Cultural Changes
Lastly, along those lines, it's worth pointing out that there are cultural changes underway over there as well. This is another thing that Americans frequently lose sight of.
I'm certainly no expert when it comes to geo-cultural trends. I do, however, pay extremely close attention to film and media. In the U.S., Hollywood has been reflecting cultural trends, values, and evolution for almost a century. Movies let us know what's happening, what's important, and where we're going. I realize this may sound silly or new age-y to investors, a subset of the population with a fascinating obsession with numbers and quantitative patterns, but everything is connected. Talk to some filmmakers about their medium sometime and get their thoughts on what cinema says about ourselves and our society.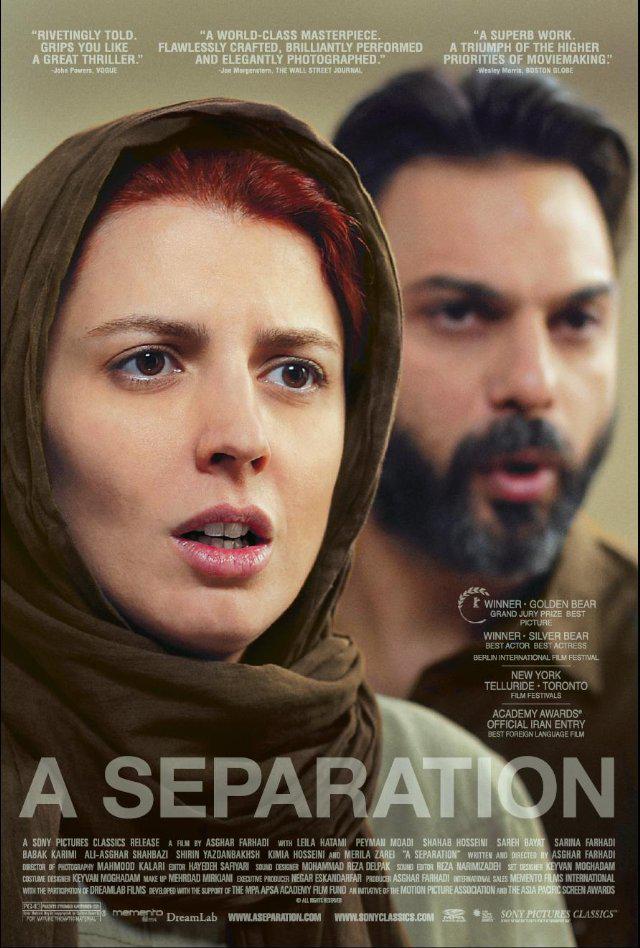 (source: Wikimedia)
Last year's Wadjda, the first feature-length film ever shot in Saudi Arabia (by a woman, no less), scored 99% at Rotten Tomatoes. A Separation, shot entirely in Iran with a tiny budget and under immense pressure from the government, won an Academy Award for Best Foreign Language Film. It's #102 in the IMDB top-250, and it's one of the best five dramas I've seen in the last five years.
The (relatively) more liberalized cultures of Qatar and UAE have taken these emerging trends one step further with the Doha Film Institute, dedicated to educating the public about film and building an appreciation for film as media. It also sponsors film festivals and provides financing for regional films.
You can see, however, that Middle Eastern viewers may be a little different than ours: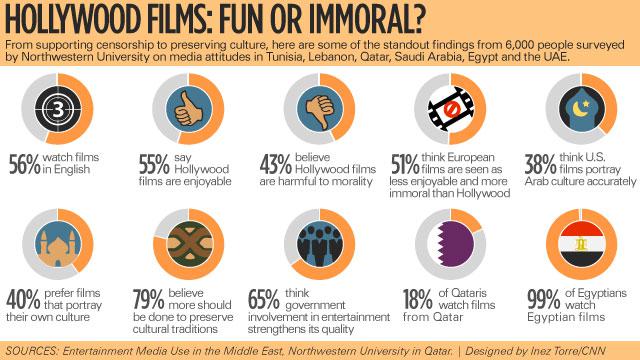 In any case, the point is that though these (historically) extremely conservative cultures are still extremely conservative, they're opening up somewhat, at least in certain pockets.
This doesn't matter directly for the economies and investors in them, but the world's largest and most developed economies do have a common denominator of social liberalism. I use that term in a relative sense, of course. The U.S. may be conservative relative to Europe, but it's very liberal relative to the Middle East. A liberalized culture certainly doesn't make an economy grow. Rather, it's a side effect that, for whatever reason, tends to accompany growth. In a way, it's another barometer to help us figure out where we are. Hyper-conservative cultures have never been featured atop the list of largest economies throughout most of history.
We might not ever see these countries make the step from frontier economy to emerging all the way to developed. But they're all on the right trajectory. Even Egypt, today, is on a more sustainable path. Western economic and political values, for better or worse, have had quite an influence in recent years.
Conclusion
The Middle East may not be what you're thinking. Gone are the perceptions we developed during the 90s. It's a dynamic place, both economically and culturally.
These funds are worth consideration, especially from any investor willing to step outside the U.S. in the search for value. There's a final way to play this region too, the iShares MSCI Frontier 100 (NYSEARCA:FM) fund. That has a somewhat similar regional weighting -- roughly 60% Qatar, UAE, and Kuwait. It's a little more expensive than GULF, but not by much. FM is an intriguing alternative for getting a broader basket of exposure with these inexpensively-valued, higher-growth markets.
Investors aren't totally on board with these trends, nor are they fully appreciating the fundamentals. At best, investors are now probably feeling optimistic about the Middle East, rather than excited or euphoric the way they are with U.S. stocks, especially the higher-flying names. Given the lack of research and commentary on Seeking Alpha and other sites, "optimistic" might even be too far along the cycle. Maybe it's just too boring right now, and until more investors start noticing these price charts, we'll continue to swarm to stories about Facebook and how much growth is left to squeeze from biotech.
In short, the Middle East is awesome. Or rather, it has been awesome. For investors, it's the #1 market in terms of risk-adjusted performance. Given the current valuation and growth projections, and nothing on the geopolitical or cultural front to derail those trends, this is a classic situation where "just because a market has gone way, way up doesn't mean it can't keep going up."
Disclosure: I have no positions in any stocks mentioned, and no plans to initiate any positions within the next 72 hours. I wrote this article myself, and it expresses my own opinions. I am not receiving compensation for it (other than from Seeking Alpha). I have no business relationship with any company whose stock is mentioned in this article.
Additional disclosure: See additional disclosure at cornicecapital.com/AlpineAdvisor/legal-notice/