A common perception of MLPs is as higher yield investments with potential for moderate distribution growth. Going against this typical MLP outcome are the fast-growth partnerships, where the potential for rapid distribution increases lead to unit price gains that can rival growth stock returns. At the time of writing, there are 14 MLPs with twelve-month trailing returns of 50% or greater. However, the goal is to find those MLPs with the potential for the highest total returns going forward and this article will be the first of two listing those partnership units with the most attractive growth prospects.
Catalysts for Unit Value Growth
MLP unit price growth is fueled by ongoing and forecast distribution rate growth. If the distributions grow by 20% per year and the market keeps the yield fairly level, the unit price will appreciate by the same 20% per year. Compounding the growth and adding in distributions results in a 3-year total return of 90% to 100%. The MLPs listed here have analyst forecast 3-year compound distribution growth rates of near 20% or higher.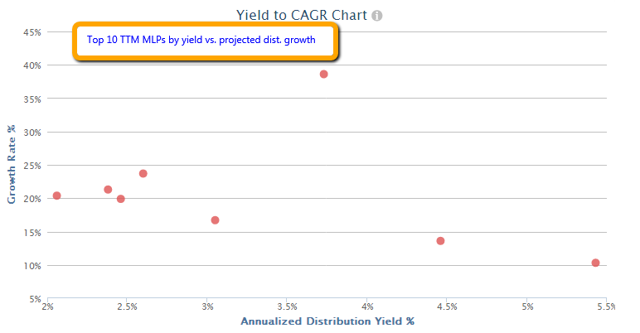 The midstream partnerships that make the cut are newer companies with ready access to additional assets that can be purchased and added to a company's revenue producing asset base. The traditional path to this type of growth is an MLP spin-off IPO and then midstream assets from the sponsor company are dropped down to the partnership on a measured schedule. This table lists the six midstream MLPs with the highest analyst forecast distribution growth rates.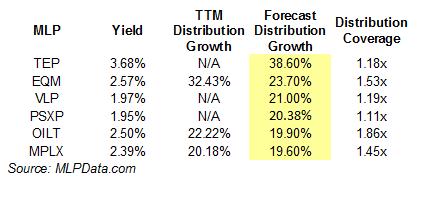 Tallgrass Energy Partners LP (NYSE:TEP) IPOd in May 2013, owning natural gas pipeline, processing and storage assets. The company's source of growth assets is privately held Tallgrass Development LLC, which holds about 63% of the TEP LP units. Tallgrass Development currently owns a significant amount of assets that could be transferred to TEP and the development company would absorb the time and costs of developing new midstream projects.
Valero Energy Partners LP (NYSE:VLP) was spun-off by Valero Energy (NYSE:VLO) with a December 2013 IPO. In the spin-off VLP received enough midstream assets from Valero to generate enough cash flow to cover the minimum distribution rate and the partnership kept all of the net cash from the IPO. The cash on hand allow VLP to pay for the initial dropdowns from the sponsor without tapping into the debt or equity markets. Valero Energy owns a large portfolio of midstream assets that can be transferred over time to VLP allowing the partnership to meet its goal of 20% plus annual distribution growth.
Phillips Midstream Partners LP (NYSE:PSXP) was spun-off by Phillips 66 (NYSE:PSX) in July 2013. The structure of PSXP including the minimum distribution rate and incentive distribution rights tiers is almost the same as for VLP. The dropdown potential to PSXP also mirrors VLP, with Phillips 66 owning a large portfolio of midstream assets that can be dropped to the partnership. PSXP management has also stated a goal of 20% plus distribution growth.
Oiltanking Partners LP (NYSE:OILT) IPOd in April 2013 with a focus on terminaling, storage, pipeline, and related services for crude oil, chemical feedstocks and refined energy products. According to company presentation materials, OILT's sponsor, privately owned Oiltanking Group, is the world's second largest independent logistic services provider. Growth for OILT is expected to come from self-generated expansion and acquisition capital projects. However, there is also potential for dropdowns from the sponsor.
MPLX LP (NYSE:MPLX) was an October 2012 IPO spun off by Marathon Petroleum Corp. (NYSE:MPX) and is described as a consolidated subsidiary of the energy company sponsor. MPLX owns 2,800 miles or petroleum pipeline along with storage and a barge dock facility on the Mississippi River. Marathon Petroleum is investing heavily in midstream infrastructure assets to support Bakken and Canadian energy production, and those assets can in the future dropdown to MPLX after coming online and generating revenue. Recent MPLX presentations state that the company is committed to 15% to 20% distribution growth for at least several more years. The chart above shows analysts expect the growth to be near the higher end of the range.
EQT Midstream Partners LP (NYSE:EQM) launched in July 2012 as a spin-off from natural gas producer EQT Corp. (NYSE:EQT). The same midstream MLP growth aspects apply with EQM in natural gas gathering and transport focused on the Marcellus shale. In its 2014 Q1 earnings report, company management committed to distribution growth of 29% and 22% for 2014 and 2015. This growth does not include any sponsor dropdowns that may occur over the next two years.
The projected distribution growth rates of these midstream partnerships come with a very high probability and the potential for even faster payout increases. The only thing that would keep the unit prices from matching would be if the market decided to put a higher yield on the unit value. Even if that happens, once the yield stabilizes, the growth will resume along with announced distribution increases.
Next up: MLP GPs with similar growth potential.
Data charts from MLPData.com
Disclosure: I have no positions in any stocks mentioned, and no plans to initiate any positions within the next 72 hours. I wrote this article myself, and it expresses my own opinions. I am not receiving compensation for it (other than from Seeking Alpha). I have no business relationship with any company whose stock is mentioned in this article.