Prologis (NYSE:PLD) is reversing lower after a sharp rally, and the bears are flooding in.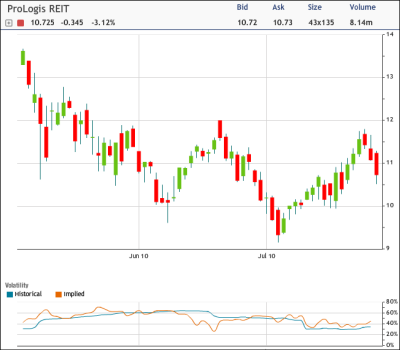 optionMONSTER's Depth Charge tracking system detected the purchase of 11,250 October 10 puts on the real-estate investment trust for $0.70. The transaction was 59 times larger than existing open interest in the strike when the session began.
PLD fell 3.12 percent to $10.73 in early afternoon trading. The owner of warehouses and industrial space had rallied more than 20 percent off its lows earlier in the month before rolling over in the last three sessions.
The company's funds from operations met analysts' forecasts amid strong revenue on July 22. It also said 89.7 percent of its properties were had been leased, up from 89.2 percent in the first three months of the year.
Today's put buyers apparently think that the shares are still at risk of pushing lower. PLD must fall at least 12 percent by expiration for their contracts to turn a profit.
The activity pushed total options volume in PLD to 10 times greater than average, with puts outnumbering calls by a 22 to 1.

Disclosure: No positions