Both General Electric (NYSE:GE) and Siemens (SI) are attempting to purchase the French company Alstom SA (OTCPK:ALSMY).
Alstom builds power plants and produces transmission gear. The French government has warned Alstom against an alliance with GE, suggesting Alstom's independence is important to French economic sovereignty. In contrast, they have been more in favor of German-based Siemens' bid, noting that the merger would create "two European and world champions in the fields of energy and transport."
If an agreement can be reached, this will be among the largest acquisitions either GE or Siemens has ever made.
Notes From Both Bids
If GE's deal does go through, then Alstom may separate from its transportation division. This move could make it easier to get the French government's approval. The transportation sector represents 30% of its sales.
So far, Siemens has not disclosed its bid for part or all of Alstom's business. The board is scheduled to discuss the matter Tuesday, April 29th. In contrast, GE has already undergone due diligence and received approval from its board to move ahead.
How GE Would Benefit From The Acquisition
Naturally, Connecticut-based GE, located in Fairfield, would make tremendous gains, should it be able to follow through on its bid for acquisition. It could enjoy five significant benefits:
First, the deal would position GE to provide a recovering European economy the technology necessary for power plant maintenance and power transmission.
Second, the deal would convert Alstom from a rival to an ally. In 2011, GE generated 7.8 billion Euros in local revenue through a workforce of 11,000 workers in France. During the same period, it was competing against Alstom, whose employees numbered 18, 000. Alstom dominates the market in turbines for dams, although it lags behind both GE and Siemens in gas turbines. It is the third-biggest manufacturer in the world of power transmission gear, and on par with Siemens and Canadian company Bombardier Inc. on rail equipment.
Third, the deal would considerably enhance GE's portfolio for investors. Steven Winoker, an analyst for Sanford C. Bernstein, commented that the acquisition would also highlight to investors the fact that GE had returned to the art of deal-making to grow its business.
Fourth, the deal would be a perfect fit for GE's revised business model. GE is moving away from an overreliance on GE Capital, the financial division that nearly sunk the ship during the global financial meltdown, to return to manufacturing. GE's new focus is on industrial equipment, locomotives, and jet engines.
Fifth, the deal would allow GE to access its foreign cash reserves to finance the acquisition. At the end of 2013, GE had cash reserves of $89 billion, with $57 billion outside the United States. GE's ability to put up financing will allow it to take advantage of big infrastructure contracts over other bidders. Bouygues SA (En), a French conglomerate that has a 29% stake in Alstom, supports the GE deal.
How A Deal With GE Would Benefit Alstom
Paris-based Alstom, located in the suburb of Levallois-Perret, has been surviving by slashing debt by selling assets to reduce its cost of operations. If the deal with GE transpires, Alstom will be valued at approximately $13 billion. This would represent a huge surge in value, a 25% spike over its present market value. The news of the pending deal itself was enough to raise the stock in Paris trading by as much as 18%. This represents a big leap since 2004.
Will Siemens Step On GE's Toes?
So far, those knowledgeable about the matter say that Alstom's board prefers GE's offer, but will obviously consider a bid from Siemens, largely out of deferral to the French government.
If Siemens does edge GE out of the running, while GE's potential eminence in Europe could be diminished, GE will likely still continue to be a powerful force in emerging markets. 2013, in particular, was a strong year for this; in 2014, GE is seeing similar successes, largely from healthcare companies.
Deal Or No Deal, Positive Outlook For GE Investors
For GE shareholders, this acquisition would obviously be a strong boost to the company, as well as the stock, for reasons stated above.
GE shareholders should also note the company's continued strategic and creative efforts to understand global markets and its competitors.
GE stock is showing strength in 2014.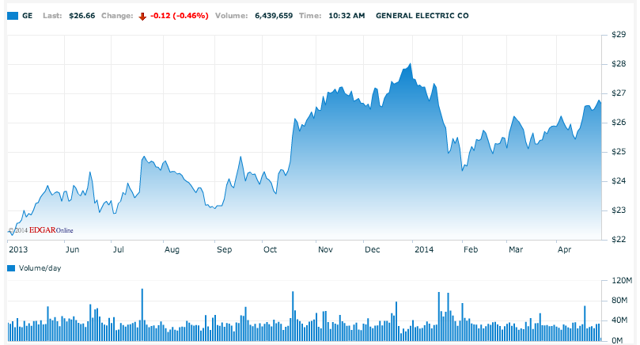 (Nasdaq.com)
We recommend GE shareholders continue to hold their positions.
We invite readers wishing to read and join the discussion about GE to click the +FOLLOW button above the title of this article.
Disclosure: I have no positions in any stocks mentioned, and no plans to initiate any positions within the next 72 hours. I wrote this article myself, and it expresses my own opinions. I am not receiving compensation for it (other than from Seeking Alpha). I have no business relationship with any company whose stock is mentioned in this article.
Editor's Note: This article discusses one or more securities that do not trade on a major U.S. exchange. Please be aware of the risks associated with these stocks.