Company Overview
Oritani Financial Corp. (NASDAQ:ORIT) operates 26 branches in Northeastern New Jersey. The bank, which celebrated its centennial year this year, has a reputation for maintaining close relationships with its customers just as it did when it was a mutual. In the late 2000s regional mutual banks began converting into publicly held corporations and Oritani IPO'd along with a slew of other banks.
The Upside For Banks
With the S&P's sprint toward new heights over the past few years, we have been digging deeper to find places for our clients to invest. We have witnessed a steep incline in equity valuations which we believe prices in dreamy growth numbers. We have begun to look at smaller and more obscure companies and we for the first time have looked at OTC stocks.
Looking at the various sectors, one place where there remains substantial upside is in the banking sector. With interest rates depressed, we see earnings upside in terms of net interest margin, and we cannot see any significant decrease in current rates. We are still uneasy about the regulatory environment and legislative risks faced by large banks in the aftermath of the recent recession, while we feel that regional banks are well positioned to retake some market share from mega-caps.
Effective Management With A Good Plan
The key factor in Oritani's case is its efficiency ratio. This ratio measures bank productivity, specifically, how much the bank spends per unit of revenue. While most banks run numbers between 60%-70%, Oritani has the tiny efficiency ratio of 37.8%. What that means is that the bank has really shaved down overhead to maximize profitability. This means that management is acting in the best interest of shareholders and adds to our confidence in this investment.
Management has taken steps to maximize profits in the current low-rate environment. For this reason it has grown its higher-yielding multi-family loan portfolio by double digits over the past five years. Currently commercial and multi-family loans account for almost 91% of Oritani's portfolio. In the words of management:
Unlike many traditional thrifts, we have focused on the origination of multi-family and commercial real estate loans. We have focused on this type of lending because the interest rates earned for such loans generally are higher than the prevailing rates for residential loans, resulting in a greater level of interest income potential. We are also able to generate significantly higher fee income on such loans, particularly prepayment fees. In addition, the repayment terms usually expose us to less interest rate risk than fixed-rate residential loans. We generally incorporate one or more of the following features into our terms for multifamily and commercial real estate loans, thereby decreasing their interest rate risk: interest rates reset after five years at a predetermined spread to FHLB Advance rates, minimum stated interest rates, and balloon repayment date or maximum fixed-rate self-amortizing loan term of 20 years. While our actual origination volume will depend on market conditions, we intend to continue our emphasis on multifamily and commercial real estate lending.
Beyond developing a strategic loan portfolio, Oritani has also taken 3% of the Bergen County deposit share, up from 1.8% in 2008.
When banks issue fixed-rate mortgages, rising interest rates eat away at the value of those loans. While mortgage terms are typically measured in decades, certificate of deposit (CD) terms are typically no longer than a decade, and often are for terms spanning less than a year. With interest rates so low, many banks are just a rate hike or two away from a negative net interest margin, something incredibly unhealthy.
Oritani Bank is well-positioned for rising interest rates due to the large proportion of variable-rate loans in its portfolio. At current conditions, an 100 basis point increase in interest rates will only have a 7.1% impact on the current portfolio value. Additionally, rising real estate prices in Bergen and the surrounding counties decrease downside risk on non-performing loans.
Peer Analysis
While the competitive landscape for regional banks is quite intense, Oritani has managed to more than just stay afloat. Metric by metric, we see financial strength and moderate value in this company. Looking at earnings, Oritani has consistency grown earnings for the past five years from $0.10 to $0.92 per share. While we are uncomfortable investing purely based on relative value in the current economic environment, it is evident that Oritani is valued at a discount to its peers on both a P/E and P/B basis.
| | | | | |
| --- | --- | --- | --- | --- |
| Company | Market Cap | Yield | PE | P/B |
| ORIT | 655 | 4.6 | 16 | 1.26 |
| BHLB | 621 | 2.9 | 15 | 0.9 |
| KRNY | 952 | N/A | N/A | 2.07 |
| EBSB | 535 | N/A | 35 | 2.16 |
| NMIH | 653 | N/A | N/A | 1.42 |
| NFBK | 692 | 1.9 | 37 | 0.99 |
| PFSI | 343 | N/A | 86 | 1.99 |
| PFS | 1,015 | 3.4 | 14 | 0.99 |
| RCKB | 340 | 3 | 25 | 1.15 |
| SGM | 345 | N/A | 10 | 1.07 |
| TREE | 344 | N/A | 85 | 3.92 |
| TRST | 650 | 3.8 | 16 | 1.75 |
| UBNK | 357 | 2.4 | 21 | 1.19 |
| WD | 575 | N/A | 14 | 1.37 |
| WSBF | 353 | N/A | 24 | 1.69 |
| Peer Average | 562 | 3.14 | 30.62 | 1.59 |
Oritani trades at 15.3 times expected earnings versus >30 for the New Jersey Regional peer group or 16.5 for the S&P Regional Bank ETF (NYSEARCA:KRE) as a peer group.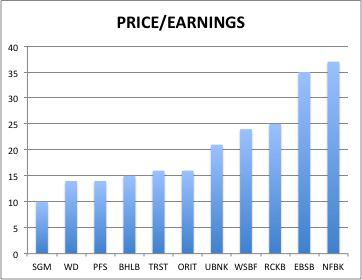 Regarding the P/B ratio, which is the better metric to use for banks, Oritani trades at 1.3 times book versus 1.6 for the peer group of New Jersey regionals, or 1.43 using the ETF and the overall sector as the peer group.
A Safe Dividend
The factor we like most about Oritani is its healthy dividend. Management has been quite aggressive in its return of cash to shareholders. Aside from a small repurchase program which counterbalances dilution from employee stock options, management devotes a large portion of free cash flow toward dividends. The fast return of cash prevents overcapitalization and will act as a strong floor for the stock price in case of an economic downturn.
While we are normally wary of companies with high yields and what appears to be value, the sustainable yield can be understood based on a number of factors.
Conclusion
We believe that expertise in its consumer base is what gives Oritani an edge against the other financial institutions in Bergen County. Effective management and adaptation to the current market conditions are what sets this bank apart. In fact, not only does Oritani surpass all of its peers in terms of dividends, but the company returned 8.2% on equity compared to the peer average of 2.2%. We feel that Oritani is a sound investment with a large dividend to cushion any market corrections.
Disclosure: I have no positions in any stocks mentioned, but may initiate a long position in ORIT over the next 72 hours. I wrote this article myself, and it expresses my own opinions. I am not receiving compensation for it (other than from Seeking Alpha). I have no business relationship with any company whose stock is mentioned in this article.