Overview
With the recent release of Goldman Sachs's "40 Most Undervalued Stocks," many investors are scanning through the listed selections to find new investment ideas. Among the selected stocks for this year is Phillips-Van Heusen Corporation (NYSE: PVH), a century-old apparel corporation that provides a varied group of brands such as Calvin Klein, Tommy Hilfiger, IZOD, and US Polo Assn. among many others. In the last few weeks, PVH reported its annual earnings, beating Q4 projected earnings per share by $0.01 ($1.43 actual) and missing revenue projections by $20M ($2.05B actual). Though the firm has recently received positive ratings from six different research groups (UBS, Janney, Barclays, Goldman Sachs, RBC Capital Markets, Telsey Advisory Group), investors should conduct their own due diligence before deciding if such a firm is a good fit for their portfolios.
PVH Key Stats*
| | |
| --- | --- |
| Market Capitalization | $10 Billion |
| P/E | 70.5 |
| EPS (Diluted) | 1.77 (1.74) |
| PEG | 5.79 |
| Dividend (Yield) | $0.15 (0.12%) |
| Beta | 1.53 |
*based on my own calculations using PVH's financial data
Many analysts are touting PVH's acquisition of Warnaco (Previously NYSE: WRC) as a catalyst for buying its stock. Warnaco's global presence reached consumers across Asia, South America, and Europe. With direct control over these channels, PVH now has further control over commercial operations in new geographical arenas and is primed to expand, particularly into the emerging markets.
Sector and Competitors
PVH is a member of the consumer goods sector and represents 0.51% of the S&P 500 Consumer Discretionary index (NYSEARCA:XLY). Some of its main competitors include:
Fidelity Investments characterizes this sector as, "those industries that tend to be the most sensitive to economic cycles." Typically, this sector experiences the highest returns during the early expansionary period of the business cycle. The consumer discretionary arena is particularly dependent on the spending abilities of consumers. As long-run economic recovery continues to play out, this sector in aggregate displays solid growth prospects. Economic indicators such as consumer sentiment and unemployment would be useful to track when making projections for these types of firms. For the month of April 2014, Capital IQ also gave the Consumer Discretionary sector an overweight 1% rating citing high projected year-over-year earnings growth.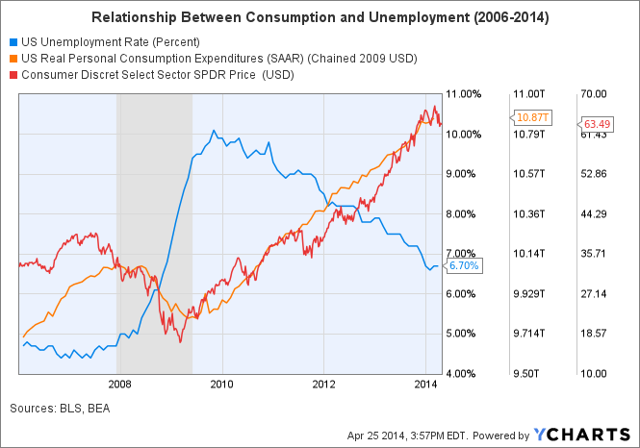 US Unemployment Rate data by YCharts
Major Segments
1. Calvin Klein: In its recently published 10-K, the firm describes this brand: "We believe Calvin Klein is one of the best known designer names in the world... Each of the Calvin Klein brands occupies a distinct marketing identity and position that preserves the brand's prestige and image, while also allowing us to market products both domestically and internationally, at variety of price points, and to various consumer groups... We viewed 2013 as a year of investment and transition for these businesses."
Though a well-established name in the apparel industry, the Calvin Klein brand still offers a number of revenue growth opportunities moving forward. Prior to its recent purchase of Warnaco, Calvin Klein received most of its revenue from licensing. However, this acquisition has caused a boost in revenue obtained through the firm's directly operated businesses and represents a potential opportunity for expansion. Management acknowledges that there remains an opportunity to penetrate new global markets in countries such as Germany, the Netherlands, France, and Spain. The recent acquisition also gives Calvin Klein increased access to emerging economies in Southeast Asia and South America.
2. Tommy Hilfiger: PVH describes Hilfiger in its annual report as, "the 'classic American cool' spirit of the brand inspires a wide range of preppy, all-American designs that appeal to a diverse array of global consumers. Tommy Hilfiger occupies a unique position as a premium brand offering quality apparel, accessories and lifestyle products at accessible prices with a diverse consumer following." The Hilfiger brand is targeted at a 25-45 year-old North American, European, and Asian demographic.
Most of Hilfiger's wholesale products are sold to Macy's, an exclusive carrier of select Hilfiger product lines. The brand sells directly to retail customers through both company-operated physical and e-commerce sites. Additionally, Hilfiger obtains revenue through license agreements with third-parties throughout emerging countries in South America, Central America, the Caribbean, and Asia. Management projects that foreign markets such as France, the UK, Turkey, and Eastern Europe continue to remain untapped areas of growth for the company in the future.
3. Heritage Brands: These are comprised of a diverse basket of separate brands that include men's and women's dress wear, neckwear, sportswear, swim products, intimate wear, and other private label furnishings. Some of the brands included under this group are Van Heusen, ARROW, IZOD, Eagle, Donald J. Trump Signature Collection, Kenneth Cole, John Varvatos, Nautica, and US POLO ASSN.
These heritage brands are licensed globally through ~30 domestic and ~45 international agreements. By choosing to license through these agreements, PVH gains more control over margins and receives a more consistent level of revenue flow. PVH plans to pursue expansion with these brands through increased licensing and marketing in under-penetrated regions including parts of Europe and Asia.
Financials (figures obtained via latest annual report)
For the past year, PVH grew its annual revenue from $6.04M to $8.19M, equating to an increase of 35.47%. Of this $1.74 billion increase, $1.64 billion can be attributed directly to the acquisition of Warnaco. Over the past decade, it has shown consistent growth figures, increasing revenue at an average rate of $687 million per year.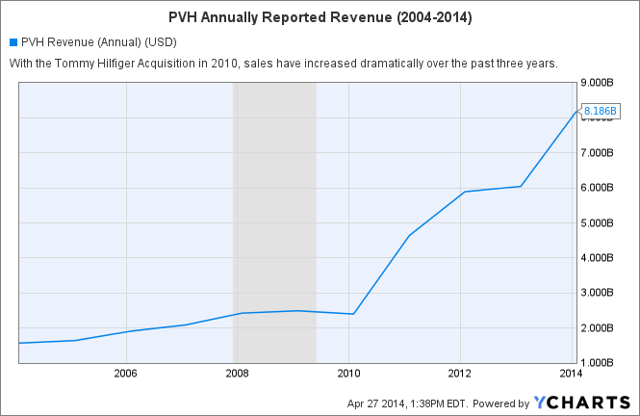 PVH Revenue (Annual) data by YCharts
Profitability has remained relatively constant with the company's gross margin rate averaging 51.74% annually over the past five years. For the industry, this figure is relatively high and can be attributed to PVH's extensive licensing sales, which do not have any cost of goods sold attached to them. With the recent acquisition, however, its gross margin rate should be expected to show a decrease as Warnaco once represented the largest source of licensing for the Calvin Klein brands in terms of revenue.
Selling and General Administrative expenses showed a decrease of forty basis points from 2012 to 2013. This was the result of lower pension expenses and lower costs associated with the 2010 acquisition of Tommy Hilfiger. One nonrecurring account that affected PVH's bottom line in 2013 was its tax expense. During 2011 and 2012, the firm's tax expenses amounted to $87 and $109 million, equating to an effective rate of 24.1% and 20.1% respectively. However, the income tax expense for 2013 was $185 million, an effective rate of 56.4%. This significant jump was a result of the firm's uncertainty regarding transfer pricing transactions between the EU and US markets. The spike in this account is estimated to only take place once and the projected expense is to be significantly less in the coming year. While net income has remained positive, net profit margin has shown no discernible trend ranging from 1.16% to 7.18% from 2004 to 2013.
For the fiscal year ending 2014, PVH posted solid short-term liquidity figures with a current ratio of 1.93. Despite its large inventory as a percentage of current assets, its quick ratio amounted to a sufficient 1.11. In terms of solvency, the company has maintained a moderate use of leverage with a debt-equity ratio of 1.67 (using book values).
It is worth noting that the largest asset account aside from inventories was intangible assets, representing 35% of total assets for the most recent year. Over the last five years, this account has shown a significant amount of growth as PVH has reinvested much capital towards expanding its brand portfolio.
PVH Intangible Assets ($ in thousands)*
|   | 2009 | 2010 | 2011 | 2012 | 2013 |
| --- | --- | --- | --- | --- | --- |
| Intangible Assets | 739,191 | 2,601,029 | 2,558,378 | 2,581,005 | 4,052,189 |
| % of Total Assets | 31.6% | 38.6% | 37.9% | 33.2% | 35.0% |
| % of Sales | 30.8% | 56.1% | 43.4% | 42.7% | 49.5% |
*based on my own calculations using PVH's financial data.
Valuation
Using a multistage, discounted free cash flow model, PVH is reasonably valued at $150-154 per share. For this model, some relatively conservative annual growth rates were used ranging from 3-10% over the next ten years. Following that, a terminal growth rate of 3% was implemented. It should be noted that this model was constructed assuming last year's 56.4% tax rate was a one-time charge and that the effective rate in the coming years will be closer to past tax rates.
Risk Factors
Though PVH shows solid potential for a profitable long position, there are some risk factors that could potentially harm shareholder value. Of course there exist many potential risk factors and below are some ones investors may want to be particularly aware of.
The consumer discretionary sector of the economy is driven by the spending capabilities of the economy's consumers. Any event that affects consumers' capacity to spend (for instance, increased unemployment) may have a material impact on the business of firms in this sector.
With regards to its plans for expansion into emerging markets, PVH will face numerous country-specific risks with each region it enters into. Areas with a higher potential for unrest, war, or other such events could unexpectedly disrupt business in those parts. Also, as FED policy has influenced these regions in the recent past, so too might an increasingly hawkish/dovish stance have an impact again on emerging markets.
The firm's ability to manage its transfer pricing situation will also prove to be an important area of focus as it has a direct impact on the cash flow derived from operations. The above valuation was conducted assuming that the tax rate remained constant at around 20-30%. Though improbable, 2014's tax rate of 54.6% significantly diminishes PVH's value when used in the valuation model above.
Conclusion
The brief analysis outlined above supports the conclusion that PVH Corporation is undervalued at the moment. With continued expansion into new markets and the acquisition of new, key business segments, the firm is poised to outperform moving forward. Those investors who are particularly searching for exposure to the consumer discretionary sector may want to seriously consider adding PVH to their portfolios.
Disclosure: The author has no positions in any stocks mentioned, and no plans to initiate any positions within the next 72 hours. The author wrote this article themselves, and it expresses their own opinions. The author is not receiving compensation for it (other than from Seeking Alpha). The author has no business relationship with any company whose stock is mentioned in this article.
Additional disclosure: The analysis provided above is based on my own research. Though I make every attempt to provide an accurate summary of risks associated with the securities in the article, there are other unforeseen risks that are not mentioned. It is the responsibility of individual investors to conduct their own due diligence before opening any positions in any stocks or exchange traded funds mentioned. I cannot be held liable for any losses incurred as a result of a position in the above securities.*EDIT: There was a typo in the original article in regards to revenue growth rates which has been fixed.