On March 4, 2014 I wrote an article suggesting that Twitter (NYSE:TWTR) might be a baby bird about to fall out of its nest. Fall it has. The stock has been under pressure for a while and tanked after hours on weaker-than-expected guidance.
The problem Twitter faces is that marketing professionals have yet to embrace it as an advertising platform.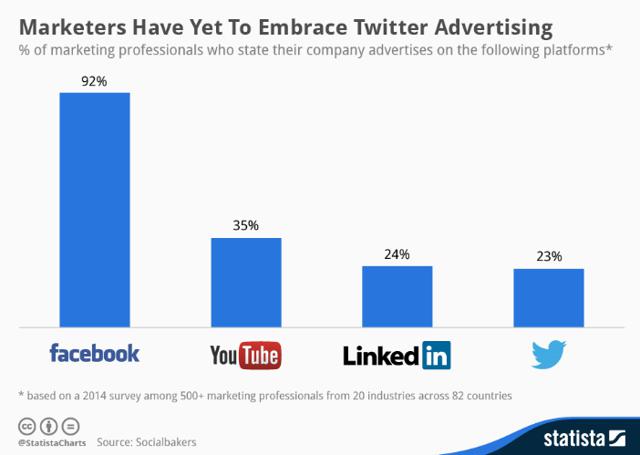 Younger users who make up a sizeable part of the mobile market increasingly prefer Instagram to Twitter as their most important social network.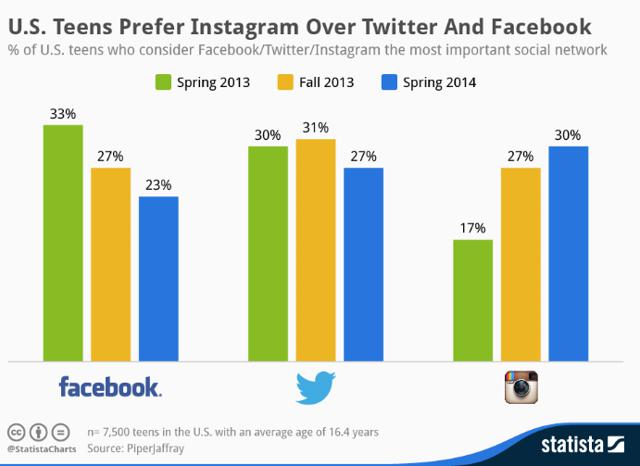 The fact is that many people set up a Twitter account to give it a try but over time simply stopped "tweeting". The fun of telling the whole world what you think about something in 140 characters or less can grow tiresome pretty quickly, it would seem.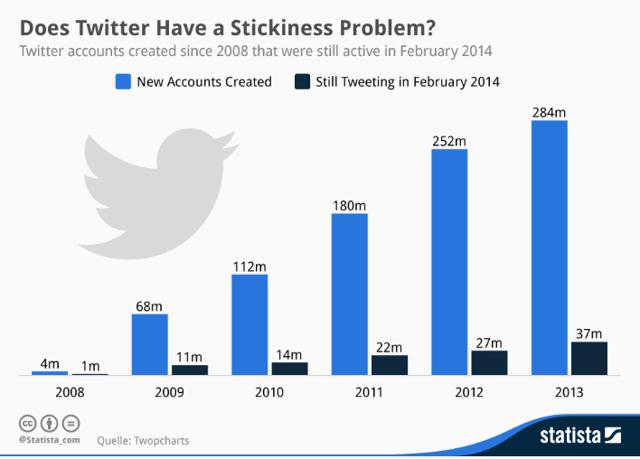 The news was not all bad. Ad sales more than doubled to $226 million and forecast revenues for the full year, while shy of consensus, were not a major miss at $1.2 billion. But in the rarified world of technology stock priced to perfection, even a small miss gets punished. The nearly 10% fall in the stock after hours is a great example of the risks in technology stocks.
With growth in its user base falling pretty fast (but still growing) Twitter is likely to follow the path of some other very fast-growing companies and reach the apex of the "S" curve more quickly than most.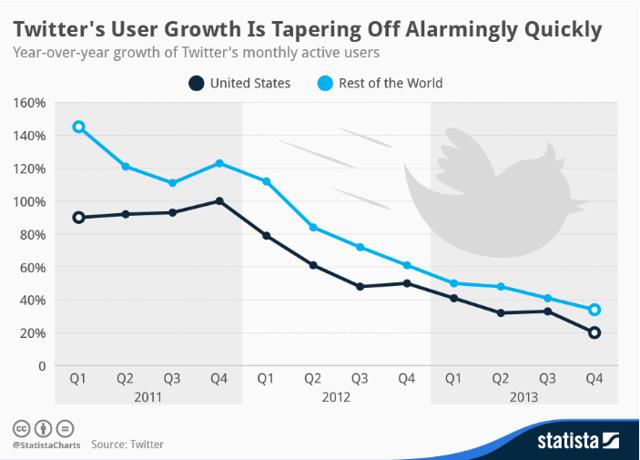 The gargantuan $580 odd million of stock-based compensation disclosed on the IPO looks a bit out of proportion to the growing reality that the company may just stagnate at somewhere around double its current level of sales over a handful of years and become a profitable but otherwise boring technology stock.
If it does, its current market valuation of north of $20 billion could become $10 billion quite quickly.
Twitter is a powerful medium for real times news coverage and already plays an important role in letting the world's population get up to date input on current events as they happen. But in my opinion, it is unlikely that fact alone will support the $20 billion valuation the market has assigned. Facing reality is generally painful for investors, and in particular for those evangelically committed to their investments.
I have made money shorting TWTR but have no current position. The short-term direction of the stock is just too hard to call for me to risk capital on the name. Nonetheless, if I took a position it would be on the short side of the street.
TWTR may get a lot of ink as the story unfolds.
Good luck on your investments.
Disclosure: I have no positions in any stocks mentioned, and no plans to initiate any positions within the next 72 hours. I wrote this article myself, and it expresses my own opinions. I am not receiving compensation for it (other than from Seeking Alpha). I have no business relationship with any company whose stock is mentioned in this article.