The market started out in the positive territory as jobless claims fell. However, as I stated yesterday, "SPX can easily slide down to test 1100 again." SPX went up as high as 1115.9 and quickly turned lower. Around noon, SPX had dropped all the way to 1092. That's almost 24 points on the SPX, or around 2%!! After briefly dipping below 1100, the market bounced back up almost as quickly as it had dropped. It went all the way into the green, before sliding back down for the close.
Nevertheless, some stocks still enjoyed some upsides with their earnings. Green Mountain Coffee Roasters (NASDAQ:GMCR) jumped +9.38% on good earnings, even though it guided below consensus for Q4. Chicago Mercantile Exchange's (NASDAQ:CME) net income rose +22%, but, was only able to inspire a +0.82% gain in the volatile market. Cliffs Natural Resources' (NYSE:CLF) Q2 revenue tripled. Although its numbers missed the average estimate, its stock went up +3.79%. Citrix's (NASDAQ:CTXS) quarterly results were below expectations, but, its outlook earned upgrades from analysts. CTXS shares vaulted a whopping +19.73% for the day! Potash Corp. (NYSE:POT) reported a quarterly profit that more than doubled, sending its shares up +5.21%.
We cashed out a few trades yesterday, including a nice trade on POT. We also traded a quick trade on Goldman Sachs (NYSE:GS) as it shot up $5.38 to close above $152. When the market dropped in the morning, we jumped on SPY and Intuitive Surgical (NASDAQ:ISRG) puts; but, quickly got out when the market rose up again.
July 29, 2010
12:54 | HappyTrading GS ($153.00) Sold to Close 08C150 Aug 150 calls, at $5.70 +36%
12:40 | HappyTrading GS ($152.60) Sold to Close 08C150 Aug 140 calls, at $5.40 +29%
11:51 | HappyTrading POT ($103.50) Sold to Close 08C100 Aug 100 calls, at $5.50 +47%
11:35 | HappyTrading POT ($120.45) Sold to Close 08C95 Aug 95 calls, at $8.50 (rolled to Aug 100 calls)
11:07 | HappyTrading POT ($101.80) Sold to Close 08C95 Aug 95 calls, at $7.85 +7%
10:38 | HappyTrading ISRG ($324.87) Sold to Close 08P320 Aug 320 puts, at $7.50 +1%
10:31 | HappyTrading SPY ($110.10) Sold to Close 0730P110 Jul 110 puts, at $0.70 -26%
After the market, Wynn Resorts (NASDAQ:WYNN) easily beat the estimates with its earnings. Its shares, however, suffered a 3.3% decline. First Solar (NASDAQ:FSLR) also reported a better-than-expected Q2 profit. Its shares traded below $127 and as high as $139, before settling just above $130, down almost 4%! MetLife (NYSE:MET) blew away analysts' estimate with its earnings report, pushing its stock up +3.23%.
The Dow was down 30.72 points; SPX slid 4.6 points; Nasdaq fell 12.87 points: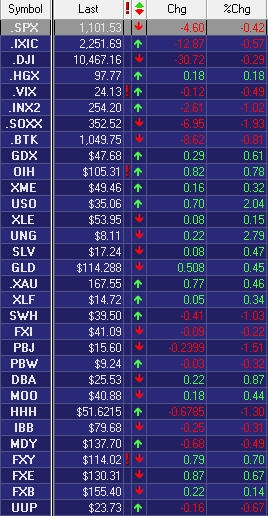 SOXX (semiconductors) dropped 1.93%. XME (metals and mining) bounced a bit. USO (oil) and GLD (gold) both traded up. XLF (financials) eked out a small gain. MOO (agriculture) glided up +0.44%. FXI (Chinese ADRs) slid slightly.
SPX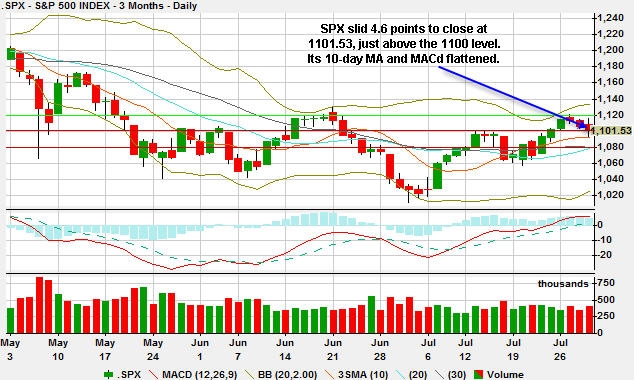 SPX slid 4.6 points to close at 1101.53, just above the 1100 level. Its 10-day MA and MACD flattened ().
Nasdaq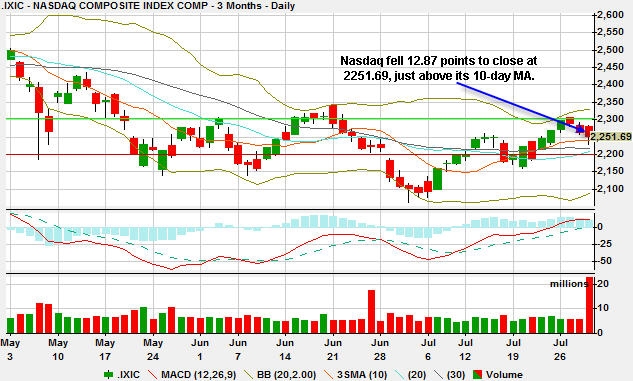 Nasdaq fell 12.87 points to close at 2251.69, just above its 10-day MA ().
It was a very volatile day and the market ended just above SPX 1100. As I discussed Wednesday, the market needed to go through some consolidation. A drop in the jobless claims perhaps helped keep the market above that SPX 1100. However, we'll get the latest GDP report today, for which, the expectation is not very high. VIX bounced up above 24 just before the close, so that 1100 level is still very vulnerable. Today, Friday the new weekly options will expire, which will likely make the day volatile yet again!
Disclosure: no positions