Over the past 6 months Seadrill Limited's (NYSE:SDRL) stock has been in an strong downward trend if you are bullish on the stock. Since reaching ~$45.00 in September of 2013 the price has dropped over 28% to reach its current value in the low $30's.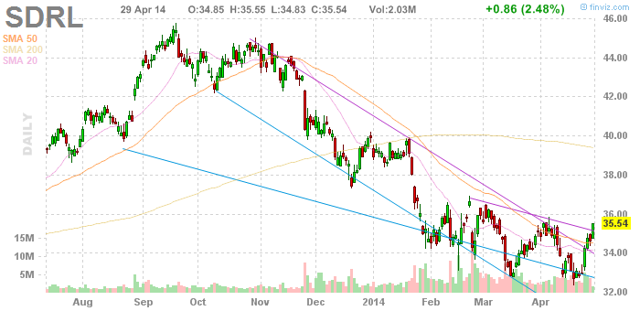 This sharp drop off is not only limited to Seadrill but many of the companies in the sector. As the chart indicates below Transocean (NYSE:RIG), Ensco (NYSE:ESV), Diamond Offshore (NYSE:DO), and Noble (NYSE:NE) have also significantly declined over the past 6 months.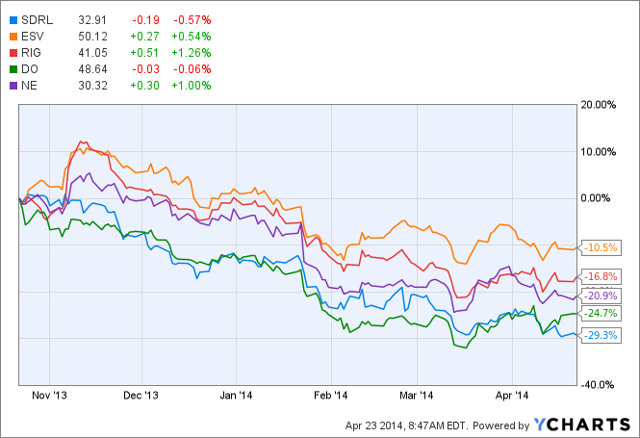 As the whole sector has been declining, what are some of the factors weighing down the stocks and what are some of the possible outcomes?
What are some of the factors contributing to this decline?
Over the past few years the demand for deep-water drilling has been strong. Driven by rising commodity prices and advancing technology that has made deep-water and ultra-deepwater reserves economical, the industry has seen substantial gains. As the demand and ultimately day-rates increased, the drillers responded by placing orders for a record number of rigs. So, as there has been a record number of rigs flooding the market we have the issue of over capacity.
Magnifying the issue of over capacity was the major E&P companies announcement that they were going to cut capital spending in order to increase margins. As you can see by the chart, the industry experienced a significant drop in price in late January. This drop occurred around the same time these companies being Exxon, Chevron (NYSE:CVX) and France's Total SA (NYSE:TOT) made their announcements.
In a press release issued by Exxon, Rex Tillerson, chairman and chief executive officer for Exxon stated:
Capital spending will decline to $39.8 billion this year from a peak of $42.5 billion in 2013. Excluding potential acquisitions, capital expenditures are expected to average less than $37 billion per year from 2015 to 2017.
As many of these deep-water reserves are more capital intensive than their onshore counterparts many E&P companies put some of their more expensive projects on the back burner.
Short-Term Outlook
As issues surround over capacity and capex reduction are on the table, how will this effect Seadrill. At this time, I expect that Seadrill's operating margins within the short-term could show some weakness. This is expected due to over capacity issues which will in turn reduce Seadrill's pricing power. In 2015 which looks to be the weakest year for capex spending, Seadrill has already booked 66% of their floaters and 57% of their Jack-ups which is very positive, but could face challenges filling in the gaps.
Long-Term Outlook
In an updated estimate of deep-water capex spending by Douglas-Westwood, you can see the decline in capex spending estimated for 2015. Having stated that, at this point 2016 and beyond look to be very strong. As the industry absorbs the capacity issues, commodity prices increase and technological enhancements create opportunities for E&P companies to access their reserves while keeping their margins, the door again will open for drillers.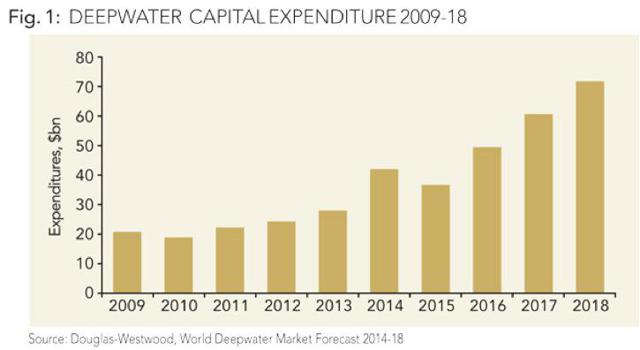 Source: Douglas-Westwood
Who to invest in?
One of the competitive advantages that Seadrill has over a competitor such as Transocean is that Seadrill has a much younger and technologically advanced fleet.
Currently, Seadrill has a average floater age in the range of 6 years old.
Both Charts sourced by (Seadrill)
As well Seadrill has an average Jack-up age that is just under 5 years old.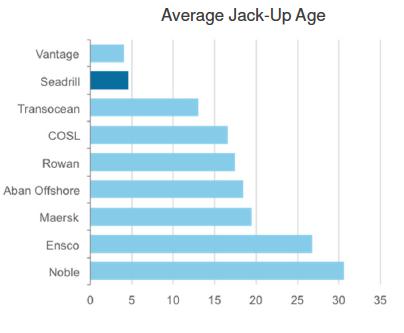 In an oversupplied market, fleet age is a huge advantage. All things being equal, an oil company would choose to lease a newer, more technologically advanced rig that is more capable and efficient than a than an older less efficient rig.
Even if a company's older rigs do find takers, the company's bargaining power will likely to be weaker thus drawing less revenue.
Risk and Value
With the issues of over capacity and capex spending handing over the industry's head, Seadrill is a company that is not immune these circumstances.
Debt is an albatross hanging around Seadrill's neck. With liabilities currently at $18.788 billion and a current equity value at ~$16.306 billion this is not a factor to be ignored.
If market condition decrease further this could be a potential issue for the company.
Over the next couple of years as market conditions look to be on the weak side, I do not anticipate much in the way of capital appreciation. A current levels, I do not see this as a value play, as I currently have the stock valued at ~$34.50, but I see this more as a dividend play.
Offering a yield at 11.8% this does look attractive. At this point, I do not see a dividend cut but I could see the dividend increases being less than earlier anticipated by the market. If market conditions deteriorate more than anticipated, I could see a short-term halt on dividend increases but with the yield at ~11.8% they still pay you to wait.
Conclusion
Over the past 8 months Seadrill investors have taken a "shot in the chin". The price has deteriorated by ~28%, while the investor has been bombarded with a series grim outlooks. In looking at the current issues regarding over capacity and capex spending, I believe the market will absorb these issues over the next year or so. The fact is, the oil and gas is there and the market will want it. At this point in time, the majors have stated they will wait for the right market conditions to access the energy so they maintaining their margins. Even though the next year or so could be quite volatile and there is limited earnings growth expectations for the company, Seadrill pays a very attractive 11.8% yield, has one of the youngest most advanced fleets in the market which is already ~90% utilized for this year. Next year could pose some issues but long-term as capex spending increases and the market absorbs capacity issues Seadrill looks to continue to be a leader in the industry.
As Seadrill has a beta of 1.81 this does indicate a significant amount of volatility for the shareholder. As discussed in the article even though long-term the outlook is positive, a volatile short-term outlook along with a high beta indicates it could be a bumpy ride over the next year or so.
Disclosure: I have no positions in any stocks mentioned, and no plans to initiate any positions within the next 72 hours. I wrote this article myself, and it expresses my own opinions. I am not receiving compensation for it (other than from Seeking Alpha). I have no business relationship with any company whose stock is mentioned in this article.