The American Trucking Association's truck tonnage index fell 1.4% in June to 108.5, which represented the first back to back monthly contraction since March and April of 2009. ATA economist Bob Costello noted that
the two sequential decreases reflect an economy that is slowing. Furthermore, growth in truck tonnage is likely to moderate in the months ahead as the economy decelerates and year-over-year comparisons become more difficult.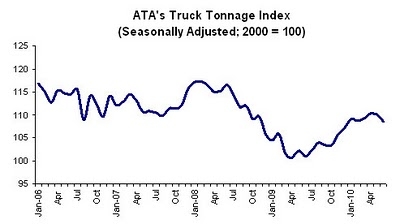 While the ATA noted that this does not indicate a double dip in the economy, it confirms the beginning of a slowdown. This is an important indicator because the trucking industry transports 68% of manufactured and retail goods in the US (by tonnage).
Disclosure: None