In this article, I will be looking at the price weightings of the sectors that make up the S&P 500 (NYSEARCA:SPY) using the series of select sector SPDR ETFs, to see what past bubbles looked like. I will be using MONTHLY CLOSE data from Yahoo Finance for each SPDR ETF and constructing a price weighted "index" to be able to visualize past bubbles. The reason I chose to use closing data instead of adjusted close data is that I did not want dividends skewing the results, and none of the SPDR ETFs have ever had a split.
My Process
Step #1: First, I exported historical monthly data into a spreadsheet for the following SPDR ETFs:
| | |
| --- | --- |
| (NYSEARCA:XLK) | TECHNOLOGY SELECT SECTOR SPDR |
| (NYSEARCA:XLY) | CONSUMER DISCRETIONARY SELECT SECTOR SPDR |
| (NYSEARCA:XLP) | CONSUMERS STAPLES SELECT SECTOR SPDR |
| (NYSEARCA:XLE) | ENERGY SELECT SECTOR SPDR |
| (NYSEARCA:XLF) | FINANCIAL SELECT SECTOR SPDR |
| (NYSEARCA:XLV) | HEALTH CARE SELECT SECTOR SPDR |
| (NYSEARCA:XLI) | INDUSTRIAL SELECT SECTOR SPDR |
| (NYSEARCA:XLB) | MATERIALS SELECT SECTOR SPDR |
| (NYSEARCA:XLU) | UTILITIES SELECT SECTOR SPDR |
Step 2: The second step I took was to create my "index," and to do this, I simply added together the closing prices for each sector SPDR, to get a total value. The whole data set is available here, and I have a sample of the first data point to show my process.
| | | | | | | | | | | |
| --- | --- | --- | --- | --- | --- | --- | --- | --- | --- | --- |
| | XLK | XLY | XLP | XLE | XLF | XLV | XLI | XLB | XLU | Total Value |
| 12/22/1998 | 32.62 | 26.12 | 27.16 | 23.34 | 23.44 | 26 | 24.56 | 21.92 | 30.23 | 235.39 |
Step 3: I then took the values in the table above for each SPDR ETF, and divided it into the total value to get a weighting of that fund as a percentage of the total. The whole data set is available here, and I have a sample of the first data point below.
| | | | | | | | | |
| --- | --- | --- | --- | --- | --- | --- | --- | --- |
| XLK | XLY | XLP | XLE | XLF | XLV | XLI | XLB | XLU |
| 13.86% | 11.10% | 11.54% | 9.92% | 9.96% | 11.05% | 10.43% | 9.31% | 12.84% |
Step 4: For the final step, I plotted all the percentage data for each ETF from inception to the current month to visualize what happened to weightings during previous market tops. The chart below created in Excel with the data sets from above, looks somewhat chaotic at first glance, but some important things stick out.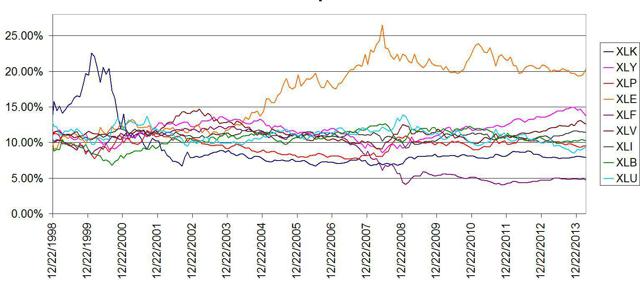 Findings
What you can clearly see from the chart is there was a spike in the blue line [Technology SPDR] in 1999-2000, and a spike in the orange line [Energy SPDR] in 2007-2008. It appears that the key level is a 20% weighting in my index, this occurred with XLK [Technology] in February 2000 and for XLE [Energy] in July 2007. What I found interesting was that after the XLK weighting was the highest and spiked, in two years it fell to become the lowest sector weighting in a two-year period. In addition, unlike the XLK, the XLE has stayed above a 20% weighting for the majority of the last seven years. This could mean that energy is still potentially in a bubble, or the other potential reason that energy has remained higher is for the fundamental reason that fracking has lead to significantly higher production, which is driving energy stocks higher, but it is a potential risk.
I had two other interesting findings, the first was that during the financial crisis, financials got down to a 4.10% weighting in February 2009, which in hindsight was a great buying opportunity for financials. The second thing I noticed was that brown line [Health Care] has stayed stable for the majority of the time except for two times when it spiked to a peak in March 2003, and January 2009; which at both times have been near market bottoms, however when you look at recent history, just as recently as February 2014, healthcare made up a larger weighting than it did in January 2009, which I believe can easily be explained by the spike in biotechnology. There are four biotechnology companies Gilead (NASDAQ:GILD), Amgen (NASDAQ:AMGN), Biogen (NASDAQ:BIIB), and Celgene (NASDAQ:CELG) that are in the top 10 holdings of XLV and account for 14.91%, and that is just in the top 10 holdings. By looking at the historical weighting in my index, anomalies like which are currently occurring in the XLV are easy to spot, and show that there most likely is a biotechnology bubble.
Closing thoughts
Based on the data, I don't believe the overall market is in a bubble because each of the last two market tops were preceded by a large spike in a sector, and there is no sector that is strong trending upwards like in the past with technology and energy. However, I believe there are spots like biotechnology in the market where there potentially could be a bubble.
Disclosure: I have no positions in any stocks mentioned, and no plans to initiate any positions within the next 72 hours. I wrote this article myself, and it expresses my own opinions. I am not receiving compensation for it (other than from Seeking Alpha). I have no business relationship with any company whose stock is mentioned in this article.