People have been trying to time the market since it's been around.
We know, for the most part, that a lot of the market is cyclical. What we're not experts at, however, is getting bullish right before the bull market starts, and making sure our money is on the short side before things come crumbling down. It's all about timing.
As our bull market reaches its 5th year and Janet "The Stimulator" Yellen begins her tenure as the chairwoman of the Federal Reserve, everyone quietly has the same question running through the back of their mind - what is the next bubble going to be? We all know it's eventually coming, it always does. So, what is the next group of stocks that is going to be roped in and, in the process, present an attractive short situation?
If the last two months of trading haven't started to give you some semblance of an idea, maybe earnings from Netflix (NASDAQ:NFLX), Amazon (NASDAQ:AMZN), Pandora (NYSE:P), Facebook (NASDAQ:FB), and now Twitter (NYSE:TWTR) can help point you in the right direction. Further, maybe take a look at how a company like Yelp (NYSE:YELP) has traded since the beginning of the year.
Before I see housing or industry - or banks or insurers - or any other industry presenting a massive, market-crushing bubble - it seems prudent to think that the high P/E "momentum" stocks could be the next group of players to be roped in.
Look at this chart of some of the high-flyers over the last three months: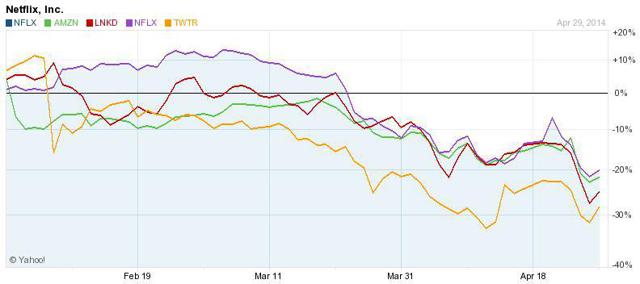 Which brings us to Twitter.
The company reported earnings yesterday that beat the street's expectations - it posted EPS of $0.00, a 3 cent beat, and revenues of $250.5 million, a $9.6 million beat - but the stock was off as much as 11% after hours. Additionally, it's opened up in really early pre-market trading off around 11% as well. Why? Because with these high-flyers, the focus is almost always on the outlook and guidance. If you're going to be hyper-aggressive in your valuation of a company, the company better continue to be hyper-aggressive with the way it sees itself growing. Twitter missed the mark.
Seeking Alpha reported:
Twitter expects Q2 revenue of $270M-$280M vs. a $272.9M consensus. Adjusted EBITDA is expected to total $25M-$30M, down from Q1's $37M (above guidance of $10M-$16M).
The company's full-year revenue guidance range has been hiked by $50M to $1.2B-$1.25B; however, the consensus is already at $1.24B. Adjusted EBITDA guidance has been raised to $180M-$205M from $150M-$180M.
Monthly active users (MAUs) rose 6% Q/Q and 25% Y/Y to 255M, roughly in-line with expectations. Mobile MAUs +8% Q/Q and +31% Y/Y to 198M.
Timeline views rose 6% Q/Q and just 15% Y/Y to 157B. Timeline views had fallen 7% in Q4, something Twitter partly blamed on a shift to conversation views.
Ad sales rose 125% Y/Y to $226M; a barrage of new ad products helped growth picked up from Q4's 121%. Data licensing/other revenue rose 76% to $24M vs. 80% in Q4. Mobile accounted for 80% of ad revenue, up from 75% in Q4 and 70% in Q3.
International revenue only accounted for 28% of total revenue, up slightly from Q4's 27%. $50M was spent on capex.
The fact is that with Twitter, you have a company valued at $24 billion that has yet to make any real money. All it's been able to do is grow its top line aggressively. When that growth stops, so do the prospects of hyper-aggressive long-term growth. When those speculations stop, people are much less likely to bet on a stock with a massive forward multiple.
Don't believe me? See what just happened to Pandora over the last six months, topped off by its recent earnings report.
"The best minds of my generation are thinking about how to make people click ads. That sucks."

-Jeff Hammerbacher, former Facebook employee
Or, if that's not enough, look at Facebook's last report, which blew the doors off of expectations for the quarter, but failed to impress on guidance going forward. It cost the social media giant a 10%+ cut on its share price.
I'd again argue that the trend of going short companies like Facebook and LinkedIn (NYSE:LNKD) hasn't started to go mainstream yet, and we all know both bulls and bears will eventually have their day - that's how the market works. If these companies were the most to benefit during the bull market, they're likely to receive the biggest correction should the market pull back.
This leads me to another simple point. Regardless of what the catalyst is that pulls the market back, the fact that these companies are trading at such speculative prices makes them the first targets should something unexpected happen to drastically pull back the markets.
We've been seeing the same headline for the last month or so now - people are abandoning high-multiple stocks and heading towards value stocks like 3M (NYSE:MMM) and Coca-Cola (NYSE:KO), to name a couple.
So, not only is the reaction to Twitter's earnings a bit of foreshadowing for the company itself, it's likely telegraphing the mindset of the market right now - the golden days of the high-multiple "momentum" stocks that have driven fundamental bearish investors crazy could be coming to an end.
Still in focus in the coming week is going to be LinkedIn, which reports on Thursday, which could continue to tell the tale going forward.
Best of luck to all investors.
Disclosure: I am long FB. I wrote this article myself, and it expresses my own opinions. I am not receiving compensation for it (other than from Seeking Alpha). I have no business relationship with any company whose stock is mentioned in this article. I have a TWTR long strangle, FB calls, AMZN calls as the residual result of a straddle, and NFLX calls as the residual result of a straddle.