All too often, when an investor finally decides to build a portfolio that will help create a more financially secure retirement, the first thing they think of is getting the highest dividend yield, without considering the risks.
That old axiom is very true; the higher the yield the greater the risk. The focus should not be on high yield, the focus should be on a steady stream of income that can be relied upon, without interruption, for the years spent in retirement.
There is no free lunch, but there are several stocks that should be anchors in every single dividend investing portfolio. The names are well known but often overlooked due to valuation concerns at various times in a bull market cycle.
Johnson and Johnson (NYSE:JNJ), Exxon Mobil (NYSE:XOM), and Coca Cola (NYSE:KO), are the stocks I would urge all dividend investors to own as soon as you can.
The Dividend Growth Of These Stocks Are Very Clear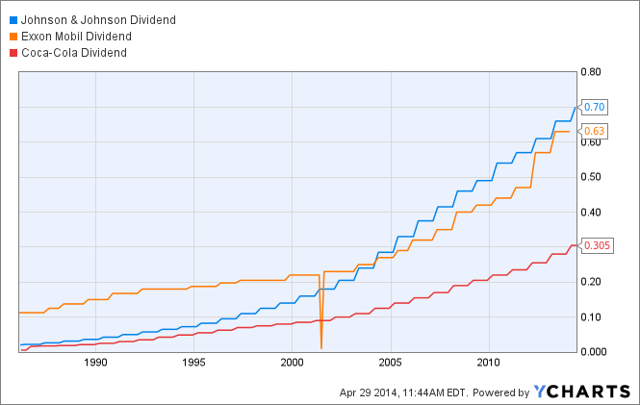 Each of these stocks are dividend champions that have increased dividends for more than 25 consecutive years.
JNJ has increased dividends for 52 consecutive years.
XOM has increased dividends for 32 consecutive years.
KO has increased dividends for 52 consecutive years.
Through up and down markets, these stocks (as well as about 100 more) have given shareholders a "pay increase" in the form of dividends. Not only that, but these stocks have grown significant capital appreciation at the same time, which has created many wealthy retirees.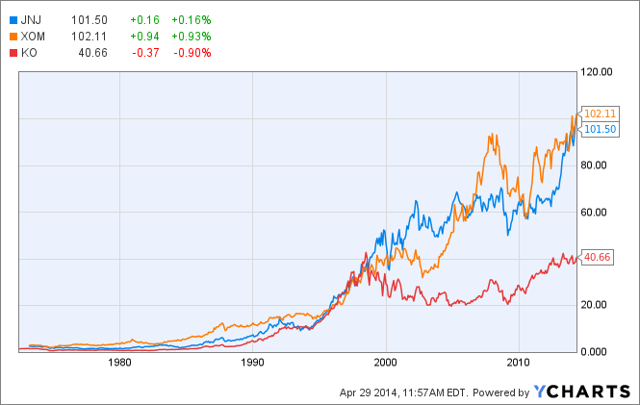 While past performance is not an indication of the future, and all investments have risks, these stocks have proven over an extended period of time that not only have they produced a very reliable income stream, but they have increased in share price by enormous sums over the years.
As I said, we have no crystal ball, and maybe these three behemoth companies will stop selling Band-Aids, gasoline and soft drinks soon, but I would doubt it. Not only that but these companies have enormous amounts of cash reserves, which minimizes their need to borrow when interest rates eventually rise.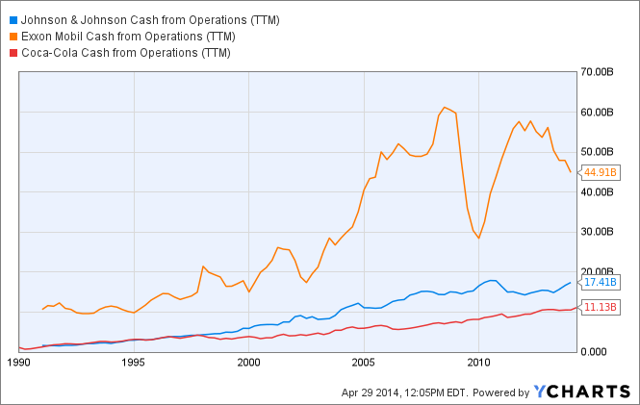 What this means for the dividend investor, is that these companies have enough cash to pay debt, pay dividends, and continue operating in virtually every economic cycle. For the dividend investor, one look at the payout ratio of each of these gives us a clue as to how long these companies can continue increasing the dividends.
JNJ has a 50% payout ratio.
XOM has a 33% payout ratio.
KO has a 61% payout ratio.
As the chart above shows clearly, these companies virtually "print" money by virtue of the massive global footprint that each has in their respective business sector. They will always generate cash, and aside from an anomaly, generate enormous profits.
In This Bull Market, Are These Stocks Overvalued?
The metrics that has been conventionally used to determine valuations of a company are forward PE ratios, and price to book value.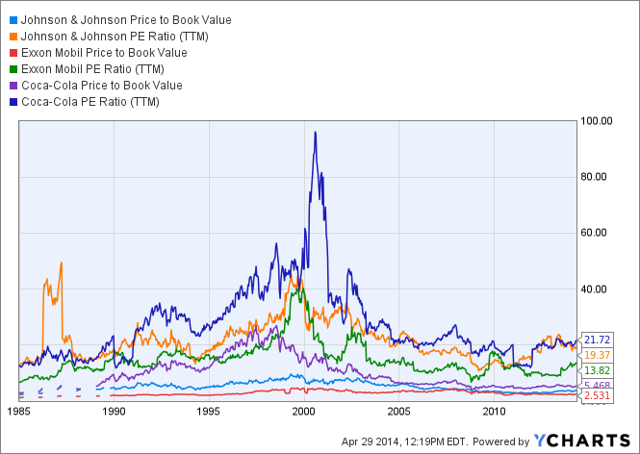 Aside from a brief period between 2001 and 2003, these stocks have remained remarkably stable and consistent. You can look at all sorts of charts and graphs to find out of the current share price is too high, but it is my opinion, that over the long run, when starting a portfolio, the current price is secondary to actually getting started, creating an income stream and either reinvesting the dividends, or adding shares when the price dips...or dollar cost averaging.
Combining this approach with a sound savings strategy, and prudent expense management, should enable the dividend seeking investor to embark on a financial investment journey that should last a lifetime.
Disclaimer: The opinions of the author are not recommendations to either buy or sell any security. Please remember to do your own research prior to making any investment decisions.
Disclosure: I am long JNJ, XOM, KO. I wrote this article myself, and it expresses my own opinions. I am not receiving compensation for it (other than from Seeking Alpha). I have no business relationship with any company whose stock is mentioned in this article.