When Apple's (NASDAQ:AAPL) earnings report came out last week, I was not inclined to put too much stock in the declines in iPad shipments (-16%) and revenue (-13%). Apple made a good point that sell through was not as bad as their numbers, which are sell in, but even with this correction, sell through declined. Not to worry, I thought, it has happened before. In the June quarter of 2013, iPad unit shipment also declined by 14% as Apple missed the traditional new iPad Spring unveiling.
Apple Mystique
Then I read an interesting post here on Seeking Alpha by Benedict Evans. He had a number of observations, the most important being that iPad sales have been flattening out for some time (on a year over year basis), while iPhone sales have continued to post substantial year over year gains. He dismisses the idea that iPad sales have been impacted by Android tablets, pointing to data that indicates very small usage share for Android tablets compared to iPad.
Instead he believes that smartphones are competing with tablets and other personal computing devices such as laptops and desktops. He gives an example of a usage scenario where someone wants to check some information on the Internet while watching TV and whips out their smartphone to do this.
It's an interesting observation, but it didn't correlate very well with my own experience or with others in my household. At home, the iPad is always my preferred go-to device for quick Internet browsing, and I daresay this is true for anyone with a modern tablet, whether Android or Windows based. If you have a choice, web browsing on a larger tablet screen is preferable to a smartphone or even a phablet.
While Evans's iPad data speaks for itself, his explanation doesn't wash in light of Gartner's recent report on tablet market share for 2013, released March 3. The table below summarizes Gartner's data:
| | | | | |
| --- | --- | --- | --- | --- |
| Operating System | 2013 Sales | 2013 Market Share (%) | 2012 Sales | 2012 Market Share (%) |
| Android | 120,961,445 | 61.9 | 53,341,250 | 45.8 |
| iOS | 70,400,159 | 36.0 | 61,465,632 | 52.8 |
| Microsoft | 4,031,802 | 2.1 | 1,162,435 | 1.0 |
| Others | 41,598 | <0.1 | 379,000 | 0.3 |
| Total | 195,435,004 | 100.0 | 116,348,317 | 100.0 |
For the first time, iPad market share dropped behind Android in 2013. The overall tablet market grew by 68% y/y, but iPad sales were relatively flat, as Evans correctly observed. This certainly appears to be due to burgeoning Android sales, and it is. It's not an illusion.
What about Apple's greater usage share? In the past year, as Apple's market share in smartphones and tablets has fallen, Apple friendly journalists and pundits have tended to focus on usage share, where Apple appears to be ahead of Android. Usually the data is presented in such as way as to leave the impression that usage share is so much higher because Apple products are so much easier to use, a recycling of the Apple Mystique going back to the earliest days of the Mac.
As a platform agnostic developer who uses or has used extensively Windows 7, 8.1, Mac OS Mavericks, iOS and Android, I can say that for all practical purposes, the ease of use advantage just isn't there. I know this will elicit howls of protest from the Apple fan base, but the users of the non-Apple platforms will just chuckle and nod their heads in agreement.
I do believe that iOS is superior to Android, as I've said many times, due to the fact that iOS apps run natively, whereas Android apps are based on Java and have to run in a somewhat cumbersome virtual machine environment. Google's Dalvik virtual machine exacts a performance as well as a reliability penalty. But most consumers never notice the impact, and for mundane things like Web browsing, Android works just fine.
Numerical Advantage
If the Apple Mystique isn't a good explanation of usage share for iOS, what is? Here I think two factors are at work. The first is that most usage share stats are based on some form of analysis of Web traffic, such as netmarketshare.com. Smartphones have become increasingly useful for Web browsing, but for the most part, people prefer to use larger screen devices, tablets, laptops and PCs. This skews the usage data away from Android based phones despite their apparent numerical advantage.
The second factor is that for almost three years after the iPad was introduced in early 2010, the iPad dominated the market for tablets, which means that iPad outsold all Android competitors put together through 2012, almost 100 million units according to Apple's earnings report data for 2010-2014. As of the end of calendar Q1 2014, Apple had sold 211.6 million iPads.
Sales data for Android tablets is harder to come by. Gartner reports that sales of all Android tablets were 120.9 million in 2013 and 53.3 million in 2012, so it's likely that cumulative sales of iPad are still greater than cumulative Android tablet sales. Cumulative sales of either platform are not quite the same as installed base, since there must be some attrition and a non-zero replacement rate, but it's likely that the installed iPad base is still larger than the installed Android tablet base.
So Apple's greater usage share, as evidenced by data from netmarketshare.com, is not magic, or even Mystique. It's just numbers, and that numerical advantage is fading fast now that iPad's market share is declining relative to Android. This is Apple's iPad problem.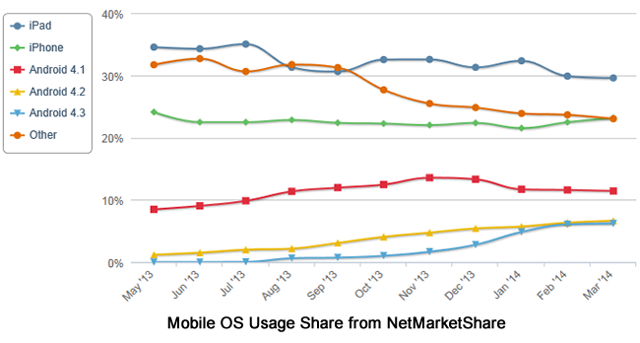 Challengers to the A7
Intel's (NASDAQ:INTC) aggressive push into tablets (mostly Android) only makes matters worse for Apple. Intel's Bay Trail processors are already marginally faster than the A7, if provided with a 64 bit operating system. Intel has mitigated any cost disadvantage Bay Trail might have had relative to ARM processors, so Bay Trail tablets are priced very competitively. The 14 nm successor to Bay Trail, Cherry Trail is already being hailed as a "game changer" in the tech media. Pro-Intel bloggers and technology writers are fond of this term, I guess, because Intel's game is in need of changing. But the threat of Intel's 14 nm process cannot be underestimated, and it will attract an increasing number of Android device makers.
In addition, Qualcomm (NASDAQ:QCOM) has promised a line of 64 bit ARM processors for the second half of the year, so Android makers will also be able to offer for the first time 64 bit ARM processors competitive with Apple's A7. Apple's 64 bit advantage in tablets is already over with the arrival of Bay Trail, and will have lasted not even a year for smartphones.
iPhone's strong sales in the Holiday season and in calendar Q1 were partly a consequence of the exclusivity of the A7 64 bit processor. With the loss of that exclusivity, Apple's iPad problem becomes an iPhone problem as well.
What to Do
Apple could blunt some of the impact of Bay Trail with a mid-cycle refresh of iPad with a faster, possibly quad core processor. In the long run, Apple's iPad fortunes depend very much on whether the ARM foundries can make good on their promise of 14 nm FinFET by the end of the year. When I wrote about this in "ARM Hits A Speed Bump" I received many comments from Intel loyalists to the effect that the ARM foundries would never catch Intel. Well, okay, nothing is certain in life, and maybe Intel will stay ahead. In any case, it's apparent that this is the pitch that Intel is making to Android device makers: don't bother waiting for the ARM foundries to implement their own 14 nm process, because they won't be able to for the "foreseeable future."
The recent Samsung/Global Foundries announcement of collaboration on 14 nm FinFET promises to be in mass production by the end of this year in Samsung's (OTC:SSNLF) facility in Austin, Texas, and Global Foundries' facility in Saratoga, New York, among others. And we all know what Samsung does at Austin. So it seems likely that Apple is helping fund 14 nm production, and since Samsung is a foreign company, Apple can do that out of its off-shore cash reserve. In my mind, it's not matter of if, but when the ARM foundries will achieve 14 nm. They may not make the end of the year deadline, but early next year looks pretty solid.
In the meantime, I've pointed out that the ARM ecosystem has a challenging 2014 ahead in dealing with Intel's push into mobile, and that includes Apple. Lately, Apple's share price has enjoyed something of a renaissance on the strength of iPhone sales and perhaps a flight to quality. The attention that iPhone garners is a double edged sword. iPhone sales are likely to subside over the summer and news of competing Intel and Qualcomm 64 bit smartphone processors is likely to further reduce expectations for the next iPhone, due in the Fall.
These continuing declines in iPad and iPhone sales are likely to drive Apple's share price back down over the Summer, erasing recent gains. This is likely to occur even if Apple previews new products, as I hope it will, at WWDC. With no sales history for the new products established, the tech media will engage in their usual second guessing, creating a lot of fear and doubt. New Apple products won't help Apple's share price until they prove themselves in the marketplace.
Disclosure: I have no positions in any stocks mentioned, and no plans to initiate any positions within the next 72 hours. I wrote this article myself, and it expresses my own opinions. I am not receiving compensation for it (other than from Seeking Alpha). I have no business relationship with any company whose stock is mentioned in this article.
Editor's Note: This article discusses one or more securities that do not trade on a major U.S. exchange. Please be aware of the risks associated with these stocks.