After a series of highly successful semiconductor plays we have had, there is not too much more to say. We have found another reporting semiconductor company in a significant position to improve its earnings and yet is severely undervalued moving into earnings. This time, the company is Kulicke & Soffa Industries (NASDAQ:KLIC). They are in the highly successful semiconductor equipment industry from which our Overnight Trade from Wednesday in Teradyne (NYSE:TER) came. KLIC's specific expendable equipment and tools that are used to build semiconductors. The company operates in the USA and Asia supplying subcontractors that do electrical and automotive semiconductors.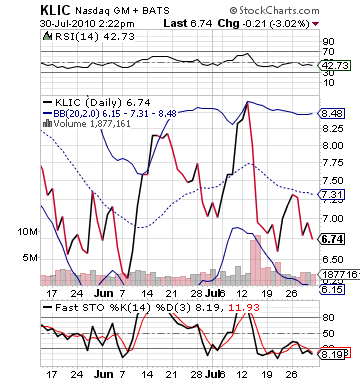 We have been over the great story we have in semiconductors again and again. So, if you had missed it, check out the Teradyne story, this one, or this one. Here is a statistic on semiconductor equipment companies: 17/19 of the companies that have reported since the beginning of June have reported surprise profits. It has been a solid season, and it will continue for Kulicke.
The company is projected to hit an EPS of 0.51 vs. a loss one year ago of over 0.20. The improvement will be over 300% for profits. This is going to definitely pump the stock going into earnings, especially since KLIC is very undervalued moving into earnings.The stock dropped almost 4% today, which has brought its RSI down significantly farther below 50. The stock's fast stochastics as well are moving into oversold territory.
This company is going to most likely beat earnings, and even if it does not, I am confident that it will get solid buyer interest moving into earnings.
Entry: We are looking to enter at 6.55 - 6.65.
Exit: We are looking to exit after a 4-6% gain or after earnings on Thursday morning.
Stop Loss: 5% on bottom.