While prompt month natural gas prices have been recently advancing on the back of the warmest summer since 2006, long-term price expectations for the commodity have remained remarkably stable. At $5.08, the 12-month natural gas strip remains well within its recent range, and at around the same levels as 2003.
What we have seen is a remarkable flattening of the futures curve, as prompt month gas has rallied while the back end has stayed largely flat. Over the last four months, the flat price has rallied $1.00, or 27%, September 2010 has rallied $0.65, or 16%, yet winter 2011 has not budged. Moreover, the overall 2011 strip and the 2012 strip have hit new lows in recent days.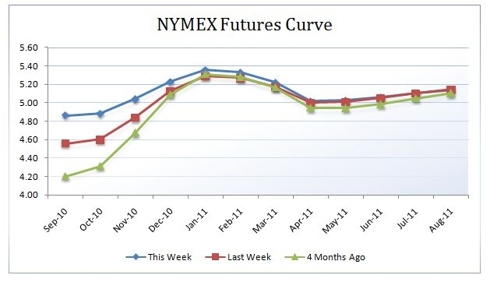 Clearly, the market has high confidence in the ability of natural gas supply to meet demand. We agree with the market's assessment. A prolonged period of muted natural gas prices will be necessary to balance a market which is structurally oversupplied (.pdf).
Indeed, since the beginning of the year, natural gas production has been surging once again, with month over month production growth rates exceeding those of 2008, when natural gas prices peaked over $13.50/mmbtu. Year-to-date, onshore natural gas production has been rising at an average 0.6bcf/d month-over-month rate, compared to the 0.4bcf/d 2008 average.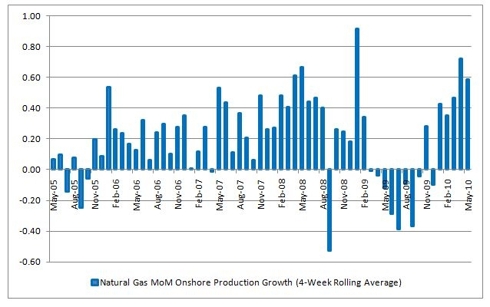 With volatility slowly being sucked out of the natural gas market, trading opportunities are diminishing. In June we recommended short exposure to prompt month natural gas in light of the bearish underlying fundamentals. A scorching summer has served to offset these fundamentals. The combination of a rallying prompt month and narrowing calendar spreads make such short exposure much less attractive. While we still believe that September will see a record storage injection, and that there remains a distinct possibility of record inventory levels in November, we are deploying capital to more attractive areas.
Somewhat ironically, the recent aggressive selling in E&P's has created opportunity in that space. The equity market has finally capitulated to the idea of a new natural gas price paradigm and that is being reflected in E&P shares, violently in some cases. There is always tremendous opportunity during these points of inflection. For those seeking long-term natural gas exposure, now is the time to starting taking a close look at select shares of natural gas producers.
Disclosure: No positions