After a year in the doldrums, the IPO market is making a comeback, with new multi-million dollar deals hitting the scene. As with almost anything else, there's an ETF for that (NYSEARCA:FPX).
The IPO market has kicked into high gear recently, with deals ranging from $90 million to more than $600 million covering everything from technology companies to coal producers, writes Debra Borchardt for TheStreet.
But look out: investors have not fared so well with IPOs in the last year. The Renaissance Capital IPO Index is down 3.5% year-to-date, with a negative return of 8.3% through the end of the second quarter. Sixty new IPOs have been added to to the index in the first half of the year, which is seen more as a return to normal levels of issuances.

New offerings coming out this week include:
KKR & Co. (NYSE:KKR). More of a re-listing from Europe to the U.S. markets.
Oxford Resource Partners (OXF). Large producer of surface-mined coal.
Qlik Technologies (NASDAQ:QLIK). Provides web-based reporting tools for customers to make decisions and analyze data for reports.
SMART Technologies (NASDAQ:SMT). Maker of school white boards.
RealD (NYSE:RLD). Market leader for 3D movie tech.
The IPO market may be just now awakening here, but it is booming overseas, comments Kevin Grewal for TheStreet. Overseas companies raised almost triple the amount invested in developed countries. Concerned about the volatile markets, the recovery in the United States, and because of the impact of the eurozone debt problems, investors have remained cautious in the developed markets.
China may become the largest IPO market, raising a projected $73.5 billion this year for about 300 new listings. U.S. IPO activity has only brought in $5 billion between April and June.
So far this year, China set 176 new offerings, raising $31.6 billion. Industrial and basic materials companies were the biggest sellers in China for the year, report Luo Jun and Eva Woo for BusinessWeek.
First Trust IPOX-100 (FPX). The fund purchases domestic stocks from many different companies that are about to go public. But here's how it gets around the "rabbiting out of the gate" conundrum with which IPO stocks are often faced: FPX only incorporates a stock after its first seven days of trading in order to miss the frenzied "buy" period. Then it holds the stock until the 1,000th day of trading, at which point they're moved out and new stocks are added in.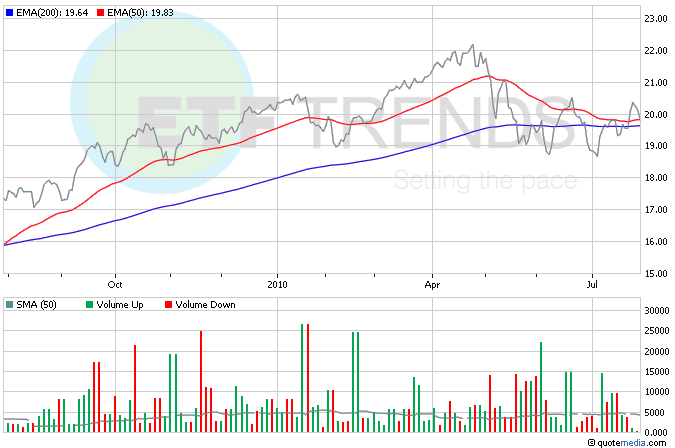 Max Chen contributed to this article.
Disclosure: None