MREITs have not been the best investments over the last two years. Benefiting from unprecedented monetary easing policies and low interest rates, mREITs shot up in popularity during the financial crisis. With a massive increase in assets and market valuations, mREITs did become cornerstone investments for many income investors who accentuate regular income over capital gains. American Capital Agency Corporation (NASDAQ:AGNC) and Annaly Capital Management (NYSE:NLY) are the largest and most dominant mREITs in the sector offering investors dividend yields of over 10% each. American Capital Agency Corporation also delivered first quarter 2014 results yesterday which beat analyst estimates.
For the first quarter 2014 American Capital Agency Corporation reported:
Comprehensive income of $1.18 per share consisting of a net loss of $0.41 per share and $1.59 per share in other comprehensive income. This compares against a comprehensive loss per common share of $1.57 in the year ago quarter. The loss consisted of $0.64 per share in net income and ($2.21) per share in other comprehensive losses.
American Capital Agency Corporation's net spread and dollar roll income stood at $0.71 per share and compares against a net spread and dollar roll income of $0.75 per share in the previous quarter (minus 5%) and a net spread of $0.78 per share in the year ago quarter (down 9%).
$0.47 in estimated taxable income for the first quarter 2014 which compares against $0.65 per share in the previous quarter (minus 28%) and $0.50 per share in the year ago quarter (down 6%).
Estimated undistributed taxable income of $0.42 per share vs. $0.59 in Q4 2013 (a decline of 29%) and vs. $1.08 per share in Q1 2013 (a fall of 61%).
AGNC, most importantly, reported a rising book value: In the first quarter 2014 AGNC's net book value per share stood at $24.49: Up 2.3% from the $23.93 per share reported for the fourth quarter 2013 but still down a whopping 15% from last year's $28.93 per share. I have previously argued that mREITs will have difficulty in convincing investors that the worst is over for the mREIT sector as long as per share book values are falling. In fact, eroding book values have been the key pillar of my short thesis with respect to high-profile mREITs Annaly Capital Management and American Capital Agency Corporation.
A summary slide from AGNC's first quarter results presentation is presented below: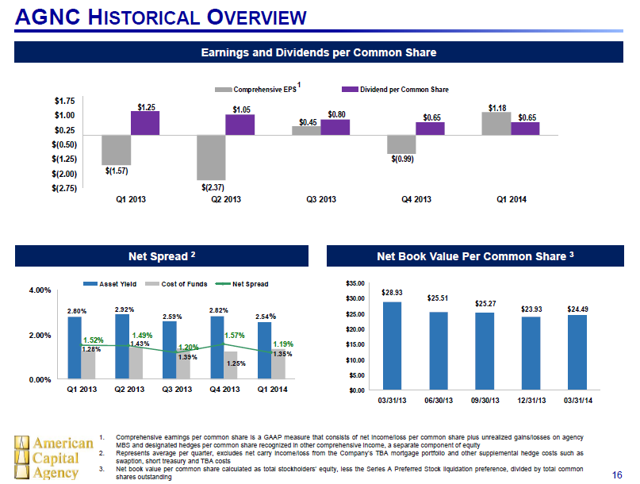 (Source: Q1 2014 Stockholder Presentation April 29, 2014)
Share performance
American Capital Agency Corporation's one year share return is still pretty dismal: The mREIT lost 33% in value although the stock has recovered quite a bit from its 52-week Low at $18.84.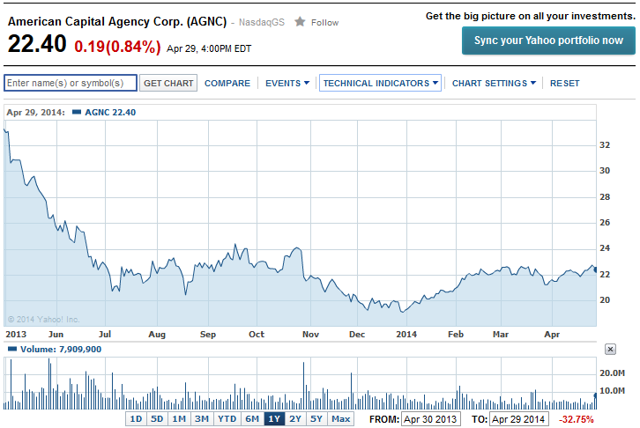 (Source: Yahoo Finance)
The chart below depicts the share prices of major mREITs and investors can clearly see a massive consolidation wave washing over the mREIT sector in 2013: While American Capital Agency Corporation lost 28% over the last two years, Annaly Capital Management lost 30%, Armour Residential (NYSE:ARR) 40% and American Capital Mortgage Investment Corp. (NASDAQ:MTGE) 14%.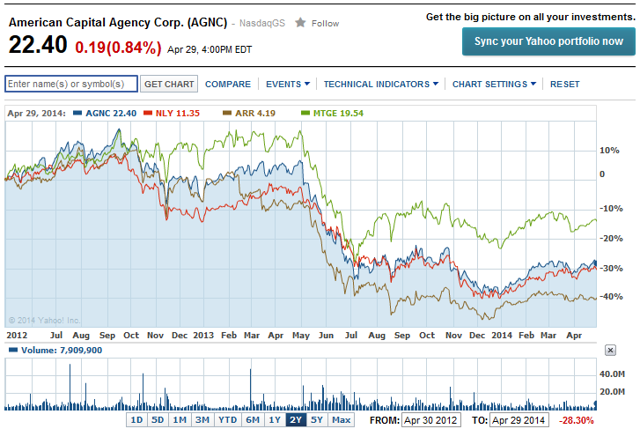 (Source: Yahoo Finance)
Be careful focusing only on dividends
Investors too often focus entirely on the distribution yields of their mREIT investments and neglect the impact of (negative) capital gains. Investors who bought Annaly Capital Management or American Capital Agency Corporation two years ago are barely breaking even as the loss on the stock outweighs the cash flows received over the last two years.
The following chart depicts current dividend yields of major mREITs: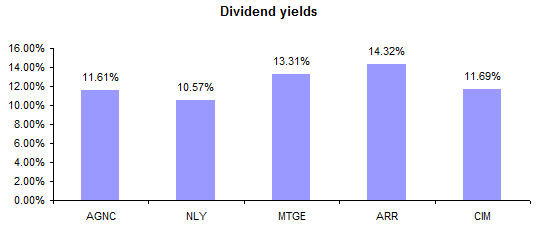 Conclusion
Dividend yields for selected mREITs are still relatively high and the question remains whether the yields will prove to be sustainable in an environment of rising interest rates. In any case, investors should not merely consider the dividend yield as a purchase criterion but also need to consider the impact of cyclical dividend increases on the value of the underlying mortgage portfolio.
My investment thesis to short AGNC was centered on the assumption that book values per share will continue to erode and cyclical interest rate increases will put pressure on leveraged business models -- including that of AGNC. Given that AGNC now has achieved a turnaround in terms of book value per share, I no longer hold on to my short thesis. If other mREITs also show that the bleeding has stopped in terms of book value, the time for going long might have finally arrived. Short case closed.
Disclosure: I am short NLY. I wrote this article myself, and it expresses my own opinions. I am not receiving compensation for it (other than from Seeking Alpha). I have no business relationship with any company whose stock is mentioned in this article.