Outlook: If you want to know what's going on in the stock market, you might want to consider looking at what's going on in the bond market.
An Early Warning System: Maybe it's because the bond markets have so few variables to consider, i.e., inflation, interest rates credit worthiness and the yield curve, the bond players are more sensitive to risk and seem to be able to detect it earlier than equity participants.
Calling the Turns? The graph below compares the inverse spread of the 3 year interest rate swaps at month-end with that of the S&P 500 since July of 2000. (Data from July were from the close of July 28th.)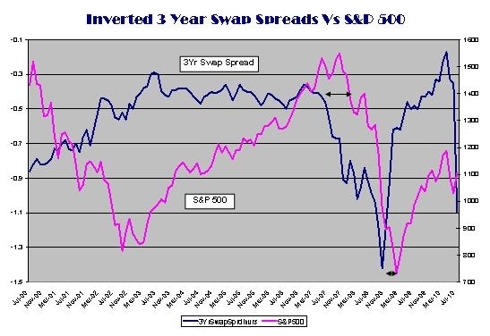 Got it Right: As the chart demonstrates the bond market had it correct in detecting increased risk at the top of the market as the 3 year swap spread turned up (down in chart because it's inverted) months prior to the stock market's trough; it turned down prior to the peak. (See arrows on graph).
Not Much Good News: The recent plunge in the 3 year swap spread is not an encouraging metric for equity investors. This coupled with an overall weakness in the general economy—GDP, employment, manufacturing, may perhaps portent a downturn in the equity markets near-term.
A Secular Bear Market: Since the 1900's there have been 3 secular bull and 3 bear markets that lasted on average 18 years. If we entered a secular bear market in 2000 we have several more years of a downward bias in equities punctuated with bull market rallies.
A Broken Record: I continue to be biased towards large-cap dividend paying stock and in favor buying ETFs like [[[DVY]] and [[SDY]] on market downturns.

CEF Weekly Review: The 13 closed-end fund (CEF) types on average posted a 1.2% increase for the week ending 7/30/10. The high-low spread was +2.0 versus +3.2% the previous week with an average of 1.2% and 2.1%, respectively. On an aggregate, unweighted basis the weekly average price change for the 500 plus CEFs was up 1.0%.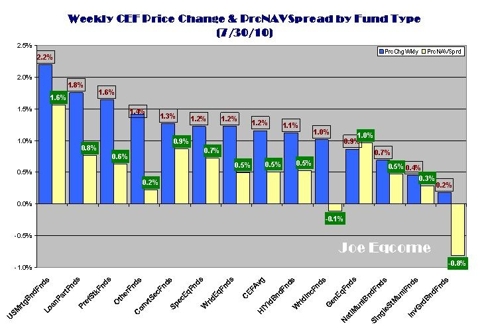 The PowerShares CEF Income Composite (PCEF) an ETF that invests in taxable income CEFs, increased 0.6% for the week. The S&P 500 was down 0.1% for the week and off 1.2% YTD.
(Click Here for YTD CEF performance. The table is based on a smaller CEF sample size as all the data fields are not available for the CEF universe.)
The Eqcome CEF Fear Index continued its easing trend for the week. The average price increase was 1.0% versus a 0.5% increase in the NAV. The CBOE Volatility Index (VIX), which typically moves inversely with the stock market—but is mostly a measurement of volatility based on stock options' premiums—was flat at 23.50. The VIX slid 30% from late June during a period in which the market remained essentially flat. Even with the a drop in the VIX, implied volatility remains historically high suggesting that stocks price movement is highly correlated to the overall market—possibly due to the emergence of ETFs. (So, where's the "stock pickers" market?)
The average daily trading volume for the S&P 500 was down 6.7% to 4.3 billion shares over the previous week.
CEF Weekly Fund Type Performance: All CEF fund types generated positive share price advances this week. While fixed-income and equity oriented fund types have a tendency to bunch together in terms of price movement, this week demonstrated a dispersion of fixed-income fund types across the price appreciation spectrum. This likely reflected investors' uncertainty with regards to investment trends.
USMrtgBndFnds, the best performing fund type YTD, took a holiday last week with a modest advance. This week it came roaring back with a 2.2% advance. InvGrdBndFnds brought up the rear with a 0.2% price increase.The PrcNAVSprds typically move in the direction of stock prices. There were two exceptions this week: WrldIncFnds and InvGrdBndFnds where their respective NAVs increased greater than their price.
Weekly CEF Winners and Losers: One of the CEFs with the greatest positive spread was Flaherty & Crumrine Preferred Income Fund (PFD). PFD share price advanced 6.2% while its NAV advanced 1.3% generating a positive PrcNAVSprd of 4.9%. PFD recently increased its dividend 7.9%. The stock trades at an 8.7% annualized monthly yield at its new rate and a 9.9% premium. I wouldn't think the stock would give up much of its new found gain. The CEF has shown an impressive string of dividend increases.
The CEF having one of the greatest negative PrcNAVSprd for the week was Invesco Van Kampen Bond Fund (NYSE:VBF). VBF price declined 3.0% while its NAV advanced a modest 1.2% generating a 3.0% negative spread.
VBF is classified as an InvGrdBndFnds. Like its fund type, VBF experienced an NAV advancing greater than its stock prices. The CEF is generating a 5.1% monthly annualized yield and is trading at par. There's no leverage and a small management fee of 0.5%. Its portfolio is heavily weighted towards financials. There was no unusual volume. It looks relatively clean for fearful investors.
Insider Trading: Tad Rivelle, a portfolio manager at TCW Strategic Income Fund (NYSE:TSI) has been an aggressive buyer of the stock this month. Mr. Rivelle has acquired 136,401 shares in July for a total capital expenditure of $677,191. These purchases bring his total stock ownership to 302,309 shares accumulated since April of this year.
Mr. Rivelle is one of the portfolio managers acquired in the acquisition of Metropolitan West Asset Management, LLC in February of this year by TCW. This was after its messy divorce with Jeffrey Gundlach, a well respected bond manager. Other principals in the acquired management company have also been buyers of the stocks this year.
There has also been some consistent buying by the directors of Special Opportunities Fund (NYSE:SPE) this year. Two directors recently each acquired 1,000 shares at $12.78 per share. Phillip Goldstein, a director of SPE and a noted CEF activist investor, initially purchased 1,350 at an average price of $12.92 per share.
Several of the directors Aberdeen Indonesia Fund (NYSEMKT:IF) purchased small amounts of shares adding to their positions of several thousand shares.
CEF insider transactions' roster was notable for the monthly absence of the Horejsi Group. Horejsi has been a consistent buyer of any number of CEFs which it controls. What gives?

Significant CEF Corporate Events: It's now official. According to a final count of it reconvened shareholder meeting, Western Investment LLC lost a proxy fight seeking to terminate the management contract of Deutsche Investment Management Americas ("DIMA") with DWS Enhanced Commodity Strategy Fund (GCS) and approved its merger into DWS Enhanced Commodity Strategy Fund a mutual fund owned also managed by DIMA.
CEF Focus Stock for the Week: Adams Express Company (NYSE:ADX) is the focus stock of the week.
It is baffling why the stock, despite ADX's relatively in-line performance with its big cap index, the S&P 500, consistently sells at one of the most embarrassing large discounts in the CEF market segment.
As the related chart below notes ADX's performance versus SPY (an ETF tracking the S&P 500) tracks fairly close on an indexed basis. So, while it's tracking its bogey, it is trading at 15.7% discount, approximately 44% greater that its peer group (GenEqFnds). Unfortunately, this discount has been persistent. ADX has traded at an average year-end discount of 12.1% since its inception versus its peer group of 8.1%.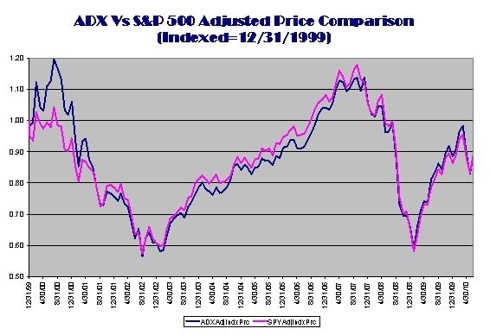 What's Wrong With This Picture? I'd be interested in other's views why the discount is so persistently large. The related question is: Is the current board doing enough to remedy this situation? It seems as if they have a good product.
A suggestion that ADX's board should hire a third party investment bank to suggest ways of enhancing its value through actions to narrow its discount may end up as a shareholders' proposal this fiscal year. See: Adams Express Pay Attention: FGF & FGI Boards Create Committee to Enhance Shareholder Value)
*All things being equal, price and NAV should move in tandem. A price movement greater than the NAV generates a positive PrcNAVSprd and may be interpreted as negative on a near-term basis and indicate that the stock is overvalued relative to its NAV which in theory is the stock's intrinsic value. The opposite would be true for a negative PrcNAVSprd.
Disclosure: The author owns a diversified portfolio of CEFs that include BIF, PCEF and ADX