In this article, I will discuss the steps taken by BHP Billiton (NYSE:BHP) to improve shareholder return.
Offloading non-core assets
BHP Billiton is considering the de-merger of its non-core assets, including aluminium, nickel, manganese, thermal coal, and zinc. The company has secured tax exemption from the Australian Tax Office for capital gains, dividend, and stamp duty issues related to this de-merger option. Mick Davis, former Xstrata chief, is considering acquiring the company's non-core assets for $15 billion through his new private equity vehicle, X2 Resources. He is also negotiating a loan of $8 billion with JPMorgan (NYSE:JPM) to finance the acquisition of BHP Billiton's thermal coal assets.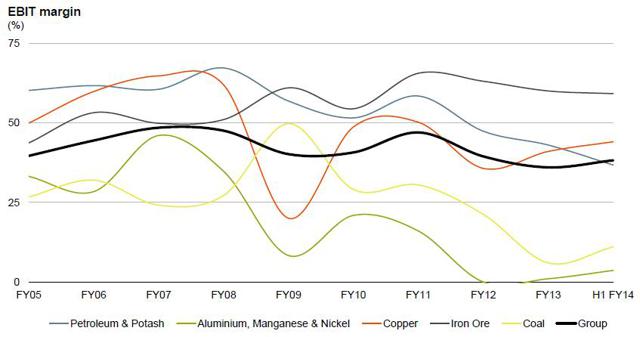 Source: BHP Billiton
In first half of fiscal year (or FY) 2014, coal contributed 4.11% to the company's Earnings Before Interest and Taxes (or EBIT), while aluminium, manganese, and nickel together contributed 1.19%. The EBIT margins of these segments have declined in the last few years. BHP Billiton's profit margin from aluminium, manganese, and nickel declined from 41% in FY 2007 to 1.8% in FY 2013.
Thermal coal prices are likely to fall in 2014 due to oversupply from Australia, Colombia, and South Africa, and weak demand from China and emerging markets. Bank of America Merrill Lynch has lowered its thermal coal forecast for Australia (Newcastle) from $82 per tonne to $74 per tonne as an average for 2014. The prices in Europe are expected to touch $70 per tonne in the second quarter of 2014.
The supply glut will keep downward pressure on aluminium prices in 2014. HSBC expects aluminium prices to average $1,887 per tonne in 2014. About 4 million tonnes (or Mt) of new production will come online between 2014 and 2017 from new smelters in India, Canada, the Middle East, Malaysia, and Russia. The bank has lowered the aluminium demand growth estimate from 5.7% to 5.5% between 2013 and 2017.
Nickel prices are expected to decline 14% by the end of 2014. Thus, offloading non-core assets will help BHP Billiton to focus on its core assets, including iron ore, copper, coal (metallurgical), petroleum, and potash. The only area of concern is the exit value for the company's non-core assets, since commodity prices are at the bottom. The negotiation talks may fail to materialize or get delayed over the exit values of these assets.
Iron ore production
The Australian Bureau of Resources and Energy Economics forecasted iron ore prices to average $110 per tonne in 2014 and $103 per tonne in 2015. This is worrisome, since the iron ore segment contributes over 50% to the company's EBIT. However, BHP Billiton has raised its FY 2014 guidance for iron ore production by 5 Mt to 217 Mt. The company's production expansion plans in Pilbara are on track. The company is also increasing the fleet of autonomous truck trials across its iron ore mines in Pilbara to improve productivity.
Share buyback
In the last ten years, the company has paid out $62 billion in buybacks and dividends to shareholders. The improvement in iron ore production, coupled with sale of non-core assets can help BHP Billiton to reduce its net debt from $27.1 billion to $25 billion, which can pave the way for a share buyback. UBS expects the company to announce $5 billion in a share buyback by August 2014.
Conclusion
I would conclude by saying that BHP Billiton is focused on improving productivity of its core assets and offloading non-core assets, which will help the company to increase return for its shareholders.
Disclosure: I have no positions in any stocks mentioned, and no plans to initiate any positions within the next 72 hours. I wrote this article myself, and it expresses my own opinions. I am not receiving compensation for it (other than from Seeking Alpha). I have no business relationship with any company whose stock is mentioned in this article.