I'm often asked why the Shanghai Stock Market has been one of the world's worst performers while the Chinese economy has been so strong. It's a good question; one that none of the pundits have ever taken on.
Put aside the fact that investors are nervous in China. That is a real factor in every market around the globe. There must be more at work than that.
I believe what we're seeing in China is a preview of western market behavior. When the global financial crisis first hit, Beijing knew what to do. Having survived the Asian Currency Crisis ten years earlier, the Chinese government drew on huge reserves to inject the world's first massive fiscal stimulus into the economy.
Result: China came through with flying colors ten years ago, while other Asian economies crashed. This time China bounced back again with the biggest growth rate of any major economy. But the US and Europe are still struggling to produce more stimulus as their debt loads skid near the edge of the abyss.
So why have Chinese stock markets been in a funk while US markets have bounced back from their lows? The answer: it's all about the stimulus.
China's stimulus was a massive monetary jolt, much bigger than the US recovery effort. In addition to a more than half a trillion dollars worth of direct government spending, China's banks were instructed to open the floodgates of lending.
They did exactly as they were told. Trillions of dollars worth of liquidity deluged the Chinese economy. American banks, by contrast, slammed their windows shut to new lending.
In China, everybody felt the economic boost, and fast. Infrastructure projects popped up like mushrooms. Chinese banks prospered and real estate rebounded. The shift from gloom to boom has been unbelievably fast.
What's Different in China?
It's hard for Americans to grasp just how radically different the atmosphere is in China. Almost ten percent of mortgages in the US are at risk of default and home sales continue to slump. Across the Pacific, Chinese real estate is such a hot investment that there are ongoing warnings about a bubble.
That's one reason that China's A shares haven't rebounded in tandem with the red-hot economy. Sure there's a lot of money in circulation. But Chinese investors have been burned more than once on the stock market. Real estate has always been seen as a safe haven in China, and that's where a lot of the money is going.
The result? Depressed prices for stocks on the Shanghai Exchange have dragged down the values of Chinese companies on markets around the world. That's because Chinese shares traded in Hong Kong and New York always trade at a discount to their prices in China.
There's another factor that has kept nervous investors out of Chinese markets. Fear of a clampdown. Nothing guarantees a tumble on Chinese markets faster than rumors that Beijing will end economic stimulus. A small rise in interest rates could do more than slow the double-digit expansion of the economy. Real estate prices might plunge. In today's jittery, caffeinated climate fear still rules the day.
Unease about China's ongoing growth has also affected world stock and commodity markets.
China accounts for 66% of world iron-ore imports. Australia estimates that China is also responsible for about 40% of global consumption of aluminum, copper and zinc.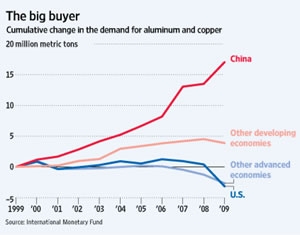 China's rebound has driven worldwide economic recovery. Every tremor in the Chinese economy makes traders from Sydney to San Francisco uneasy.
Now for the Good News
World markets rallied last week on news that China will ease its expected measures to curb growth.
Iron and steel companies did especially well. Morgan Stanley and International Strategy and Investment Group said China may loosen its measures to prevent overheating as the economy slows. The world's largest iron producer, Vale (NYSE:VALE) gained almost 14 percent last week on the news.
Although China's main stock exchanges have underperformed, smaller exchanges and new ventures are showing bright sparks of life.
More than 170 Chinese companies launched IPOs during the first half of the year. They have already raised the most money from IPOs this decade, pulling in almost $32 billion. That amount does not include the massive Agricultural Bank IPO which raised almost $20 billion.
Most IPOs are small cap firms looking for investors in the small Shenzhen and venture capital-focused ChiNext markets, as well as the Shanghai big board.
ChiNext was opened in hopes of sparking innovation and new ventures. Right now Chinese markets are beating the world in that corner of capitalist enterprise.
There's also encouraging news about Chinese consumers. We've all heard that a sustainable Chinese economy has to move from exports to internal consumption. Well, at last it's starting to happen.
Consumer loans soared during the first half of the year. New data shows that Chinese banks have already made more than a than a trillion yuan worth of new personal consumer loans in 2010. That's about $65 billion in loans, an unprecedented amount. The volume of loans is up 72% for the first half of the year.
What it all adds up to is a background of great news. Stocks are not always a leading indicator in China. Right now the markets are reflecting the ever-present fear that fiscal stimulus will end and profits will disappear.
Western stock markets have not yet faced the danger of a clampdown on stimulus, liquidity, and a rise in interest rates. But the first half of 2010 on China's markets gives us a vision of what we in the west might face in the future.
When US stock markets are confronted with a government that cannot afford to continue funding stimulus, investors in the US are likely to see a replay of Shanghai's sobering start to 2010.
Disclosure: No positions