Varying earnings reports have the market seesawing during this reporting season. While most companies that have released results have beat expectations (albeit lowered ones) from Wall Street, forward looking guidance has left much to be desired. With the job market showing little signs of life, and housing still depressed, consumers aren't ready to open their pocketbooks just yet. Wednesday's consumer sentiment reading of 50.4, below expectations of 51 and the lowest in five months, intimated as much.
Many of the poorer company outlooks have centered on diminished consumer spending. However, some areas of the market that you'd expect to be more resilient, like healthcare, haven't exactly been burning up the track either. The reports out of the sector have been mixed, including those represented in the portfolio. In terms of drug use, the second largest pharmacy benefits manager and FundFinds portfolio member Medco Health Solutions (NYSE:MHS), noted in its earnings call last week that they expect a slower uptake of generic drugs in 2011, than originally forecast. We weren't too surprised by this admission, as the biggest drugs to go off patent (including this country's top selling drug in Pfizer's (NYSE:PFE) Lipitor) don't become available for generic replication until later in 2011.
Going further, we've seen some pullback in drug spending from consumers as was noted in CVS Caremark's (NYSE:CVS) report Wednesday night. Front store sales of non-prescription items lagged expectations, and despite growth in drug dispensing, the company missed its earnings number. The more discretionary-related sales miss isn't too surprising, given the hardships the consumer is facing.
Purer healthcare plays haven't had it so easy either. Recent Growth portfolio addition Universal Health Services (NYSE:UHS) presented a mixed bag in its second quarter earnings report earlier this week. As you may recall, Universal is one of the largest publicly traded hospital chains in the country – with a focus on behavioral and acute care facilities. The company expanded its stronghold of the behavioral healthcare market with its recent acquisition of Psychiatric Solutions, the largest standalone operator of inpatient psychiatric facilities. While we applaud the move which increases the company's franchise, Universal's balance sheet has been taken to task by rating agencies who site the assumption of $1.1 of debt (and use of $2 billion in cash) as reasons for their downgrades.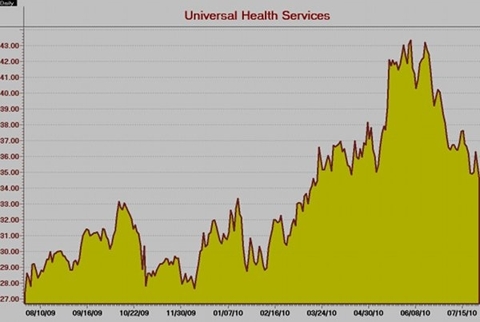 The company's second quarter earnings report reinforces our confidence in why the acquisition will pay off. With slimmer profit margins and earnings of $65.6 million, or 67 cents a share, the company fell short of consensus expectations at 69 cents a share. Revenue grew 2.7 percent versus the year-earlier period to $1.34 billion (short of expectations of $1.36 billion). Both misses were largely due to the company's acute care operations, a segment the company will rely less on going forward. Revenue at behavioral health hospitals grew by 5.5 percent, while acute care only grew 2.2 percent. As the company integrates higher margined Psychiatric facilities, we should see their portion of revenue and profit growth expand. The behavioral centers should get further tailwinds from recently enacted healthcare reform legislation.
The stock has outperformed the broader market this year, but shares still appear cheap. Trading at 12 times 2011 earnings expectations with a PEG of 1.0, we would be buyers of this dominant behavioral healthcare provider.