By Paul Goodwin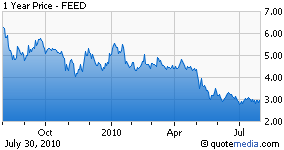 My investment idea today is a low-priced stock of a Chinese company whose presentation I attended at the 2010 China Conference put on by Global Hunter Securities last month. As with many of the presentations at the conference, the strength of the story isn't matched by the performance of the stock (nor, frankly, by the earnings numbers), but a good story is enough to put a stock on your Watch List, and that's what I'm recommending.
The company is AgFeed Industries (OTC:FEED), a Chinese pork-producing company that's bringing advanced Western hog-raising techniques to China.
The background of the story is that 63% of the meat consumed in China is pork, amounting to about 63 pounds per person per year. China harvested 625 million head of hogs last year. (The U.S., despite my constant hunger for more bacon, consumed just 100 million head.)
AgFeed raises its pigs on two breeder farms, and has 31 producing farms. Taken together, the hog producing side yielded 37% of last year's revenues.
The other 63% of revenue came from the sale of the company's premix, concentrate and complete hog feeds, which AgFeed markets through 1,400 retail stores to backyard farms, and 780 contracts with large commercial hog farms.
The quality of food is very important to Chinese consumers, and AgFeed considers its business plan to be a food safety story. While efficiency increases are important—the company was founded by animal nutrition experts—it's the production of high-quality, disease-free pork that can command a premium price that will make the difference in the company's results in the long run. And management knows it.
FEED had a great four-month run in 2009 that rocketed the stock from penny status to within a few cents of 8. But since that run, the stock has meandered its way down to below 3. It's not really an unappreciated stock (its P/E is still 15), but it needs to deliver better earnings than the 76% dip it reported in Q1.
The next quarterly report is scheduled for August 9, and a good report could provide the fuel for another blastoff.
Disclosure: None.