Refining and chemical margin recoveries are the key levers that helped Exxon Mobil Corporation (NYSE:XOM) recover its earning strength. I encourage you to visit ExxonMobil's web site (see prior link), navigate to its investor section, find the second quarter earnings, and then download the document Second Quarter 2010 XOM Earnings Conference Call. This document shows in graphic form how ExxonMobil's earnings increased during second quarter 2010 versus second quarter 2009, and during second quarter 2010 versus first quarter 2010.
I will quote from the company's new release for its second quarter highlights.
Earnings excluding special items were $7,560 million, an increase of 85% or $3,470 million from the second quarter of 2009.
Earnings per share excluding special items were $1.60, an increase of 90%.
Earnings were up 91% from the second quarter of 2009 which included a special charge of $140 million for interest related to the Valdez punitive damages award. Earnings for the second quarter of 2010 did not include any special items.
Capital and exploration expenditures were $6.5 billion, down 1% from the second quarter of 2009.
Oil-equivalent production increased 8% from the second quarter of 2009. Excluding the impacts of entitlement volumes, OPEC quota effects and divestments, production was up about 10%.
Cash flow from operations and asset sales was $9.6 billion, including asset sales of $0.5 billion.
Share purchases to reduce shares outstanding were over $1 billion.
Dividends per share of $0.44 increased by 5% compared to the second quarter of 2009.
The merger with XTO Energy, a leading U.S. unconventional natural gas and oil producer, was completed on June 25, 2010, making ExxonMobil the largest U.S. natural gas producer. Through this transaction ExxonMobil has acquired a resource base in excess of 45 trillion cubic feet equivalent at a cost of under $1 per kcf equivalent.
ExxonMobil and Synthetic Genomics Inc. announced the opening of a greenhouse facility enabling the next step of research and testing in their algae biofuels program. SGI and ExxonMobil researchers are using the facility to test whether large-scale quantities of affordable fuel can be produced from algae.
Next, I will use Seeking Alpha's conference call transcript to provide key highlights.
In point form, ExxonMobil's Earnings Conference Call Summary
Second quarter earnings were $7.6 billion, an increase of $3.6 billion from 2Q 2009.

Increase attributable to higher crude oil prices, upstream volume growth, improved downstream margins and strong chemical results.

Earnings per share excluding special items were $1.60, up $0.76 from a year ago.
During the second quarter of 2010, ExxonMobil distributed more than $3.4 billion to shareholders, including dividends of over $2 billion and share purchases to reduce shares outstanding of about $1.4 billion.
On June 25th, ExxonMobil completed its takeover of XTO Energy Inc.

Acquired a resource base of 45 trillion cubic feet (tcf) at a cost under $1 per kcf equivalent.
ExxonMobil is now the largest natural gas producer in the U.S.
Will nearly triple ExxonMobil's gas production from 1.3 billion cubic feet per day (bcfd) to 3.7 bcfd.
Unconventional portfolio now exceeds 8 million acres.

Making progress in Iraq, namely furthered its plans for the West Qurna-1 field; working with South Oil Company to restore and enhance recovery from this field; establishing offices in country; and selected to lead a concept selection study for a large scale seawater supply system.
On target with planned activities. In compliance with U.S. drilling moratorium, ExxonMobil suspended drilling offshore the U.S., including activities from its Hoover Diana platform in the Gulf of Mexico. Plans for an appraisal well at the Hadrian discovery in the GOM were also delayed. Production operations have not been affected by the moratorium and ExxonMobil does not expect significant impact to its 2010 production outlook.
In July, ExxonMobil, Chevron (NYSE:CVX), ConocoPhillips (NYSE:COP), and Shell (NYSE:RDS.A) announced plans to form a non-profit that will build and deploy a rapid response system for a potential future underwater well blowout in the deepwater GOM.
Some operating details were provided with regard to various regions.
In the upstream portion of the business, earnings were $5.3 billion, up $1.5 billion from 2Q 2009. After-tax earnings per barrel were $14.67. Higher crude oil prices and natural gas realizations increased earnings by $1.6 billion. Worldwide crude oil realizations were up $18 per barrel and natural gas realizations were up $0.55 per kcf from 2Q 2009.
Oil equivalent volumes increased over 8% from 2Q 2009. Excluding the impact of entitlement effects, OPEC quotas, and divestments, production was up almost 360,000 barrels per day or nearly 10% as project ramp-ups in Qatar and Kazakhstan more than offset net field decline.
Liquids production decreased by about 21,000 barrels per day from 2Q 2009. Excluding the impact of entitlement effects, OPEC quotas, and divestments, liquids production was up about 1% as project ramp-ups in Qatar and Kazakhstan more than offset net field decline.
Gas volumes increased nearly 2 bcf per day or almost 25% from 2Q 2009 as a result of new project volumes in Qatar and higher demand in Europe, partly offset by field declines.
Comparing against Q1 2010:

Upstream earnings decreased by about $480 million. Overall realizations decreased by $130 million, mostly due to lower natural gas realizations. Volume and mix effects reduced earnings by $450 million. There are lower natural gas demands with the change in seasons, and there were increased maintenance activities. There were other items that contributed to $100 million to earnings.
Liquids volumes decreased 89,000 barrels per day with increased maintenance. Natural gas production was down by 14% with increased project volumes in Qatar, decreased seasonal demand in Europe, and increased maintenance.

Announced progress with Synthetic Genomics in their algae research.
Discussed various initiatives and successes to reduce emissions and improve air quality.
Downstream earnings were $1.2 billion up $710 million from 2Q 2009. Higher margins contributed $780 million. Volume and mix contributed $170 million. Other factors, mostly foreign exchange, decreased earnings by $240 million.
Sequentially from 1Q 2010, earnings were up by $1.2 billion. Higher margins contributed $830 million. Volume and mix contributed $90 million. Other factors increased earnings by $260 million, including favorable tax and asset management activities.
With regard to its chemical business, ExxonMobil reached a significant milestone with its integrated chemical and refining complex in Singapore with the arrival of seven worldscale furnace modules. Anticipated startup will start later in 2010 and continue into 2011.
Chemical operating results were $1.4 billion, up $1 billion from 2Q 2009. Stronger margins contributed $840 million. Volume and mix contributed $120 million. Other effects contributed $40 million.
Sequentially from 1Q 2010, chemical earnings increased by $120 million. Higher margins contributed $310 million and positive volume and mix contributed $80 million. Other effects decreased earnings by $270 million, largely the absence of asset management activities and unfavorable foreign exchange.
ExxonMobil points out that, while their downstream and chemical businesses are managed separately, there are integration benefits. Together, their second quarter earnings were $2.6 billion, up $1.7 billion from 2Q 2009.
Corporate and financing expenses were $365 million compared to $600 million in 2Q 2009. Effective tax rate in the second quarter was 43%. Cash balance was $13 billion and debt was just over $20 billion, which includes $11.4 billion of TXO debt at fair market value. ExxonMobil will look for opportunities to restructure the XTO debt obligations to reduce debt service costs and to enhance capital structure flexibility.
Since the XTO closing, ExxonMobil has repaid $800 commercial paper and bank loans. In July, it repurchased $2.5 billion of XTO's long-term bonds. According to ExxonMobil, these actions will reduce ongoing cash interest expense with a small negative one time impact on third quarter earnings.
In the second quarter, $3.4 billion was distribruted to shareholders in dividends and share buybacks. Share buybacks amounted to about $1.4 billion. Because of the impending XTO transaction, ExxonMobil was limited because of trading restrictions. Share purchase in the third quarter are expected to be about $3.0 billion, more than double the amount in the second quarter.
CapEx was $6.5 billion, in line with 2Q 2009. Company is continuing to invest in robust projects.
Questions and Answers
In response to a question that North America and Asia appear to have higher refinery throughput gains than drilling throughput increases in recent quarters, David Rosenthal of ExxonMobil commented that refinery throughput worldwide was down slightly and that there have been refinery optimizations and divestments. In other words, there is no trend.
In response to a question about the GOM and plans for Brazil, Rosenthal indicated ExxonMobil is still planning to spud its third well in Brazil in the fourth quarter of this year. No change to those plans. Regarding GOM moratorium, there is no near-term impact. ExxonMobil was required to suspend work on its Hadrian 3 well, which is just a timing issue. Looking at the larger picture, global exploration activity remains on course. There are no real changes in terms of moving things around either from a timing perspective or geographic perspective. Rosenthal emphasized the benefit of having a diversified portfolio of projects.
Jason Gammel of Macquarie Research Equities asked a question concerning the rig count in North American gas. Rosenthal replied that ExxonMobil is ramping up activity because it sees opportunities in its portfolio prior to the XTO merger and even more opportunities with the XTO merger. Quoting Rosenthal, "We are finding that we have a very high quality, very deep inventory of drillable prospects at our unconventional acreage position both what we have prior to the merger and then of course with the recent merger with XTO. So, it's our expectation that overall drilling activity would continue to increase. As I mentioned in our prepared remarks, it's really across the board in all of the major plays where we continue to - I mean we are only a month into this merger, but we are already well underway with activities to optimize the portfolio between the heritage ExxonMobil and XTO assets, making sure we have equipment in the right place to generate the highest returns and profitability."
With regard to chemical profitability remaining at elevated levels, Rosenthal indicated that much depends on the economic recovery. In the Middle East and Asia Pacific, there are more facilities being brought online, but that is the nature of the chemical business--it is somewhat lumpy with infrastructure increases. He goes on to say that the company likes its position for the longer term profitability and business.
In response to a question about capital projects throughout the world, Rosenthal indicates that everything, everywhere is going well. All are on schedule. As new facilities are brought onstream, unit profitability suffers slightly. However, in looking at the overall picture with profitability and performance, ExxonMobil is meetings its targets.
Responding to a question for more clarity about the moratorium in the GOM, Rosenthal indicated that, while industry has taken some positive steps by creating its non-profit entity and by meeting with government officials, it remains a wait and see situation.
Rosenthal did not provide specifics on the company's progress in Iraq. While he indicated that plans were progressing well, he would not commit to any key milestone dates.
Commenting on the XTO merger, Rosenthal indicated that the priority for the teams is to focus on operations excellence, resource development, and optimization. Over the long term, the merger will be accretive to cash flow and add to shareholder value.
In response to a question, Rosenthal indicated that XTO contributes about 135 million cubic feet per day (Mcfd) of natural gas.
Since the merger announcement in December, XTO has experienced very low turnover, about one percent, which is below historical norms.
Rosenthal sidestepped any responses that indicate how ExxonMobil might be positioning itself for changes in policy with respect to the GOM.
In discussing future share repurchases, Rosenthal indicated that ExxonMobil examines its operating cash flows, OpEx requirements (which I am assuming means maintenance capital), funding the investment plan, paying a growing dividend, maintaining financial flexibility within a conservative capital structure, and then makes an informed decision. The company plans to spend $3 billion during this third quarter and will reevaluate next quarter. The company has no specific targets. The company presently has about $13 billion in cash.
Analysis and Discussion
Please note that you can click through graphs to see larger images.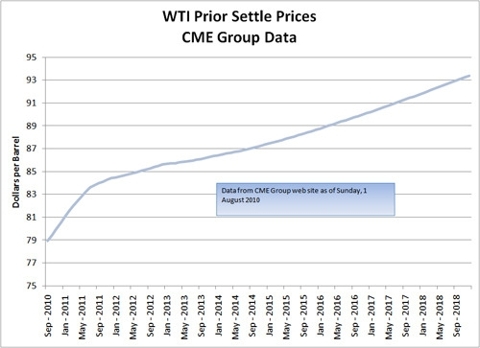 Below is a table outlining ExxonMobil's revenue and earnings estimates.
ExxonMobil Revenue and Earnings Estimates

Financial Metric
Current Qtr
Sep 10
Next Qtr
Dec 10
Current Year
Dec 10
Next Year
Dec 11
Data Sources
Yahoo Finance 1 August 2010
Revenue Estimates
99.45B
100.17B
390.21B
442.43B
Earnings Estimates
1.38
1.50
5.80
6.79
ExxonMobil Two Year Stock Price History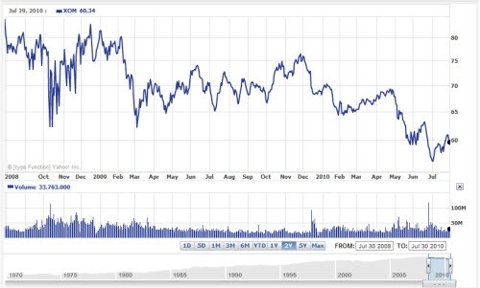 ExxonMobil, ConocoPhillips, and Chevron Two Year Stock Price Comparison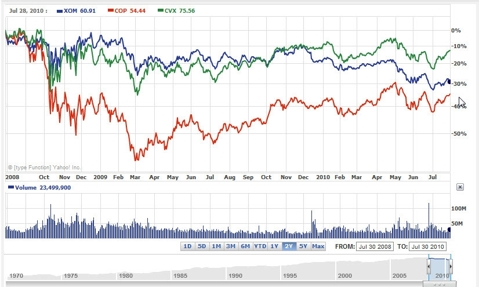 I am a believer that high oil prices are here to stay. While we might see the occasional dip in oil prices, they will only be dips. When I last discussed my bullish views on oil prices at Seeking Alpha, I generated a lot of controversy as shown in the comments to Don't Believe Long-Term Oil Forecasts and Don't Believe Long-Term Oil Forecasts: Part II. The reality is, if oil prices were to sink for a prolonged period, most producers could not cope and would go bankrupt. Oil producers have grown dependent upon sustained higher oil prices. And even with oil prices at these levels, oil companies are still finding the market conditions challenging.
Of course, should the world experience a financial shock, prices will go down. However, I doubt price would stay down for a prolonged period.
In short, companies are trying harder than ever and going to extreme lengths to find oil at current prices while depletion continues to eat away at existing pools and consumption globally continues to rise. Therefore, higher oil prices are here to stay.
ExxonMobil had a solid quarter on all fronts. It continues to be a well managed company with a diversified portfolio of assets in a diversified portfolio of locations. As we saw, refining and chemical margins rebounded, providing ExxonMobil with strong earnings.
Above, I referenced an article with Jim Chanos, the famous hedge fund manager who tussled with Enron and helped bring it down, who appears to be short ExxonMobil. As I read the article, he implies that certain integrated oil companies have not replaced their reserves or grown their revenues in years while spending all their earnings on new capital projects. Having studied oil companies, I found that many companies believe they must produce more and book more reserves each year. And they do so, even if uneconomically. Most often uneconomically. Sometimes it is better to wait while conditions are overheated. When the investment climate changes, then make strategic investments.
If you look at ExxonMobil, it has made a host of recent large strategic investments. A few recent examples include investments in the expansions of its joint venture in Syncrude as well as its projects in Qatar, and the Kearl Oil Sands Project in Alberta. Each of these strategic multibillion dollar investments required years to build.
If you recall 2008 when the markets went into freefall, most oil companies began laying off staff, deferring projects, and hunkering down. Not ExxonMobil. It maintained its steady course. It didn't allow a short term price fluctuation alter its long term view, unlike its competitors.
And if you look at ExxonMobil, it has $13 billion in cash, and I assume it continues to hold roughly $32 billion in long term investments. The company has a history of raising its dividend and buying back shares.
These observations do not fit with a company that is eating away at its seed corns. Instead, ExxonMobil continues to operate in a steadfast manner with its focus set on the long term.
Given the current outlook for continued high oil prices as evidenced by the futures curve, reasonable refining and chemical margins, and a strong pipeline of new and exciting projects with good returns, I look favorably upon ExxonMobil. Then, if I consider the analysts' forecasts for 2010 and 2011 and use Friday's closing price of $59.68, I see that the 2010 p/e ratio is a little over 10 and the 2011 p/e ratio is only 8.8. In my view 8.8 is a bargain. I doubt ExxonMobil will trade below $55 in the near term future. If we allow for a potential upside of 12 times earnings multiple, then ExxonMobil could trade as high as roughly $80.
Do I expect ExxonMobil to shoot up suddenly? No, I don't. My belief is that $55 is a floor and the stock over time will move higher, especially if we begin to see the U.S. economy show positive signs of recovery during the remainder of 2010 or 2011. In summary, if you accept my values, you have $5 of potential downside and $20 of potential upside.
Disclosure: I am long ExxonMobil stock as well as long and short puts for an overall long position.