AT&T Inc. (NYSE:T) is a provider of wireless and wireline telecommunications services in the United States and around the globe. The company has recently reported its Q1 FY 2014 results and recorded a 3.6% growth in the company's revenue in comparison to Q1 FY 2013. The company also added more than one million subscribers during the quarter. However, the company's bottom-line performance remained flat compared to analysts' expectations. Therefore, in this article I will analyze the company's performance in the recent quarter and determine the company's outlook for the future considering factors that will bring prospects for the company.
Recent Quarter Performance
The company earned revenues of $32.5 billion in Q1 FY 2014 beating analysts' estimates of $32.4 billion. The company's Q1 FY 2014 revenue reflected a 3.6% rise in comparison to the revenue earned in Q12013 (see chart below) and is the strongest growth the company has recorded in more than two years.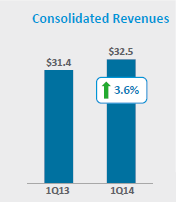 Source: 1Q14 Earnings Conference Call
The factors that drove the company's revenue growth in the quarter include growth in the company's subscribers as AT&T added 1,062,000 wireless subscribers in the quarter that included 625,000 postpaid net adds driven by smartphones and tablets as shown in the table below.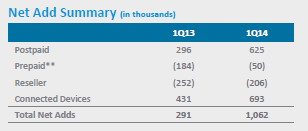 Source: 1Q14 Earnings Conference Call
The company's addition of 625,000 postpaid net wireless subscribers in the quarter is the company's strongest postpaid growth in the first quarter in five years beating Jefferies Equity Research expectations of 173,000 and 296,000 additional subscribers in the same quarter a year ago. Postpaid customers are the high-value customers on contracts or with long-term installment plans. Overall AT&T had 116 million total subscribers at the end of Q1 FY 2014 up 8.1% from a year earlier as shown in the following figure.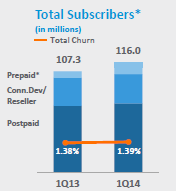 Source: 1Q14 Earnings Conference Call
On the contrary, the company's postpaid phone-only average revenue per user (ARPU) recorded a decline in growth rate from 1.7% in Q1 FY 2013 to 0.4% in Q1 FY 2014 as shown in the following table.

Source: 1Q14 Earnings Conference Call
The growth in the company's ARPU declined in Q1 FY 2014 because the customers who switched from the traditional device subsidization model were entitled to "Mobile Share", a plan that embraces unlimited talk and text and allows for shared data in up to 10 devices. The company's mobile share connections were up three fold year-over-year and reached 32.6 million in Q1 FY 2014 as shown in the following graph.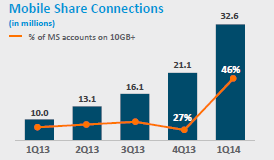 Source: 1Q14 Earnings Conference Call
Furthermore, the company also regarded its new installment plan, Next, as a contributor to its better-than-expected financial performance in Q1 FY 2014. AT&T's new Next and Mobile Share plans were a huge success. The company's Next customers are not bound by the conventional two-year service contracts but instead pay the full cost of phones in installments freeing AT&T from paying hundreds of dollars per customer in subsidies. More than 40% of customers signed up for Next and this higher than expected transfer of customers to Next also boosted the company's Q1 FY 2014 revenue proving that AT&T's sales promotions are working.
Within the company's wireline segment, the company reported growth due to its newer U-verse product that offers phone, TV and internet service. The company brought in 634,000 additional U-verse high-speed internet subscribers meaning U-verse high speed broadband net adds represent 67% of the company's total broadband subscribers as shown in the following chart.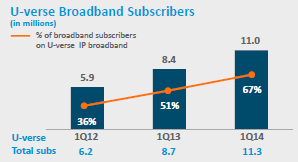 Source: 1Q14 Earnings Conference Call
As far as the company's bottom-line is concerned the company posted a net income of $3.65 billion or 70 cents per share in Q1 FY 2014 compared with $3.70 billion or 67 cents per share posted in Q1 FY 2013 when the company had more shares outstanding. Excluding the one-time items that included a charge related to the company's acquisition of Leap Wireless in March 2014 AT&T's income was 71 cents per share higher than 64 cents earned in Q1 FY 2013. Analysts expected the company to post a net income of 70 cents per share in Q1 FY 2014. The company's profit increased during Q1 FY2014 due to customers who chose to pay full price for smartphones opting out of discounts that require two-year contracts.
Additionally during Q1 FY 2014, AT&T repurchased 37 million shares for $1.2 billion meaning the company has bought about 13 percent of its outstanding shares since FY 2012.
Future Outlook and Growth Drivers
NEXT Will Bring More
In response to the rising competition from rivals such as fourth-ranked T-Mobile US Inc. (NASDAQ:TMUS) who is offering international text messaging at no additional charges and free data access for tablet buyers, AT&T introduced its "Next" pricing plan in July 2013. The Next pricing plan eliminates down payments for devices and instead allows customers to pay in installments. AT&T previously paid hefty upfront subsidies to phone manufacturers in order to offer customers device discounts and bound them into two-year contracts. It then recovered the cost of the phone over the duration of the contract through its service fees. Under Next, AT&T charges customers for devices separately from their wireless plans and book device purchases upfront as immediate revenue regardless of the fact that customers will pay in installments over their contract period.
In Next plans, customers opt to pay for their devices in installments of 20 or 26 months or a whole single payment. For example, Apple Inc.'s (NASDAQ:AAPL) iPhone 5s is worth $650 and will cost $32.50 per month for customers on the 20-month plan. After as few as 12 months, customers can replace their devices at no additional charge while switching to a new installment plan for a new smartphone. The program had an immediate effect on the company's device sales that surged 52% to $2.5 in Q1 FY 2014 in comparison to $1.6 billion in Q1 FY 2013 as shown in the following chart. The wireless service revenue gained 2.2% and increased to $15.4 billion.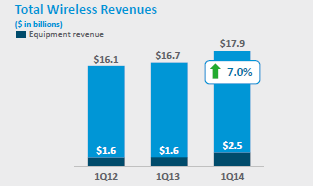 Source: 1Q14 Earnings Conference Call
As AT&T's Next gained popularity, this pricing model turned out to be an effective strategy to attract customers and grow in a nearly saturated environment. Approximately 25% of the company's wireless customers are now on plans without phone subsidies. More than 40% of the company's new smartphone subscriptions were on Next plans in Q1 FY 2014 as stated earlier.
Looking ahead, Jefferies analyst Michael McCormack expects the company's Next program to continue positively impacting the company's profitability in the coming periods.
U-Verse Expansion into More Areas
AT&T Inc.'s U-verse with GigaPower is a high-speed internet service that can provide broadband speeds of up to 1 gigabit per second. This makes it almost 100 times faster than most existing internet speeds available across the nation and means faster video downloads and the capacity for more devices to be connected to the network without bottle neck.
With this high-speed internet service technology AT&T is considering further expansion into many cities in the U.S. The telecommunications giant recently announced plans to spread fiber internet networks to cover as many as 100 municipalities in 25 metropolitan areas in the U.S. This move would make AT&T a direct rival to Google Inc. (NASDAQ:GOOG). Just a few months ago, Google announced its plans to explore major cities for fiber cable through its offering Google Fiber. Verizon Communications Inc. (NYSE:VZ) has been offering its own fiber-optics service, FiOS, but its topmost speed is at half of what AT&T is planning.
According to Verizon although currently it has not yet grasped extensive demand for a 1 gigabit service the rival offerings are suggestive of growing demand for super-fast internet. Such high speeds are available in parts of Asia and Northern Europe but they are not that established in the U.S. where some rural households are still using awfully slow dial-up services. Internet providers are reluctant to invest billions of dollars required to spread fiber-optic cables into each and every home so they have been mostly relying on slower cable TV lines. Therefore the provision of higher speeds by AT&T will bring a change as people connect more smartphones and other gadgets to their home networks and stream high- quality videos.
AT&T Inc.'s expansion of U-Verse would be part of the company's Project Velocity IP investment plan that aims to expand wireless and wire line IP broadband. This is all planned to facilitate and gain from the ever-growing consumer demand for high-speed internet, mobile/cloud services, and innovative television services.
AT&T is also targeting small and medium-size enterprises with the new offerings as higher speeds facilitate better video conferencing. AT&T didn't announce the prices that it would charge for the services but in Austin, Texas the service costs $70, or $120 when provided in combination with television service. AT&T is anticipated to launch its higher-speed internet services this summer in Dallas, Texas.
Aiming for Video Streaming
While the field of video streaming is crowded by big players like Netflix, Inc. (NASDAQ:NFLX) and Hulu, AT&T's activities to join this field will mark the first time that a huge U.S. ISP has sought to move further with a TV service. Before the Q1 FY 2014 earnings release, AT&T disclosed its partnership with Los Angeles-based Chernin Group in a venture that will obtain, finance, and launch over-the-top (OTT) video services, comprised of live programming and targeted video on demand. The two companies have dedicated more than $500 million to the business idea. The company expects the first offering to be released before the end of the current fiscal year.
The Chernin Group is the majority stakeholder in Crunchyroll a subscription based supplier of on demand video content that manages and invests in media businesses worldwide. The Chernin Group will bring assets along with expertise to the venture. For AT&T and Chernin the nameless venture is the extension of a business relationship that came into being last year when they jointly attempted to acquire Hulu and failed as the owners of Hulu decided not to sell the site. This alliance positions AT&T and The Chernin Group to capitalize on the rapid growth of online video and OTT video services with each party bringing substantial and complementary strengths. The strategic goal of this enterprise will be to invest in advertising and subscription VOD channels as well as streaming services. Peter Chernin, Chairman and CEO of The Chernin Group sees bright prospects from this venture as consumers are viewing more and more video content on their computers and gadgets. Chernin and AT&T both specified that the venture would try to make use of the wireless company's nationwide data network. Supposedly, AT&T could endorse new video products to its wireless customers and put charges as a share in the customers' existing monthly bill.
AT&T Inc. is not the only company aiming to capitalize from the growing video streaming market. Its competitor Verizon also has similar plans and acquired Intel Media a cable-like streaming service that Intel Corp. (NASDAQ:INTC) built but never launched. DISH Network Corp. (NASDAQ:DISH) also made a big arrangement with The Walt Disney Company (NYSE:DIS) last month that will let it offer the streaming of channels owned by Disney such as ABC and ESPN.
Leap Wireless Acquisition and Rise in Full-year Forecasts
The company's earnings in Q1 FY 2014 were also boosted by AT&T's acquisition of Cricket Communications Inc's LEAP wireless that brought in $3 billion and will turn out to be crucial in supporting the increasing demand for wireless data services according to John Stephens, AT&T's chief financial officer. AT&T expects about $1.2 billion of integration costs with respect to this acquisition in the next two years and $0.05 EPS dilution in 2014. Leap specializes in non-contract and less-expensive mobile services. The company added 4.5 million prepaid customers through the acquisition of Leap and 70% of those customers have smartphones.
Along with the release of the Q1 FY 2014 results, AT&T also raised its forecast for full-year revenue growth to at least 4% from 3% to reflect its acquisition of LEAP wireless in March 2014 and the popularity of the company's Next and Mobile Share models.
As a result of various initiatives enacted by the company I see bright future prospects and rate the stock as a buy.
Disclosure: I have no positions in any stocks mentioned, and no plans to initiate any positions within the next 72 hours.
Business relationship disclosure: The article has been written by a Gemstone Equity Research research analyst. Gemstone Equity Research is not receiving compensation for it (other than from Seeking Alpha). Gemstone Equity Research has no business relationship with any company whose stock is mentioned in this article.